These ultra soft and silky Instant Pot sweet potatoes can be made in minutes. They're the perfect addition to any meal, as a side dish, or used to make all kinds of other dishes and desserts.
» Also try Instant Pot Baked Potatoes and Instant Pot Baby Potatoes, simple side dishes when cooked in the Instant Pot.
Sweet potatoes are a super versatile and nutritious vegetables, so you're going to love the ease of making them in the Instant Pot. If you're looking for a side dish, or maybe a healthier alternative to regular potatoes, sweet potatoes are a perfect option.
Click to see a step-by-step instruction video.
Ingredients Needed
This recipe is super simple! It only requires sweet potatoes, water, and salt & pepper. You can also add extra toppings, just like you would with a traditional baked potato.
I absolutely love serving sweet potatoes with BBQ shredded pork, avocado, onions, and sour cream. Yum!
You can also grab some toppings to dress them with, depending on how you're eating them. We like to make them both savory and sweet. Here are some options:
Butter
Cinnamon and sugar
Brown sugar
Chives
Sour cream
Ranch dressing
Bacon bits
How to Make Instant Pot Sweet Potatoes
To make Instant Pot sweet potatoes, first wash your sweet potatoes well, removing as much dirt and flaky skin as possible.
Take out your trivet and place it into your Instant Pot. You can also use a steamer basket, if you don't have a trivet. Add water into the bottom of the pot and place your potatoes onto the trivet. One cup of water for a 6 qt. pot. If you have an 8 qt pot, you can add 1.5 cups of water.
Put on and lock the lid of your Instant Pot. Then set the vent to sealing.
The cooking time varies slightly depending on the size of your sweet potatoes. We recommend 12 minutes for medium sized sweet potatoes and around 14 minutes for larger potatoes, as it will take longer to steam them if they're larger. You don't need to add extra time if you add more potatoes to the pot.
Once the time is up, do a natural pressure release for ten minutes. Then release the remaining pressure and you're done!
These potatoes make an amazing side dish, and can be topped with pretty much anything! Butter is a go-to, but you can also make them sweet with cinnamon and sugar or brown sugar. Try this BBQ pulled chicken or brisket to turn it into a full meal.
Why Use An Instant Pot?
The Instant Pot is one of the most useful kitchen appliances you can buy, because it drastically cuts down on the cooking time for developing flavors in soups and stews, getting tough cuts of meat tender, and even baking a cheesecake. If you don't have one, check out our guide on which one to buy. Also see our guide to How to Use an Instant Pot and the many accessories you can buy for it.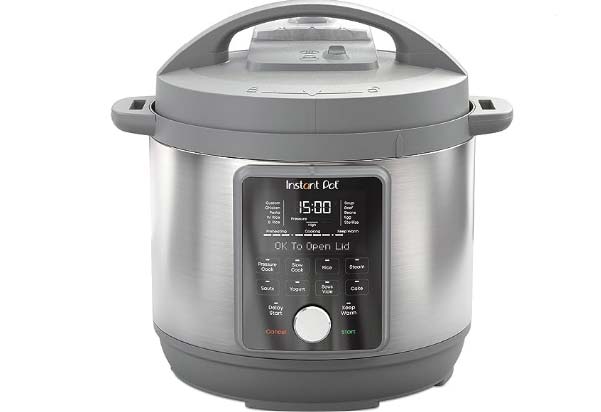 Tips and Tricks
If you don't have your own trivet yet, you should definitely invest in one as they are super useful for instant pot meals and steaming. But you can also use several different things to make a homemade trivet for the time being.
Anything that fits inside your Instant Pot, provides support for what you're cooking, and is oven safe will work. Some people use a glass or ceramic bowl turned upside-down for a make shift trivet.
How to Store Leftovers
Any leftover sweet potatoes should be stored in the refrigerator in an air tight container or fully sealed in plastic wrap. To freeze for up to 3 months, wrap the potatoes individually. Thaw in the refrigerator overnight.
Like this recipe? We'd love for you to share it on your Pinterest boards! Click to follow our Pinterest boards so you can find all our recipes! You can also find us on Facebook!
Instant Pot Sweet Potatoes
These ultra soft and silky instant pot sweet potatoes can be made in minutes. They're the perfect addition to any meal, the warm sweetness lends itself to many dinners and even desserts!
Note: Made in a 6-qt Instant Pot
Ingredients
4

medium sweet potatoes

1

cup

water

butter and salt

for garnish
Instructions
Wash and scrub the sweet potatoes.

Place the trivet in the Instant Pot and pour in water. Place the potatoes on the trivet.

Close and lock the lid. Turn the vent to sealing. Set the timer for 12 minutes for medium potatoes (15 minutes for larger potatoes).

When the time is up, allow a natural pressure release for 10 minutes, then you can release any remaining pressure.

Serve with butter and salt, or other toppings as you desire.
Nutrition
Calories:
194
kcal
Carbohydrates:
45
g
Protein:
4
g
Fat:
1
g
Saturated Fat:
1
g
Polyunsaturated Fat:
1
g
Monounsaturated Fat:
1
g
Sodium:
127
mg
Potassium:
762
mg
Fiber:
7
g
Sugar:
9
g
Vitamin A:
32063
IU
Vitamin C:
5
mg
Calcium:
70
mg
Iron:
1
mg
🥧 If you're interested in more great recipes, I share all my favorite recipes over at A Food Lover's Kitchen, and you'll find air fryer recipes at Air Fry Anytime and cocktails and drinks at Savored Sips. Check it out today!
Like it? Pin it!
Jillian a passionate food writer who has been exploring the world of culinary delights for years. With a keen eye for detail and a love for all things delicious, she brings a unique perspective to the table. Whether it's a new recipe, a hidden gem of a restaurant, or the latest food trend, Jillian has a knack for uncovering the best in food.