My favorite thing about the Instant Pot is how quickly it cooks food. If you've used your Instant Pot already, then I'm sure you agree. It's one of the fastest ways to make foods that typically take a long time to cook, like a pork roast or baked potatoes.
Many foods can be cooked in the Instant Pot in a fraction of the time. Find out the exact time savings in our Instant Pot cooking times cheat sheet.
» Check out these 15 Common Instant Pot Questions You Might Have.
But the Instant Pot can also be used for a myriad of foods, even if they don't take that long to cook normally, like corn on the cob or asparagus. It's also super useful for cooking foods from frozen, so you don't have to mess with defrosting anymore.
Seriously, gone are the days of frustration caused by not having defrosted anything for dinner when you need to have the food on the table in 30 minutes. The Instant Pot solves that problem.
You just need to know the proper cooking times for these foods, and you're good to go. That's why we've put together this useful cooking times cheat sheet that you can use to remember all the cooking times for the foods you make all the time.
You can even download a copy here and print it out, if you want.
Instant Pot Cooking Times Cheat Sheet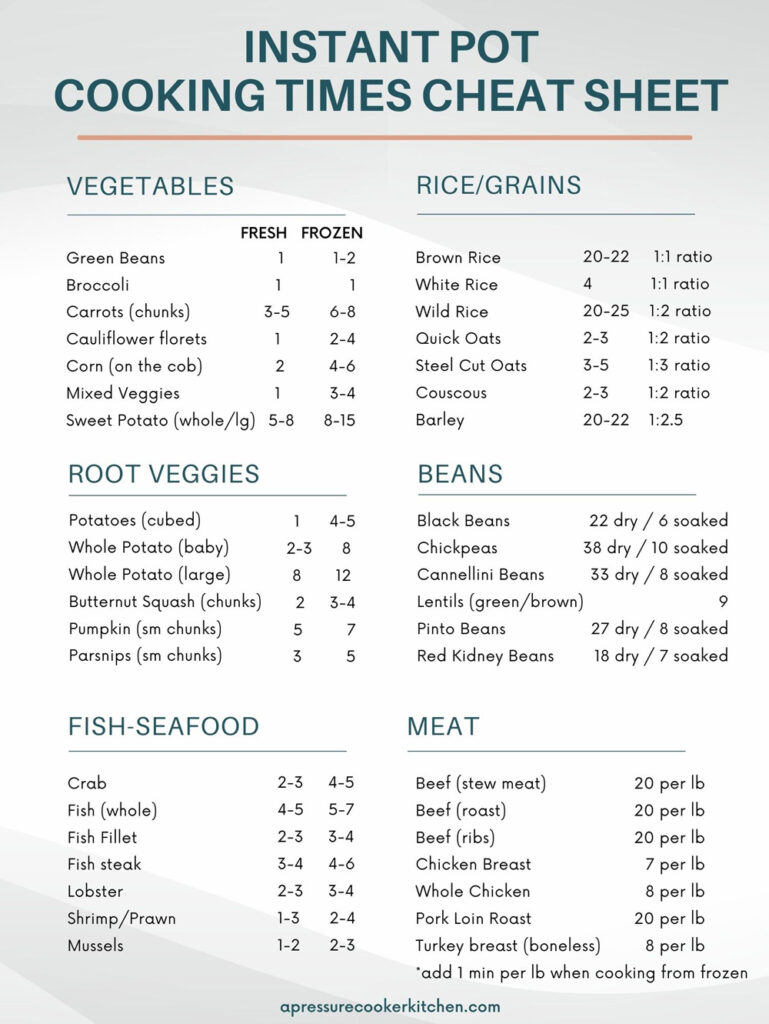 Does Food Really Cook That Fast?
Truth be told, the claims that you can cook chicken breast in 5 minutes, or a roast in 20 minutes, are – while absolutely true – a little misleading.
Yes, you can cook chicken in 5 minutes, but the actual time before it is done is a little longer than 5 minutes, because the Instant Pot has to come up to pressure first.
This process of pressurizing can take anywhere from 5-15 minutes. The fuller the pot, the colder (or even frozen) the ingredients, or the bigger the cut of meat, the longer it will take to come up to pressure.
Once the correct pressure is achieved, the cooking timer will start.
After the food has cooked for the allotted time, it takes a little while before you can safely open the pot and serve your meal.
How to Release Pressure in an Instant Pot
There are two options for releasing the pressure in an Instant Pot. Which one you choose depends on the meal you're preparing.
The first is to manually release the pressure through the vent in the lid. This is also called Quick Release (QR). This causes hot steam to escape and the pressure to go down within a matter of minutes. Once that's done, you'll be able to open the lid and serve the food.
The second option is a process called Natural Pressure Release (NPR). Whenever a recipe calls for this, you shouldn't turn the valve to release the pressure. Instead, you let the pot sit until the pressure releases on its own.
This process takes about 10 to 20 minutes and allows the food to continue cooking, until the pressure valve drops down and you are able to open the pot.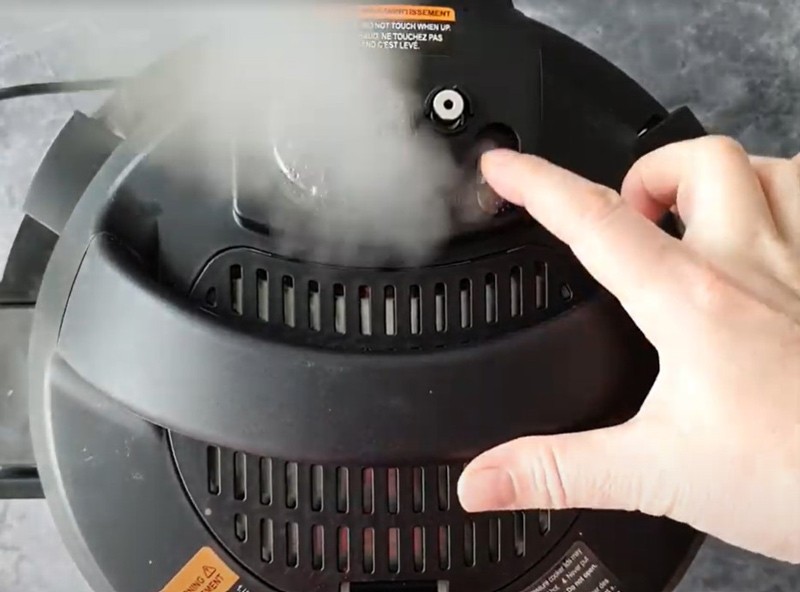 It's important to allow for this additional time when preparing a meal in the Instant Pot.
All in all, you have to figure in the time it will take for the pot to come up to pressure, and for some recipes, additional time to allow the pressure to slowly drop back down.
Does this mean the Instant Pot isn't fast? Of course not. It's still a much quicker method of cooking roasts, beans and the likes than any other cooking style. In short it's not super-fast for everything, but great for things that take a long time otherwise.
As an added bonus, once you add everything to the pot, it is hands-free cooking. You don't have to stir pots or babysit the food. Instead, you can work on something else, or relax for a bit while dinner cooks itself.
CONCLUSION
As you can see, the Instant Pot allows you to cook all types of food in a short amount of time, adding in the time needed to pressurize. This Instant Pot Cooking Times cheat sheet should come in handy for all cooking situations.
Instant Pot Pro Plus
Now you can control your pot wirelessly through an app. Cool-touch handles on the pot itself, and an automatic locking pressure release valve for greater safety. This one does it all.
Why Use An Instant Pot?
The Instant Pot is one of the most useful kitchen appliances you can buy, because it drastically cuts down on the cooking time for developing flavors in soups and stews, getting tough cuts of meat tender, and even baking a cheesecake. And there are many accessories that will help you get more out of your Instant Pot.
If you don't have one yet, check out our guide on which one to buy. Also see our guide to How to Use an Instant Pot for more information.
Like it? Share it on Pinterest!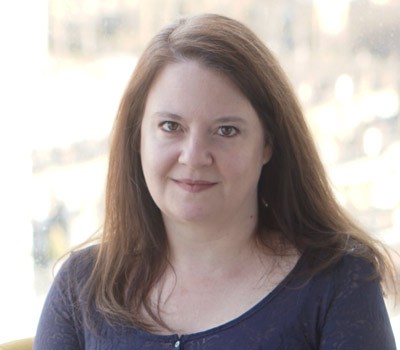 Laura spends a lot of her time cooking and creating recipes to share. She loves traveling and learning about new foods around the world to bring into her own recipes at home.