If you're confused about how to cook sous vide in the Instant Pot, don't fret. Although it's a newer feature on the Instant Pot, this cooking technique has been around for decades and it's an exciting feature for the Instant Pot and for you.
Learn how to cook sous vide in the Instant Pot in this quick guide that will lay out all the information you need to make it work for you.
» Have you tried to use the Instant Pot as a slow cooker?
There are many ways to use an Instant Pot, from slow cooking to sterilizing. But one of the most exciting is the sous vide function. However, this built-in function differs from traditional sous vide circulators, so you need to read up on how to use it before getting started.
If you follow the method we lay out below, you'll have tasty, perfectly cooked sous vide meals in no time. In this guide, you'll find easy-to-follow instructions and tips for delicious sous vide dishes.
What Does Sous Vide Mean?
If you're wondering "what does sous vide mean", it translates to "under vacuum". This cooking method uses temperature control to deliver evenly cooked food and reduces the risk of overcooking.
The process involves cooking ingredients in a sealed bag in a water bath. You can use this nifty method to cook tender veggies, protein, and even eggs.
Traditionally, to cook this way, you'd use a sous vide immersion circulator, which is a sort of heat gun that brings water in a bath up to the perfect temperature and keeps it there. But, you can get delicious results by using the Instant Pot sous vide function as well.
New modern design with an upgraded ANTI-SPIN inner pot for easy sauté or stirring and 13 customizable smart programs.
Which Instant Pot Has the Sous Vide Function?
It is important to note that you can only use the sous vide feature on specific Instant Pot models. You'll find that with the Instant Pot Duo, sous vide functions are only available on newer models. Here is a list of the models that have this handy function:
Instant Pot Duo SV
Instant Pot Duo Gourmet
Instant Pot Sous Vide Instructions
If you want to try a few tasty Instant Pot sous vide recipes, this method will help you get started. You'll find six simple steps to follow below.
1. Add Water to the Inner Pot
First, you'll want to fill the inner pot with water up until the halfway mark or enough for the food to be completely submerged. After you've done this, close the lid and set the steam release to the venting position.
2. Set the Sous Vide Program – Temperature & Time
Sous vide cooking requires the correct water temperature. So, it's vital to set the program before placing ingredients in the pot. Setting the program will differ depending on your specific model.
Generally, you would press the "Sous Vide" button, adjust the temperature, and set a cooking time. After programming, you'll have to wait for the water to get to the desired temperature before placing the ingredients in the pot.
You can set the temperature as low as 120 degrees, which would be ideal for delicate meats like salmon. The max cook time is 99 hrs, 30 min.
3. Add Food to a Freezer Bag & Remove Air
While you wait for the Instant Pot to heat up, it's the perfect time to prep ingredients. Place the food in a resealable freezer or sous vide bag in one layer. It's best to squeeze as much air from the bag as you can. When closing the bag, be sure to leave a 1-inch opening.
Alternatively, you can use a vacuum sealer and vacuum sealer bags. You can place your food in the bag along with olive oil and aromatics and seal it tightly. This is the absolute best way to go, but not everyone has a vacuum sealer.
4. Place the Bag in the Water
Once the desired temperature has been reached, you can lower the bag into the water bath. It's best to use tongs or a wooden spoon to avoid boiling water burns.
The remaining air in the bag will be forced out as you lower it in the water. The food should be fully submerged in the water as floating could cause uneven cooking. However, the bag opening should remain above the water at all times.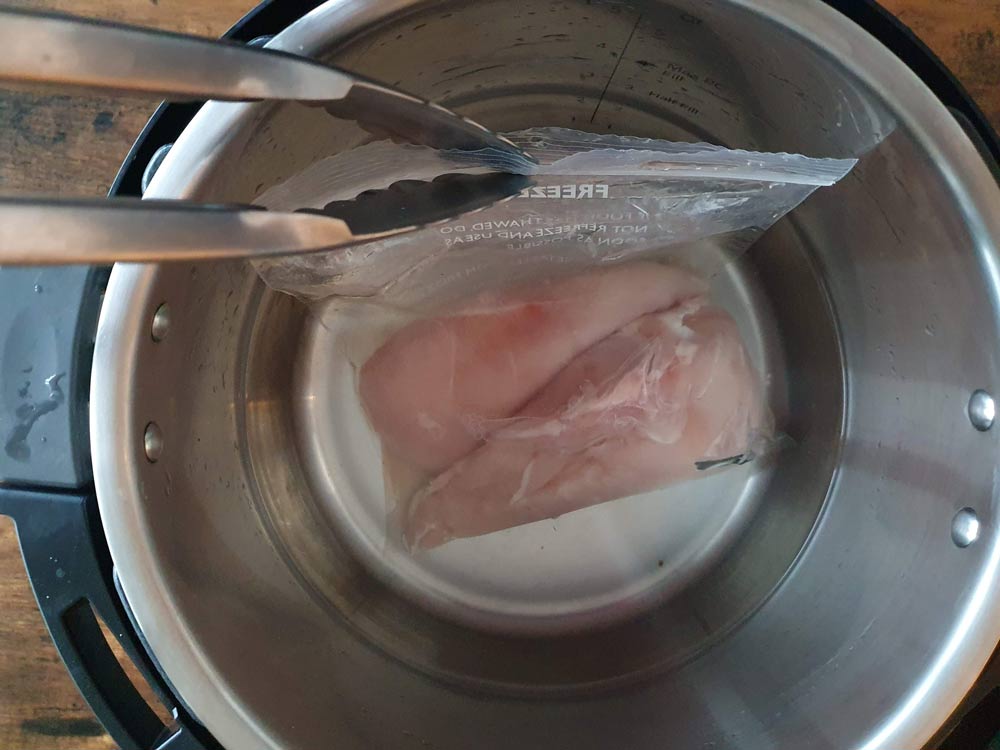 5. Close the Lid and Allow for Cooking
You can now seal the bag fully and close the Instant Pot lid. You don't need to worry about the vent. The Instant Pot will stay at the set temperature for the set length of time. So your food is cooking away while you go do something else for a while.
6. Remove Food & Rest Before Serving
When the cooking time is up, you can press the "Cancel" button and remove the bag. You can then carefully transfer the food to a cutting board or plate.
It's best to check the food with a digital thermometer to ensure that it meets the minimum safe cooking temperature requirements. Finally, allow it to rest for about 10 minutes before you finish your delicious dish.
Tips for Using Your Instant Pot With Sous Vide Cooking
The pressure cooker sous vide function is relatively straightforward to use. But if you're just starting out, there are a few tips for beginners that may come in handy. You can find key things to keep in mind below.
Cooking Times & Temperature
The cooking times and water temperature will vary depending on the specific item and its size. Here is a list of the estimated times and temperatures you'll need:
Chicken breast – 145 to 150 °F for 1.5 to 4 hours
Turkey breast – 145 to 151 °F for 3.5 to 5 hours
Chicken thigh – 148 to 165 °F for 2 to 4 hours
Pork tenderloin – 140 to 150 °F for 1.5 to 3 hours
Steak –130 to 140 °F for 1.5 to 3 hours
Delicate fish – 120 to 130 °F for 20 to 30 minutes
Firm fish – 125 to 130 °F for 30 to 45 minutes
Searing
At the end of the sous vide cook, you'll have incredibly tender and juicy food. However, it won't have any of the goodness that browning or searing on the stovetop adds. You can enjoy it as is, but some foods like steak benefit from a quick sear in a hot cast-iron skillet.
Don't over do it though. Remember that the food is already cooked. You're just adding a sear for flavor.
Storing
If you're saving the uncooked food for later, or marinating it inside the vacuum sealed bag, you can place it in the refrigerator for up to a day. It's best to cook it at its freshest, so don't keep it waiting any longer than that.
After you've cooked the food, you can store it as you would any other food. Put it in the refrigerator in a sealed container for up to 5 days.
Recommended Equipment for Cooking Sous Vide in an Instant Pot
Aside from an Instant Pot smart sous vide function, there are a few more helpful tools to have in the kitchen. Here are some suitable items for sous vide cooking:
Ready to Try Sous Vide Instant Pot Recipes?
Whether you're using the sous vide Instant Pot Duo or Max function, you'll end up with mouth-watering results. It's easy to see why many home cooks love this method for easy cooking and meal prep.
You'll certainly feel like a professional chef once you get the technique, temperature, and time correct. Now that you know how to use the sous vide function on your Instant Pot, which meal will you be making first?
Why Use An Instant Pot?
The Instant Pot is one of the most useful kitchen appliances you can buy, because it drastically cuts down on the cooking time for developing flavors in soups and stews, getting tough cuts of meat tender, and even baking a cheesecake. If you don't have one, check out our guide on which one to buy. Also see our guide to How to Use an Instant Pot and the many accessories you can buy for it.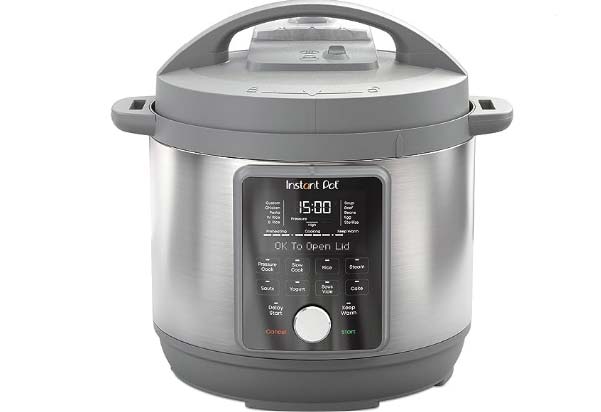 🥧 If you're interested in more great recipes, I share all my favorite recipes over at A Food Lover's Kitchen, and you'll find air fryer recipes at Air Fry Anytime and cocktails and drinks at Savored Sips. Check it out today!
Like this recipe? We'd love for you to share it on your Pinterest boards! Click to follow our Pinterest boards so you can find all our recipes! You can also find us on Facebook!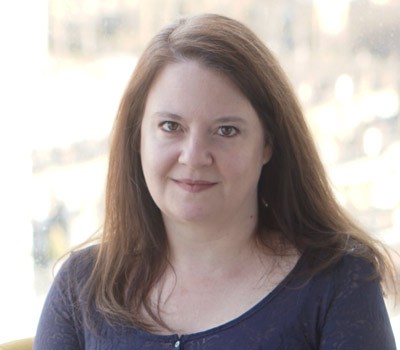 Laura is a passionate home cook and the owner of A Pressure Cooker Kitchen. She is dedicated to helping people create delicious Instant Pot meals with ease. Laura is an expert at developing recipes that can be prepared quickly and easily using a pressure cooker.