This Instant Pot Brisket recipe makes tender beef brisket that's full of smoky, rich flavor that rivals the low and slow BBQ pit taste we all love. It's easy to make in the Instant Pot and won't disappoint.
» You might also like Instant Pot Pulled BBQ Chicken and Instant Pot Flank Steak.
» Check out our Instant Pot Cooking Times Cheat Sheet so you never have to look up times again for your favorite foods you make in the pressure cooker. Print or bookmark it so you always have it handy!
You really don't need a low and slow BBQ pit to make amazing brisket at home. In fact, all you need is an Instant Pot and about a quarter of the time needed to cook it on the barbecue or in the oven. The meat turns out super tender and moist. I almost can't wait to pile it up on a bun with BBQ sauce.
Beef Brisket can be used in so many different dishes. You can slice it just like a beef roast, served with any side dish you like. You can pile it up on a brioche bun to make those delicious brisket buns pictured above. You can chop it up and serve it on a bed of French Fries for the best poutine you've ever tasted, or you can add it to a salad for a tasty low-carb lunch. The possibilities are endless.
Which Cut of Brisket to Buy
Brisket comes in two different cuts, if you're lucky enough to have a butcher nearby where you can find both. You can either choose the flat cut or the point cut. Flat cuts are typically leaner and trimmed of fat, whereas there is a good layer of fat or fat cap on the point cut.
The point cut is my favorite cut because I believe that all that fat leads to great flavor. More fat means juicier, scrumptious meat. Even if you choose to remove a lot of the fat before eating it, it's nice to have the option of leaving it on for cooking.
On a brisket, the fat is concentrated in a thick layer at the top. The fat renders when the meat is cooked, sinking into the meat to add flavor. When you serve it, you can either leave the remaining fat on or trim it off. The choice is up to you. If you don't like cooking all that fat, stick with a piece that is more trimmed.
What Size Brisket to Buy
If you have a butcher, you can usually ask for whatever size brisket you need. It's usually available in the meat section of your grocery in a 2- to 4-pound size. But they can come up to 12 or 14 pounds.
For 2-4 people, a 2-pound brisket is just right. It won't leave a lot of left overs though, so we always go for a 3-pound brisket for 2 people. Then we can make more meals from it.
It's possible to cook up to a 4-pound brisket in a 6 qt Instant Pot. Any larger than that and it doesn't fit well in the pot. You could go up to a 6-pound brisket if you have an 8-quart Instant Pot.
Why Use An Instant Pot?
The Instant Pot is one of the most useful kitchen appliances you can buy, because it drastically cuts down on the cooking time for developing flavors in soups and stews, getting tough cuts of meat tender, and even baking a cheesecake. And there are many accessories that will help you get more out of your Instant Pot.
If you don't have one yet, check out our guide on which one to buy. Also see our guide to How to Use an Instant Pot for more information.
How To Cook Brisket in the Instant Pot
Not all of us have the option of cooking brisket on a pit fire or smoker. I don't have any backyard space, thus no grill or smoker outside to cook on. That's why I've had to adapt my cooking method and perfect brisket to the Instant Pot.
Instant Pot Brisket can turn out really tender and moist, just like it would on a smoker. The main difference is that the smoky flavor that sinks into the meat as it cooks on a smoker isn't possible in an Instant Pot. Two things will help lock in that smoky BBQ flavor. One is to use a wet rub with liquid smoke and the other is to sear the meat on both sides before putting it in the Instant Pot.
Apply a Wet Rub
It's easy to make a homemade wet rub for this brisket. The wet rub allows the seasoning to infiltrate the meat and make a delicious browned crust on the meat when you sear it.
The ingredients for the rub are:
2 tablespoons olive oil
2 teaspoons paprika
1 teaspoon liquid smoke
1 teaspoon salt
1/2 teaspoon ground black pepper
1/2 teaspoon chili powder
1/2 teaspoon onion powder
Generously slather on the wet rub to coat the brisket. It's best if you can allow the brisket to marinate for at least 30 minutes to lock in the flavor. You can marinate it for up to 24-hours, if you have the time.
Sear the Brisket
Start by searing the brisket on all sides. This will give the meat a nice browned and flavorful crust.
I sear the brisket directly in the Instant Pot on saute mode in olive oil. Once it's browned, about 3 minutes per side, remove it from the pot and turn off the machine.
Be aware that the rub will begin to burn on the bottom of the Instant Pot if you take too long with this step. It should just take about 6 minutes. If the rub is starting to burn on the bottom, remove the brisket and add more oil to the pot.
Pressure Cook the Brisket
There will be some browned bits on the bottom of the pot from searing the brisket. Adding beef broth to the pot will help you loosen the browned bit, and all that flavor, from the pot. Just a note of caution, if saute mode is still on, and the pot is very hot, you need to be very careful adding liquid to the pot. It will steam up immediately and can burn your arm if you're not careful.
To avoid the safety issue, I always turn off sauté mode and let the pot cool slightly before adding the broth. Add the broth and scrape the bits up with a spatula. This adds great flavor to the meat, so don't skip the step of whisking up the browned bits. It also prevents the "BURN" notice that might come from browned bits remaining on the pot when you set the pressure.
Add the BBQ sauce (I use this homemade bourbon BBQ sauce), liquid smoke, and the diced onions to the pot. Then set the brisket back into the pot, nestling it in among the sauce.
Close the Instant Pot and set it to pressure cook on high (or manual, depending on which IP version you have). Set the timer to 75 minutes. This is the perfect amount of time for a 3 pound piece of meat. For a 4-6 lb brisket, set the time to 80 minutes. For a smaller piece, from 1-3 pounds, set the time for 60 minutes.
After the time is up, allow the pressure to release naturally. This will take 10-15 minutes. If after 15 minutes, there is still pressure, you can release it manually.
When you open up the pot, you'll be greeted with a heavenly piece of meat that is fall apart tender and ready to be devoured.
Instant Pot Pro Plus
Now you can control your pot wirelessly through an app. Cool-touch handles on the pot itself, and an automatic locking pressure release valve for greater safety. This one does it all.
Complete the Dish
Take the brisket carefully out of the pot so that it doesn't fall apart. Slice it against the grain into 1/2″ thick slices to serve.
You can also use the sauce from the pot as a gravy. Just be aware that the sauce is likely to be quite fatty, especially if your piece of brisket had a fat cap.
You'll want to strain off the fat from the sauce before thickening it. I usually find that once I skim the fat, it takes about 5 minutes on saute mode to thicken the sauce into a nice gravy.
Related Posts:
Like this recipe? We'd love for you to share it on your Pinterest boards! Click to follow our Pinterest boards so you can find all our recipes! You can also find us on Facebook!
Instant Pot BBQ Brisket
This Instant Pot Brisket recipe makes tender beef brisket that's full of smoky, rich flavor that rivals the low and slow BBQ pit taste we all love.
Note: Made in a 6-qt Instant Pot
Ingredients
3

pounds

beef brisket

1

tablespoon

cooking oil

1/4

cup

beef broth

3/4

cup

BBQ sauce

1/2

onion sliced
For the rub
2

tablespoon

olive oil

1

teaspoon

liquid smoke

2

teaspoons

paprika

1

teaspoon

salt

1/2

teaspoon

ground black pepper

1/2

teaspoon

chili powder

1/2

teaspoon

onion powder
Instructions
Take the brisket out of the refrigerator 30 minutes before cooking. Pat dry and lay flat. Cut binding strings and trim down the fat cap, if there is any.

Mix the rub ingredients together in a bowl. Rub evenly on all sides of the meat.

Turn on the saute mode on the Instant Pot. Add the cooking oil. When the pot is hot, add the brisket and brown on both sides, around 4 minutes per side. After 8 minutes turn off the Instant Pot. Remove the brisket to a plate.

Add the beef broth to the pot and whisk to remove the browned bits from the bottom of the pot. Add the BBQ sauce and liquid smoke. Whisk to combine.

Return the brisket to the pot. Scatter the onions on top.

Close the lid and set the vent to sealing. Set to 75 minutes on high pressure. Once the time is up, allow a natural pressure release for 15 minutes.

Remove the meat from the pot. Strain any excess oil from the top of the sauce. Turn on the saute mode and allow the sauce to thicken, whisking occasionally, for about 5 minutes.

If desired, brown the top of the brisket under the broiler for 5 minutes. Slice and serve with the sauce.
Nutrition
Calories:
722
kcal
Carbohydrates:
24
g
Protein:
71
g
Fat:
36
g
Saturated Fat:
10
g
Polyunsaturated Fat:
3
g
Monounsaturated Fat:
19
g
Trans Fat:
1
g
Cholesterol:
211
mg
Sodium:
1465
mg
Potassium:
1291
mg
Fiber:
1
g
Sugar:
19
g
Vitamin A:
273
IU
Vitamin C:
5
mg
Calcium:
42
mg
Iron:
7
mg
🥧 If you're interested in more great recipes, I share all my favorite recipes over at A Food Lover's Kitchen, and you'll find air fryer recipes at Air Fry Anytime, and cocktails and drinks at Savored Sips. Check it out today!
LIKE IT? PIN IT FOR LATER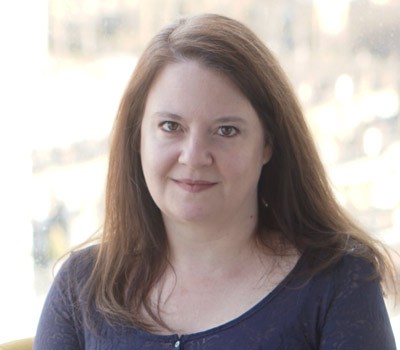 Laura spends a lot of her time cooking and creating recipes to share. She loves traveling and learning about new foods around the world to bring into her own recipes at home.