This Instant Pot Pork Roast Recipe is a simple way to cook a pork roast that is flavorful and tender in a fraction of the time.
» You might also like this Instant Pot Pork Chops and these Instant Pot Side Dishes to Serve with Anything.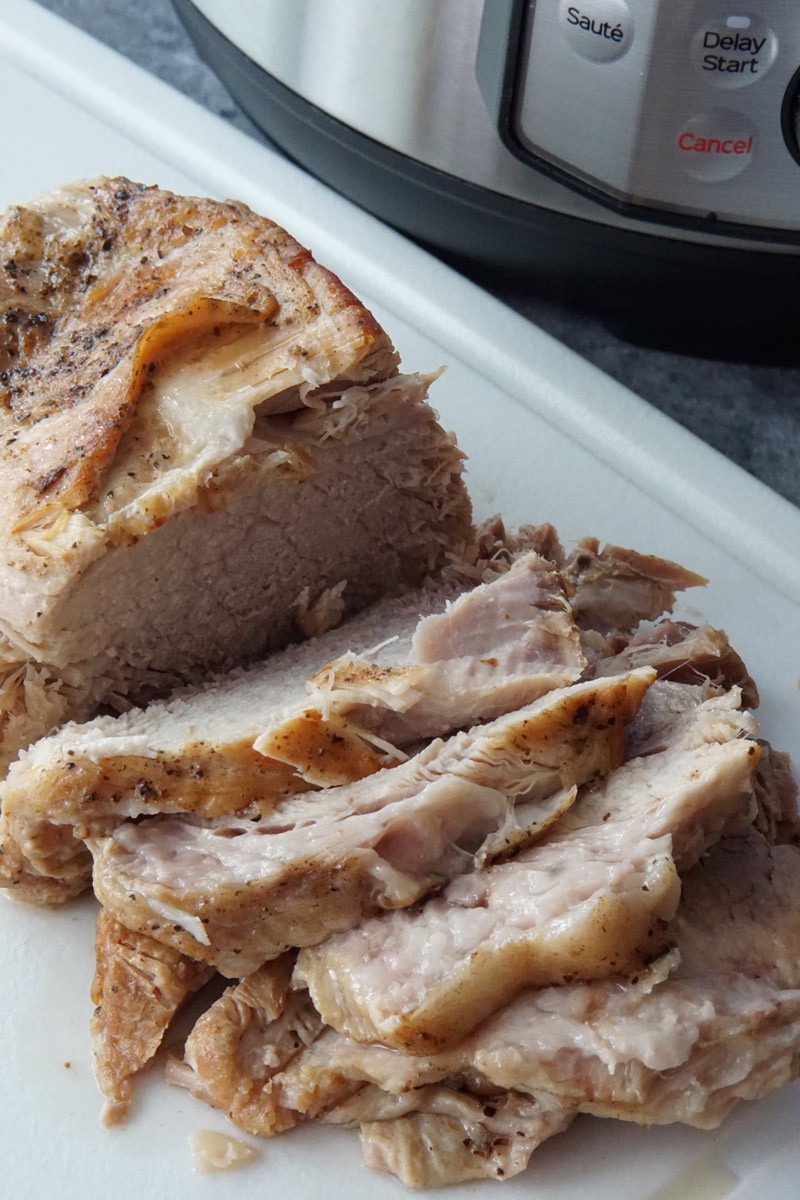 The Instant Pot is an incredible tool in the kitchen for making dishes that usually take a long time. In the pressure cooker, you can drastically cut down the cooking time for dishes like this tender pork roast.
The best thing about this pork roast is that it goes with just about any side dish you want to serve, so you don't have to put a lot of thought into what to make for dinner.
Which Cut of Pork to Use
There are a few different cuts of pork that make a good pork roast. You can use pork shoulder (also called pork butt), pork leg, or loin.
Pork Shoulder
I cook a LOT of pork shoulder in the instant pot, for things like carnitas or pulled pork – great for pulled pork gnocchi, that benefit from slow cooking. It turns out so tender and falls apart easily to shred it.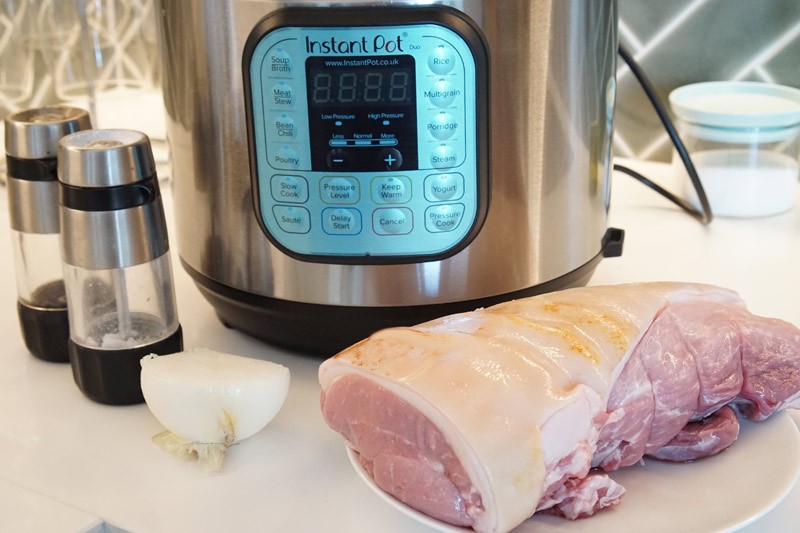 Pork Leg
When I'm making a pork roast that I want to be able to slice and serve with a side dish, I typically use pork leg. I mostly find pork leg weighing around 2-4 pounds, which fits nicely in the 6 – 8 quart Instant Pot and feeds around 4-8 people.
Pork leg turns out in one large pieces of meat, while pork shoulder tends to be more marbled. That's what makes it so great for pulled pork.
The pork leg roast pictured above is a 3 pound roast that is about 5 inches thick. A 3 pound roast will cook in 90 minutes in the Instant Pot.
Pork Loin
Pork loin is the leanest cut of meat and doesn't have much fat. It's also usually sold in smaller roasts that are thinner. Thus, a pork loin will cook a lot faster in the Instant Pot. Overcooking can quickly lead to dry pork. That's why I mostly avoid this cut.
Why Use An Instant Pot?
The Instant Pot is one of the most useful kitchen appliances you can buy, because it drastically cuts down on the cooking time for developing flavors in soups and stews, getting tough cuts of meat tender, and even baking a cheesecake. And there are many accessories that will help you get more out of your Instant Pot.
If you don't have one yet, check out our guide on which one to buy. Also see our guide to How to Use an Instant Pot for more information.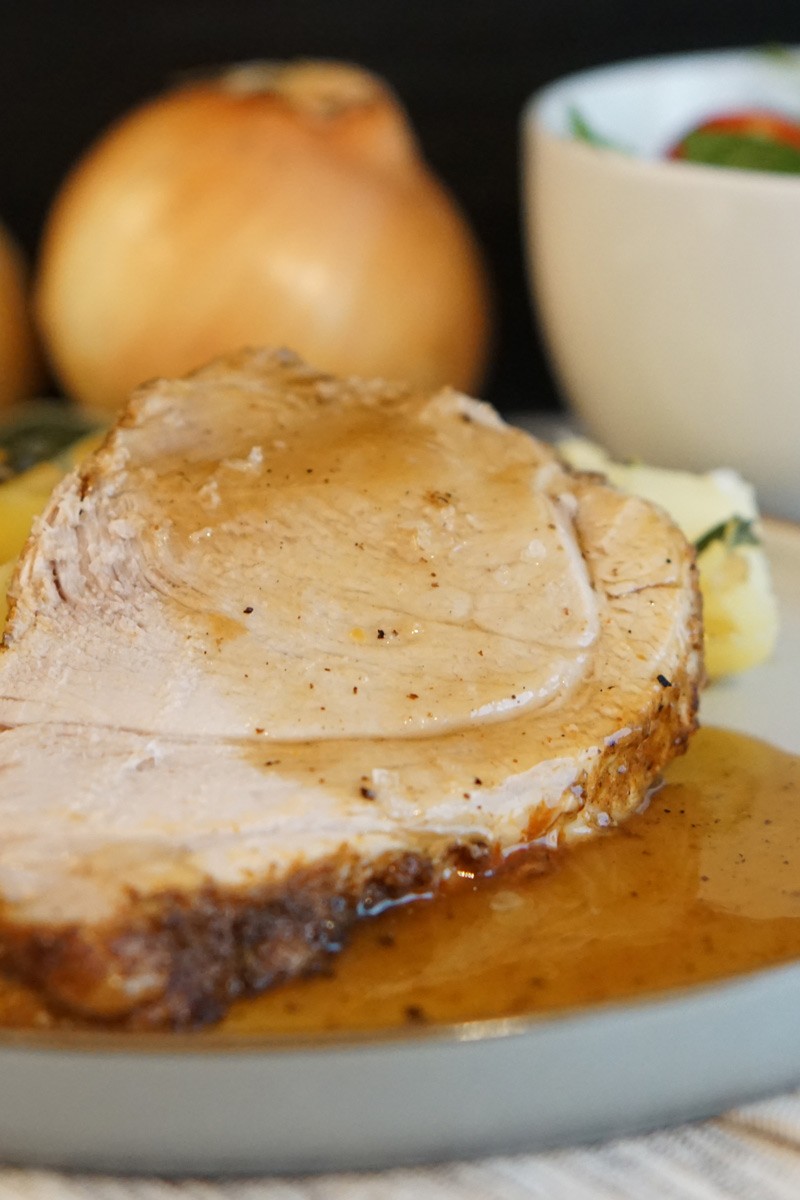 Preparing the Pork Roast
Pork roasts generally come tied up or covered with a string netting. This is to keep the meat together in one piece while it cooks. I usually remove all of that, so I can remove the skin and fat cap. Then if the meat isn't in one solid piece, I'll tie it a couple of times with string to keep it together.
I find that pork shoulder is the one that needs to be tied up. Pork leg generally stays in one piece.
In most cases, the roast will come with a large fat cap and the skin left on. I like to remove those when cooking in the Instant Pot. If you were to cook this roast in the oven, it would have time for the fat to render and the skin to crisp up, but that doesn't happen in the Instant Pot.
So grab a large knife and carefully cut the skin and fat away from the meat, trying not to cut into the meat. It's better to leave on a little extra fat, which will help with moistness and flavor.
Adding Salt & Pepper
For a typical pork roast, the only flavoring that it really needs is salt and pepper. I use a mixture of coarsely ground kosher salt and black pepper. It takes about 1 1/2 teaspoons of each for a total of 3 teaspoons to coat the entire pork well. Be sure to use it all because it does need it. Just about any spice blend will work on a roast. We like to use this dry rub seasoning that is pictured above.
Pat the pork dry before putting on the seasoning. Get it into all the little nooks. Then let is sit for about 5 minutes.
Instant Pot Pro Plus
Now you can control your pot wirelessly through an app. Cool-touch handles on the pot itself, and an automatic locking pressure release valve for greater safety. This one does it all.
How to Make a Pork Roast in the Instant Pot
1. Sear the Pork
Start by searing the pork on all sides. This will give the pork a nice browned and flavorful crust.
I sear the pork directly in the Instant Pot on sauté mode in olive oil. Once it's browned, about 3 minutes per side, I remove it from the pot and turn off the machine.
Be aware that if you are using dry rub it will begin to burn on the bottom of the Instant Pot if you take too long with this step. It should just take about 6 minutes. If the rub is starting to burn on the bottom, remove the roast and add more oil to the pot.
As soon as the pork is mostly browned, turn off sauté mode. It will remain hot enough to finish the sear.
2. Cooking the Pork Roast
There will be some browned bits on the bottom of the pot from searing the pork. You need to get that up before cooking. That is called deglazing the pan and will ward off the dreaded burn notice. Add the water to the pot and use a whisk to scrape the bits up.
This adds great flavor to the broth, which will be used later to make the gravy.
Close the Instant Pot and set it to pressure cook for 45 minutes. This is perfect for a 3 pound roast.
The length of time you need to cook the pork for will vary depending on the size of your roast. It is recommended that you cook a boneless pork roast for 15 minutes per pound in the Instant Pot. Cooking it this long will lead to a sliceable roast, not a fork tender roast.
After the time is up, allow the pressure to release naturally for 10 minutes, then manually release the rest of the pressure.
The Instant Pot is a wonder for cooking any kind or cut of meat. Try this Venison Roast with Potatoes or this Beef Brisket.
2. Slice It Up and Serve It
Take the pork out of the Instant Pot and let it rest a few minutes. Then slice it into pieces, or serve it on a platter to be sliced at the table.
I like to make gravy from the broth left over in the Instant Pot. You can do that right in the pot – no need to use a separate pan. It's incredibly flavorful and makes a really great gravy.
First, check the level of fat in the broth. If there's a large layer of fat on the top of the broth, strain it off first. You don't want greasy gravy! Turn the sauté mode back on. Once the liquid is boiling, add a slurry of cornstarch (1 teaspoon cornstarch mixed with 1 teaspoon cold water). Whisk it until it's thickened.
What to Serve With Pork Roast
There are so many great side dishes you can serve with pork roast. Try these Instant Pot Potatoes and Carrots, Baked Potatoes, or mashed potatoes. We also like to serve it with Corn on the Cob or Baked Beans.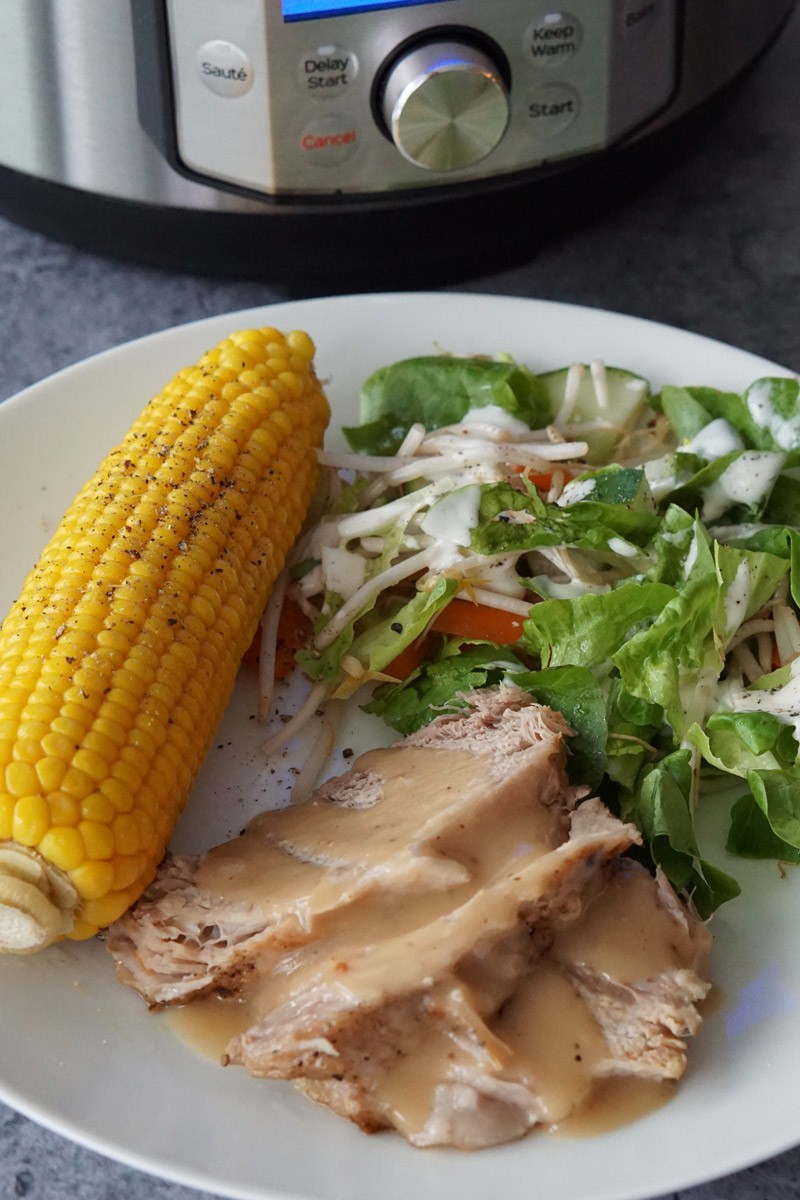 Tips & Notes
A smaller roast will take less time to cook. As a rule of thumb, cook for 15 minutes per pound.
When making gravy, do not leave the sauté mode on for too long. It can get too hot and burn the gravy.
A pork leg weighing around 2-4 pounds fits nicely in the 6 – 8 quart Instant Pot and feeds around 4-8 people.
Sear the pork on all sides. This will give the pork a nice browned and flavorful crust.
Frequently Asked Questions
How long should you cook a pork roast in an Instant Pot?
In this recipe we you will brown the roast on all sides which will take 8-10 minutes. Then pressure cook the 3 pound roast for 45 minutes with a 10 minute natural pressure release. So all together it will take a little over an hour.
How much water do I add to a pressure cooker for a pork roast?
For this recipe you will need to add one cup of water. That is assuming that you are using a 6 quart Instant Pot. If you are using an 8 quart Instant Pot you should add 2 cups of water.
Do I really need to sear the meat before cooking?
If you are running short on time you could skip browning the meat. We highly recommend you don't skip this step though. Browning the meat seals the outside and helps it stay moist through the cooking process. The brown bits that it leaves behind also add a lot of flavor to the cooking liquid and the gravy.
Like this recipe? We'd love for you to share it on your Pinterest boards! Click to follow our Pinterest boards so you can find all our recipes! You can also find us on Facebook!
Instant Pot Pork Roast
This Instant Pot Pork Roast is a quick and easy way to do dinner, resulting in a perfectly cooked roast without the slow cooker.
Note: Made in a 6-qt Instant Pot
Ingredients
3

pound

pork roast

1

tablespoon

cooking oil

1

cup

water

1 1/2

teaspoons

salt

1 1/2

teaspoons

black pepper
For the gravy
2

tablespoons

cornstarch

1

tablespoon

cold water
Instructions
Trim the roast to remove skin and top fat, if necessary. Pat dry.

Mix the salt and pepper in a small bowl. Rub the seasoning all over the pork.

Turn on saute mode on the Instant Pot. Add the cooking oil to the pot. When hot, add the pork roast and brown on top and bottom. Turn off the Instant Pot and remove the roast.

Add the water and whisk any browned bits from the bottom of the pot. Lay the pork roast in the water.

Lock the lid and set the valve to sealing. Press the pressure cook button and set the cook time to 45 minutes.

When the cooking cycle is finished, allow the pot to depressurize naturally for 10 minutes, then move the valve to venting to release the remaining pressure.

To make the gravy, first skim excess oil from the top of the broth in the Instant Pot. Make a cornstarch slurry by adding the cornstarch to cold water. Turn on saute mode. When the liquid is boiling, add the cornstarch slurry and whisk until thickened.

Slice the roast and serve with gravy and your favorite side dish.
Notes
A smaller roast will take less time to cook. As a rule of thumb, cook for 15 minutes per pound.
When making gravy, do not leave the saute mode on for too long. It can get too hot and burn the gravy.
Nutrition
Calories:
249
kcal
Carbohydrates:
2
g
Protein:
38
g
Fat:
9
g
Saturated Fat:
2
g
Polyunsaturated Fat:
1
g
Monounsaturated Fat:
4
g
Trans Fat:
1
g
Cholesterol:
107
mg
Sodium:
521
mg
Potassium:
641
mg
Fiber:
1
g
Sugar:
1
g
Vitamin A:
2
IU
Calcium:
11
mg
Iron:
1
mg
🥧 If you're interested in more great recipes, I share all my favorite recipes over at A Food Lover's Kitchen, and you'll find air fryer recipes at Air Fry Anytime, and cocktails and drinks at Savored Sips. Check it out today!
PIN IT FOR LATER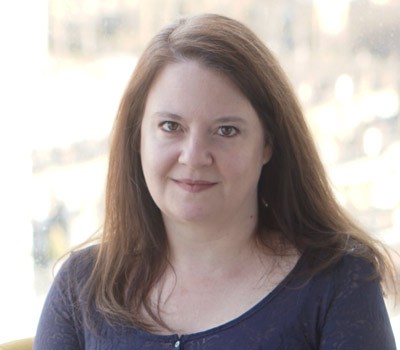 Laura spends a lot of her time cooking and creating recipes to share. She loves traveling and learning about new foods around the world to bring into her own recipes at home.