Our favorite Instant Pot Chicken Recipes are quick and easy to make, which is why we love them so much. The Instant Pot allows you to prepare not only the chicken itself, but also sauces, plus noodles or rice, all in one pot.
» Try one of these Instant Pot Side Dishes to Serve with Anything.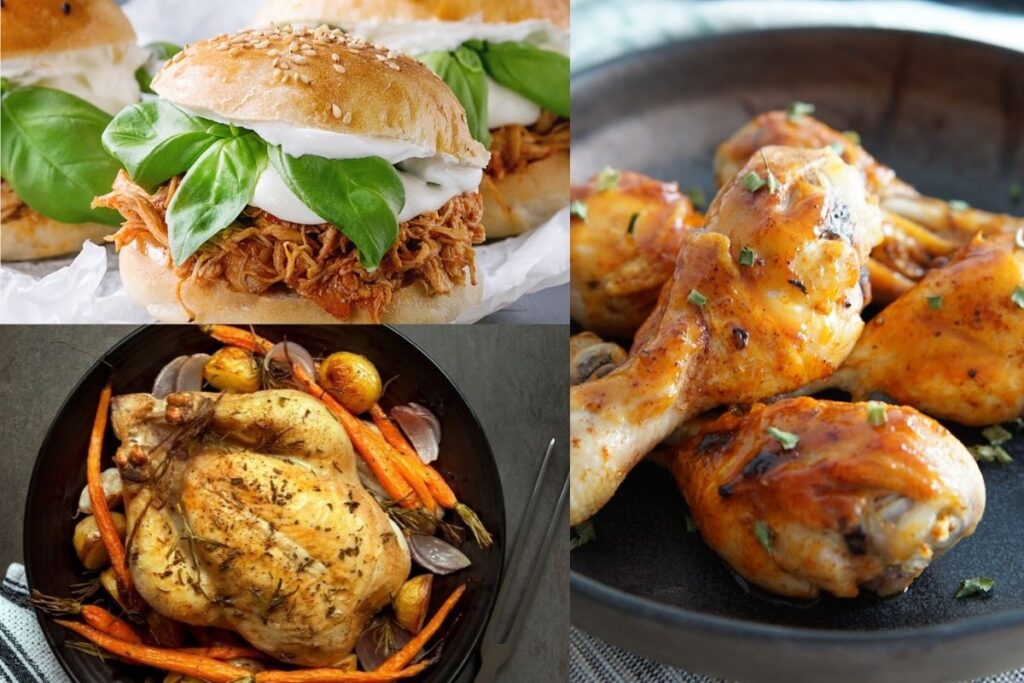 I only buy pasture raised chicken and meats. I love Farm Foods Market online. They deliver hormone-free, non-GMO, antibiotic free chicken, plus all other types of meat, right to your door. You can order whatever you want, whenever you want – no membership or pre-selected box.
We compiled this list of 40 delicious recipes in collaboration with other recipe creators. Click the link to see the full recipe.
Why You'll Love These Recipes
You will find a variety of chicken recipes here, from whole breasts to shreds and cubes, to make your dinner prep quick and easy. With so many options, you could choose a different recipe for every night of the week.
You'll find a generous selection of effortless "dump and go" recipes that demand minimal effort. Just pour in the ingredients, secure the lid, and walk away. The Instant Pot will do the rest!
Chicken is an incredibly versatile ingredient that pairs well with a wide range of flavors and ingredients. If you're looking for new chicken dishes, you'll discover a variety of delightful options to savor.
Anna says: What a fantastic collection, with all of these recipes, I'm never going to run out of the ideas for dinner! That chicken salsa is the first one I'm going to make!
Pam says: I love having a collection of great recipes all in one place. It's perfect when you don't know exactly what you want to make.
Other recipe compilations you might like:
Instant Pot Chicken Recipes
Why Use An Instant Pot?
The Instant Pot is one of the most useful kitchen appliances you can buy, because it drastically cuts down on the cooking time for developing flavors in soups and stews, getting tough cuts of meat tender, and even baking a cheesecake. If you don't have one, check out our guide on which one to buy. Also see our guide to How to Use an Instant Pot and the many accessories you can buy for it.
Before You Go
Since you made it to the end of this article, you're probably pretty interested these dinner ideas. Here are a few more articles we think you might enjoy.
🥧 If you're interested in more great recipes, I share all my favorite recipes over at A Food Lover's Kitchen, and you'll find air fryer recipes at Air Fry Anytime and cocktails and drinks at Savored Sips. Check it out today!
Like this recipe? We'd love for you to share it on your Pinterest boards! Click to follow our Pinterest boards so you can find all our recipes! You can also find us on Facebook!