When you're looking for an easy dinner, these Instant Pot Chicken Leg Quarters are the way to go. Just pop them in the Instant Pot, even from frozen, and they cook in 12 minutes.
» You might also want to try Instant Pot Chicken Salad and Instant Pot Cubed Sweet Potatoes.
Chicken leg quarters are my go-to for dinner when I need it to be easy and quick. You can make these from fresh or frozen in the Instant Pot, with a nice seasoning on top. When they come out, you can serve the as is or crisp up the skin under the broiler.
The best part about these chicken quarters is that you can dress them up with just about any sauce you like – a BBQ sauce, a Sriracha Mayo, a Bourbon honey glaze – you name it. They are delicious any way you serve them.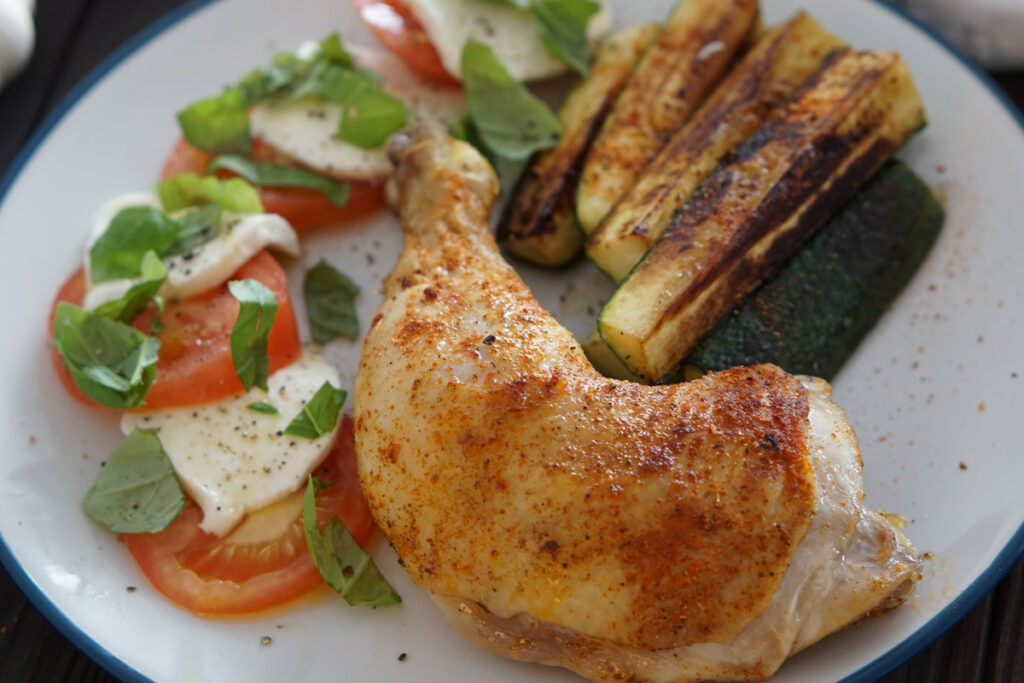 Ingredients You'll Need
If you keep chicken leg quarters in the freezer, you really can't get a more simple dinner. I always keep them on hand when I just need a quick, delicious meal.
Chicken legs – You can use frozen or thawed chicken legs (see recipe card for time specifications). If you don't have chicken legs, you can also make this recipe with drumsticks or thighs.
Dry rub or seasoning salt – I use a homemade dry rub with paprika, garlic salt, black pepper, brown sugar, and onion powder. You can mix up your own, use any dry rub you have on hand, or just use seasoned salt.
Water – You need one cup of water in the bottom of a 6 quart Instant Pot to create steam. An 8-quart IP requires 1 1/2 cups water.
Garlic (optional) – I always put two crushed pieces of garlic in the water which imparts some flavor and aroma as it steams.
Sauce – Adding a sauce to your chicken after it's cooked is optional, but you can mix it up however you want – honey mustard, bbq, buffalo sauce, etc.
» You will love this Instant Pot French Onion Chicken.
How to Cook Chicken Leg Quarters in the Instant Pot
You'll need the trivet that came with the Instant Pot. If you don't have one, you can set the chicken directly in the pot. I like the texture of the chicken more when it's on the trivet. It's more tender and less watery.
Seasoning the chicken legs before cooking adds a ton of flavor. I season almost everything with my homemade dry rub. You can find the recipe at that link. It's fine to season with seasoning salt or just salt and pepper. Maybe try a garlic salt or lemon pepper.
Pour a cup of hot chicken broth into the base of the pot. Add the trivet. Then place the legs evenly on the trivet. This recipe is for just 2 servings, but you can make as many chicken legs as you need, just stack them up.
Close the lid and seal the vent. Press the "pressure cook" button and set the time to 12 minutes. After this, allow natural pressure release for 5 minutes, then manually release the remaining pressure.
You can cook frozen chicken legs in the Instant Pot, if you've forgotten or haven't had time to thaw in advance. If you're cooking these chicken legs from frozen, you'll need to give them 13 minutes of cook time, and I also sometimes extend the pressure release to 8 minutes.
The chicken should be 165 degrees F when fully cooked. If it did not reach this temperature, start the pressure cooker again for 3 minutes.
Be sure to visit our Instant Pot Guide for more tips and great recipes!
At this point, you can serve the chicken legs as is. They are nicely seasoned and tasty. Or you can brush them with BBQ sauce (try our killer bourbon bbq sauce recipe), buffalo sauce, or a glaze, like this delicious honey sriracha sauce.
You can also crisp up the skin in the oven, if you want to. I almost always skip this extra step. It's just not necessary, in my opinion. Cooking the chicken for longer in the oven isn't why I choose to use the Instant Pot.
If you do want to crisp the skin, put it under the broiler for up to 5 minutes.
What to Serve With Chicken Legs
You can serve this dish with any side dish you like. That's the best part – they go with everything.
Try serving them with these sides that you can also make in the Instant Pot:
Why Use An Instant Pot?
The Instant Pot is one of the most useful kitchen appliances you can buy, because it drastically cuts down on the cooking time for developing flavors in soups and stews, getting tough cuts of meat tender, and even baking a cheesecake. And there are many accessories that will help you get more out of your Instant Pot.
If you don't have one yet, check out our guide on which one to buy. Also see our guide to How to Use an Instant Pot for more information.
Frequently Asked Questions
Can I cook the chicken from frozen?
Yes, you can cook the chicken from fresh or frozen. If cooking from frozen, set the time for 1 minute extra – a total of 13 minutes. Always check the internal temperature of the chicken when done cooking to ensure it reaches 165 degrees F.
Will the skin be soggy when cooked in the Instant Pot?
The skin on the chicken will not get crispy in the Instant Pot, but if you keep it up out of the water on the trivet when cooking, it won't get soggy either. If you prefer crispy skin, either broil it for a few minutes after cooking, or set it skin-side down on a frying pan for 3-5 minutes.
How many chicken leg quarters can I cook at one time?
You can cook as many leg quarters as you need at one time. It won't take any longer to cook them, whether you have 2 or 12. Just be sure not to exceed the max fill line. If all of the pieces are frozen, add 3 minutes to the cook time to be sure everything cooks through sufficiently.
Like this recipe? We'd love for you to share it on your Pinterest boards! Click to follow our Pinterest boards so you can find all our recipes! You can also find us on Facebook!
Instant Pot Chicken Leg Quarters
Instant Pot Chicken Leg Quarters are simple to make and ready in about 15 minutes.
Note: Made in a 6-qt Instant Pot
Ingredients
2

chicken leg quarters

1/2

tbsp

dry rub or seasoning salt

1

cup

water

2

cloves

garlic

optional
Instructions
Season the chicken legs with the dry rub or seasoning salt.

Add water to the Instant Pot and insert the trivet.

Set the chicken leg quarters on the trivet, skin side up. Drop the garlic, if using, into the water.

Lock lid. Press the Pressure Cook button and set to 12 minutes. Let pressure release naturally for 5 minutes, then do a quick release of the remaining pressure.
Notes
If cooking the chicken from frozen, cook for 13 minutes.
Additional cooking isn't necessary, but you can broil the chicken to get the skin crispy. It takes about 3-5 minutes under the broiler.
It is not necessary to use garlic. I add it to give a little bit of aromatics to the water, but it's not required.
Nutrition
Calories:
321
kcal
Carbohydrates:
1
g
Protein:
24
g
Fat:
24
g
Saturated Fat:
6
g
Polyunsaturated Fat:
5
g
Monounsaturated Fat:
10
g
Trans Fat:
1
g
Cholesterol:
142
mg
Sodium:
1862
mg
Potassium:
309
mg
Fiber:
1
g
Sugar:
1
g
Vitamin A:
113
IU
Vitamin C:
1
mg
Calcium:
22
mg
Iron:
1
mg
🥧 If you're interested in more great recipes, I share all my favorite recipes over at A Food Lover's Kitchen, and you'll find air fryer recipes at Air Fry Anytime, and cocktails and drinks at Savored Sips. Check it out today!
Pin it for later!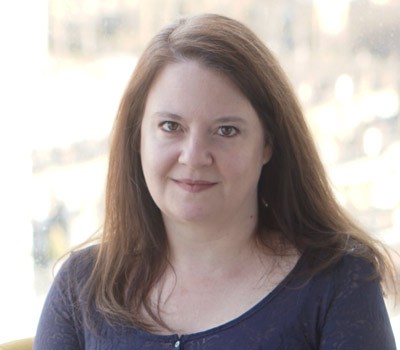 Laura is a passionate home cook and the owner of A Pressure Cooker Kitchen. She is dedicated to helping people create delicious Instant Pot meals with ease. Laura is an expert at developing recipes that can be prepared quickly and easily using a pressure cooker.