You can cook frozen chicken thighs in the Instant Pot in a fraction of the time it takes on the stovetop and it comes out perfectly cooked, fork tender, juicy, and with less mess to clean up.
» You might like these Instant Pot Chicken Drumsticks or Instant Pot Baked Potatoes.
🥳🥩ButcherBox is offering new customers 2 packs of ground beef FREE in every box for the lifetime of their subscription! Don't miss out! 🥳 SIGN UP HERE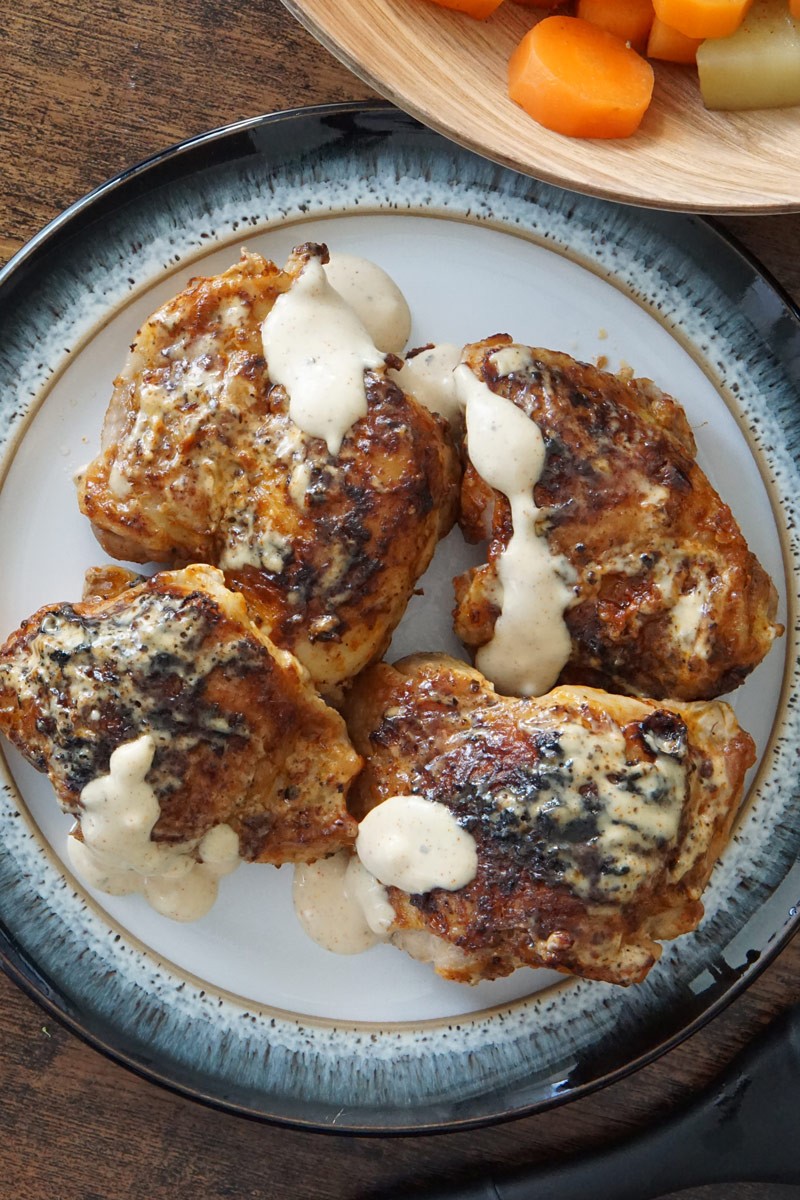 If you didn't plan ahead to defrost the chicken thighs in time to prepare it for dinner, that's not a problem for the Instant Pot. If you were to cook the chicken on the stovetop, you'd have to go through a lengthy defrosting, but the Instant Pot doesn't require the chicken to be thawed, so it's a much faster and easier way to make dinner.
I rarely thaw chicken before cooking anymore, since it's really unnecessary when cooking in the Instant Pot. You can easily cook frozen chicken thighs, or frozen chicken breasts or tenderloins in the Instant Pot (or the air fryer if you like!).
Of course, you can't get the skin crispy in the Instant Pot, but that takes just a few minutes under the broiler once the chicken is done cooking. You could even crispy the skin in the Instant Pot on saute mode, once you've discarded the liquid and dried the pot.
I guarantee you'll start making chicken thighs this way in your Instant Pot from now on once you've tried it. The chicken really turns out juicy and delicious, and there's no greasy mess to clean up on the stove later on.
Why Use An Instant Pot?
The Instant Pot is one of the most useful kitchen appliances you can buy, because it drastically cuts down on the cooking time for developing flavors in soups and stews, getting tough cuts of meat tender, and even baking a cheesecake. And there are many accessories that will help you get more out of your Instant Pot.
If you don't have one yet, check out our guide on which one to buy. Also see our guide to How to Use an Instant Pot for more information.
Ingredients in Instant Pot Frozen Chicken Thighs
The small amount of ingredients needed is what makes this recipe so great. There isn't much to think about. Let the Instant Pot do all of the work.
Chicken thighs – You can use boneless, skinless thighs for the easiest possible version. You can also use bone in skin on and just crisp the skin when the cooking is done. I use medium sized bone-in, skin on chicken thighs. If you use bone-less, skin off chicken thighs, they don't need to cook quite as long. See the notes section of the recipe card.
Water – I don't use chicken broth, like some recipes do, because the chicken sits on the trivet inside the Instant Pot, not touching the broth, so not much flavor gets into the chicken.
Seasonings – I like to use a mix of paprika, salt, garlic salt, and ground pepper. I put a lot on both sides of the chicken. You could just season with salt if you wanted to keep it simple.
Sauce – If you want to use a sauce, we've served ours with Alabama White BBQ Sauce.
How to Cook Frozen Chicken Thighs in the Instant Pot
You can make chicken thighs from fresh or frozen in the Instant Pot. The only difference will be the amount of time they need to cook. So whether you have frozen or thawed chicken, you can use this recipe.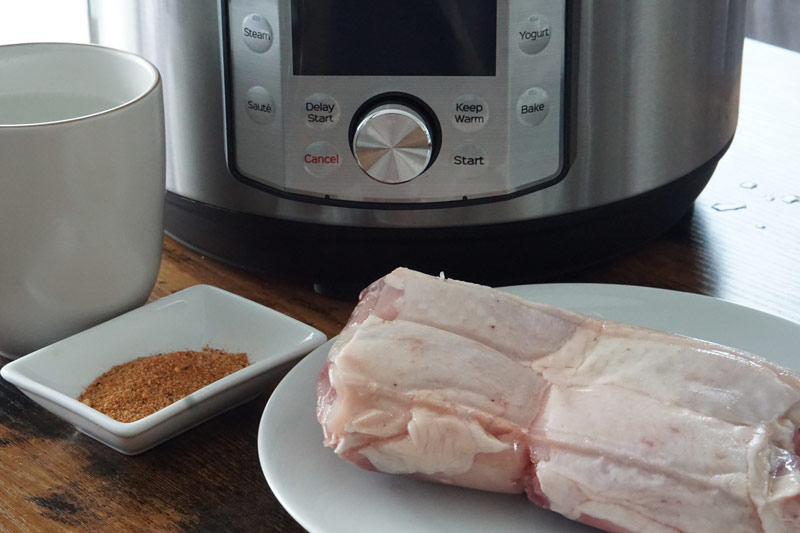 Now for the process. It's quite simple. Just place the trivet in the pot and pour in the water. Season the chicken as best you can. You won't be able to do a real "rub" because it won't adhere to the frozen chicken. I usually just sprinkle it on top.
Put the chicken on the trivet. Then lock the lid and set the timer for 12 minutes.
The cook time will vary depending on the type and size of chicken thigh you used (see below). 12 minutes is usually good for small to medium chicken thighs, not stacked on top of each other. You will need 15-18 minutes for larger chicken thighs – around the size of your clenched fist.
When the time is up, allow the pressure to release naturally. It takes about 5-10 minutes. If the skin was on, it won't probably look as appetizing as you want it to. To crisp the skin, just stick it under the broiler for a few minutes.
How Long to Cook Chicken Thighs
Not every piece of chicken is the same size and some will have bones, some will be frozen, some won't be. We want to make sure your chicken thighs turn out perfect no matter how they start out. So here is a chart to help you decide how long to cook your chicken.
From frozen:
Bone in (small to medium): 12 minutes
Bone in (large): 15-18 minutes
Boneless: 8 minutes
More than 10 pieces: 20 minutes
From fresh:
Bone in (small to medium): 10 minutes
Bone in (large): 13 minutes
Boneless: 6 minutes
More than 10 pieces: 15 minutes
The chicken should be 165 degrees F after cooking when measured on a meat thermometer. It's important to make sure it's reached the right temperature before you eat it.
How to Serve Chicken Thighs
For skin-on chicken thighs, you will probably want to take the extra step of crisping up the skin under the broiler. Just place the chicken on a baking sheet and place it about 2″ under the heating element for about 3-5 minutes, until crispy. You can then add any seasonings or sauces you want. I love it with this Alabama White BBQ Sauce.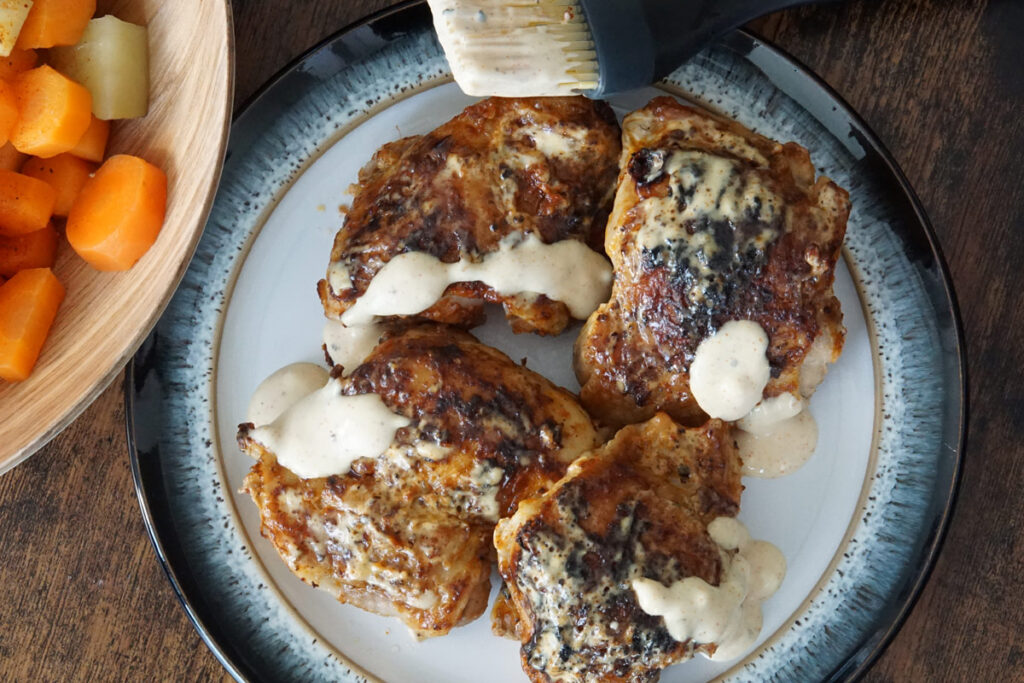 If you don't want to use the broiler, you can crisp the skin on the grill outside, or you can empty and dry the inner pot of the Instant Pot and sear the skin side of the chicken on saute mode for 3-5 minutes.
Sauce and Seasonings
You can add any manner of different spices as well. Try:
Italian seasoning
Lemon Pepper
Hickory salt
No matter what flavor combo you want to try, you still need at least 1 cup of water in your pot. So keep that in mind when you add sauces, they are in addition to the water. This will mean that your sauce will turn out a bit watery and will have to be cooked down or thickened with corn starch.
Frequently Asked Questions
Can you overcook chicken thighs in the Instant Pot?
Truthfully, you can overcook anything. Chicken thighs are not immune from overcooking. They do have more tolerance to it though because they contain more fat, so they won't become overly dry until they are severely overcooked. Since you are going to set the timer on the Instant Pot, it's very unlikely that you'll end up overcooking it.
Should I brown the chicken before cooking it?
I don't brown the chicken before cooking it in the Instant Pot because the effects of the browning will be muted by the steam from the cooking process. Instead, if you want to have a crispy skin or that nice caramelization on the chicken, you can brown it after pressure cooking it.
Related Posts:
Like this recipe? We'd love for you to share it on your Pinterest boards! Click to follow our Pinterest boards so you can find all our recipes! You can also find us on Facebook!
Instant Pot Frozen Chicken Thighs
You can cook bone-in chicken thighs in the Instant Pot in a fraction of the time it takes on the stovetop and it comes out perfectly cooked fork tender, juicy, and with way less splatter.
Note: Made in a 6-qt Instant Pot
Ingredients
4

frozen chicken thighs

*see notes

1

cup

water

1/2

tablespoon

paprika

1/2

teaspoon

salt

1/4

teaspoon

garlic powder

1/4

teaspoon

ground black pepper
Instructions
Mix together the paprika, salt, garlic powder, and pepper. Season with chicken with the spice mixture.

Close and lock the lid. Set the vent to sealing.

Press the pressure cook or manual button and set to 12 minutes. It will take about 5 minutes to come up to pressure.

After cooking, allow a natural pressure release (usually 5-10 minutes).

Remove the chicken from the Instant Pot. Place it on a baking sheet and broil for 3-5 minutes to crisp the skin.
Notes
These instructions assume you are cooking small to medium sized bone-in skin-on chicken thighs. For larger thighs, cook for 15-18 minutes. For boneless chicken thighs, cook for only 8 minutes.
Nutrition
Calories:
249
kcal
Carbohydrates:
1
g
Protein:
18
g
Fat:
19
g
Saturated Fat:
5
g
Polyunsaturated Fat:
4
g
Monounsaturated Fat:
8
g
Trans Fat:
1
g
Cholesterol:
111
mg
Sodium:
381
mg
Potassium:
238
mg
Fiber:
1
g
Sugar:
1
g
Vitamin A:
125
IU
Vitamin C:
1
mg
Calcium:
12
mg
Iron:
1
mg
🥧 If you're interested in more great recipes, I share all my favorite recipes over at A Food Lover's Kitchen, and you'll find air fryer recipes at Air Fry Anytime, and cocktails and drinks at Savored Sips. Check it out today!
Like it? Pin it!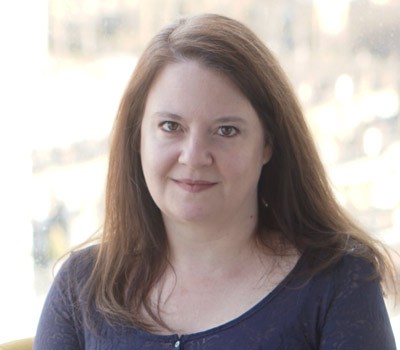 Laura spends a lot of her time cooking and creating recipes to share. She loves traveling and learning about new foods around the world to bring into her own recipes at home.