Instant Pot Shredded Buffalo Chicken is cooked to tender in the Instant Pot in just 10 minutes, then mixed with your favorite buffalo hot sauce and butter to make a flavorful shredded chicken.
» You can also make Pulled Pork in the Instant Pot and Instant Pot Buffalo Chicken Pasta.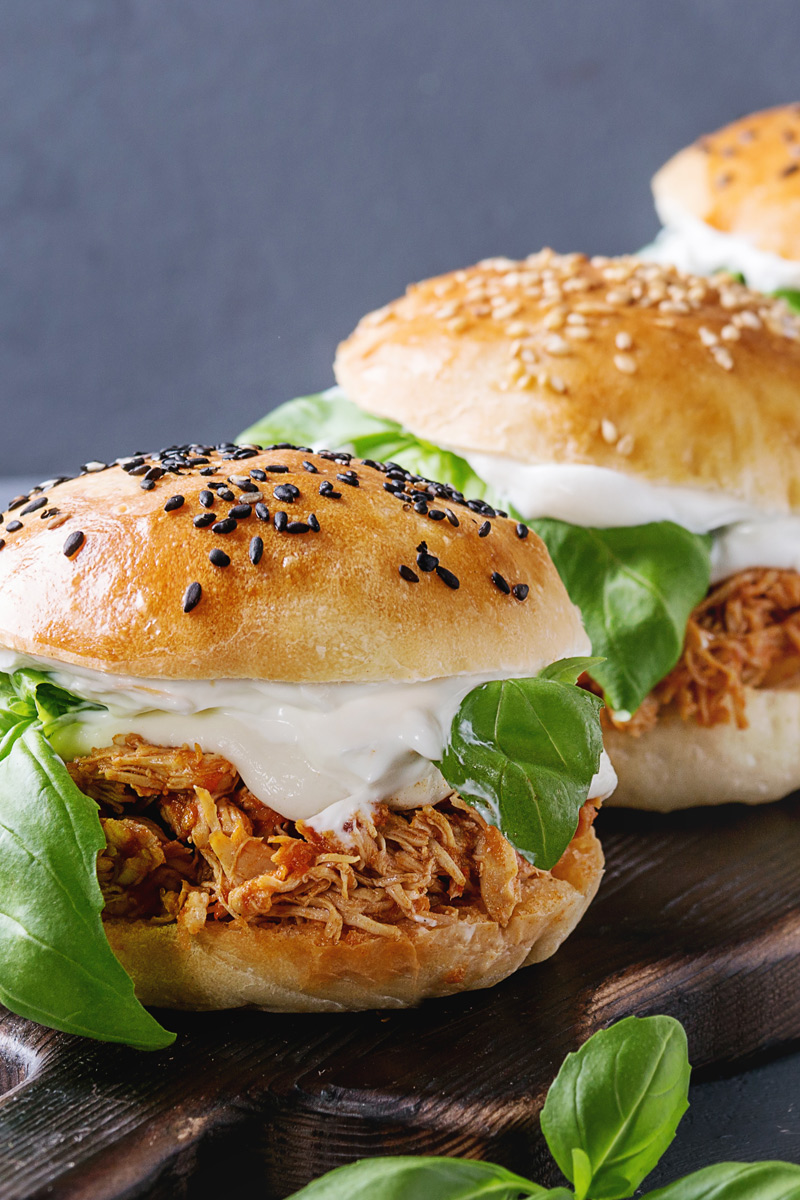 » Check out our Instant Pot Cooking Times Cheat Sheet so you never have to look up times again for your favorite foods you make in the pressure cooker. Print or bookmark it so you always have it handy!
The Instant Pot does all the heavy lifting for this perfectly tender shredded chicken. All you really need to do is put the chicken in the pot with some water and sauce and let it cook, then shred it and you're ready to go.
We make this shredded chicken nearly every week and use it to make sandwiches, like the buffalo chicken sandwich pictured above, and buffalo chicken wraps or buffalo chicken stuffed peppers. It's one of the easiest things to make, and since it can be made in large quantities it's possible to make multiple meals from one pot.
So many great meals can be made with this Instant Pot Shredded Buffalo Chicken recipe. I'm telling you, it's incredibly versatile.
Ingredients You'll Need
This recipe comes down to just three main ingredients. I always keep Frank's Red Hot Sauce on hand for just this reason.
Chicken – I use medium sized chicken breasts for this recipe. If you're using large, it will need a few more minutes to cook through. It's best to use boneless skinless chicken breast for this recipe because it shreds so easily. You can use chicken thighs if you want a juicier chicken, but it doesn't shred quite as well.
Buffalo sauce – I use Frank's Red Hot Original sauce. There's extra hot and Wings sauce too, but the original is where it's at. You can use any brand you want though, or even make your own.
Butter – Use salted butter for this, as it will add an extra bit of flavor to the chicken.
Water – You will need at least 1 cup of water in a 6-quart and 1 1/2 cups of water in an 8-quart Instant Pot in order to build pressure.
How To Make Buffalo Chicken in the Instant Pot
Pour the water into the inner pot and set the chicken breasts in the water. Remember that you'll need 1 cup of water for a 6-quart and 1 1/2 cups of water for an 8-quart Instant Pot.
Pour 1/4 cup of the buffalo sauce onto the chicken. It will impart some flavor as the chicken cooks.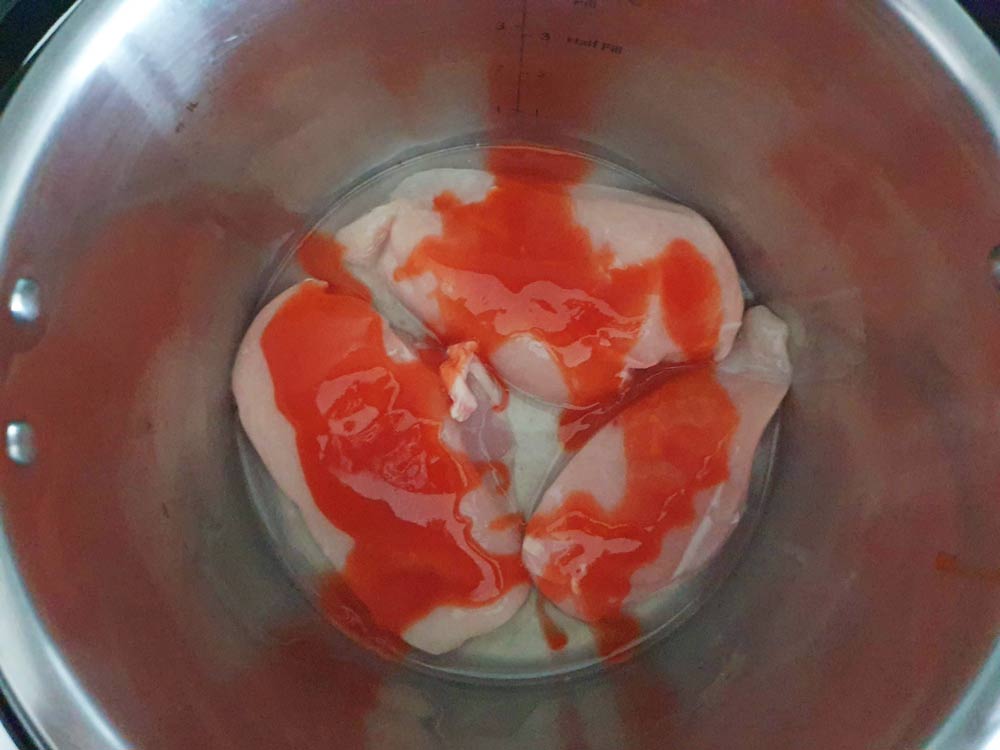 Close the Instant Pot lid and set it to pressure cook on high for 10 minutes. It will take about 5-10 minutes to come up to pressure.
After the time is up, so a quick pressure release. Drain the water from the pot.
Shred It and Serve It
Shred the chicken either with two forks or with a hand mixer, which makes it quicker. Once fully shredded, add the butter and the remaining sauce and stir it all to combine. Let it sit for about 5 minutes to really soak up the sauce.
Now you can use it to make whatever you want!
Why Use An Instant Pot?
The Instant Pot is one of the most useful kitchen appliances you can buy, because it drastically cuts down on the cooking time for developing flavors in soups and stews, getting tough cuts of meat tender, and even baking a cheesecake. And there are many accessories that will help you get more out of your Instant Pot.
If you don't have one yet, check out our guide on which one to buy. Also see our guide to How to Use an Instant Pot for more information.
Ways to Use Buffalo Chicken
This shredded chicken is incredibly versatile, so you can use it in so many ways. I like to make sandwiches or wraps or just add it on top of things, like peppers, pizza, or on top of roasted cauliflower steaks. Anything goes!
Buffalo chicken sandwiches
Buffalo chicken wraps
Frequently Asked Questions
Can I cook the chicken from frozen?
You can make shredded chicken from frozen in the Instant Pot. However, you will need to adjust this recipe slightly to get the best outcome. Since the meat is frozen, you'll need to cook it for 13 minutes on high pressure, rather than 10 minutes.
How much water do I add to chicken in the Instant Pot?
For this recipe, I add one cup of water to the chicken. That water will be drained off before you shred the chicken. The Instant Pot requires a set amount of water in order to build the appropriate pressure, so you want to use one cup for a 6-quart pot and 1 1/2 cups for an 8-quart pot.
Instant Pot Pro Plus
Now you can control your pot wirelessly through an app. Cool-touch handles on the pot itself, and an automatic locking pressure release valve for greater safety. This one does it all.
Why is my Instant Pot chicken rubbery?
Rubbery chicken can be caused by overcooking, but if you follow this recipe with 10 minutes cook time, that should not be a problem.
Another cause of rubbery chicken is that the chicken was "enhanced" or injected with broth. It's a sales technique that makes the chicken appear bigger and plumper, but the broth is mostly salt water and leads to a very strange texture when cooked. To avoid this, make sure you buy high-quality chicken that has not been enhanced.
And yet another cause for this type of tough and rubbery chicken is woody breast syndrome. It tends to happen more often with larger breasts, so stick with smaller, free-range chicken.
Like this recipe? We'd love for you to share it on your Pinterest boards! Click to follow our Pinterest boards so you can find all our recipes! You can also find us on Facebook!
Easy Instant Pot Shredded Buffalo Chicken
Instant Pot Shredded Buffalo Chicken is cooked to tender in the Instant Pot in just 10 minutes, then mixed with your favorite buffalo hot sauce and butter to make a flavorful shredded chicken.
Note: Made in a 6-qt Instant Pot
Ingredients
1

pound

chicken breasts

roughly 3 medium pieces

1

cup

buffalo sauce

divided

1

tablespoon

butter

1

cup

water
Instructions
Pour 1 cup of water into the Instant Pot. Place the chicken breasts in the water. Pour 1/4 cup of the buffalo sauce over the chicken.

Close and lock the lid and set the vent to sealing. Cook on high pressure for 10 minutes, then do a quick release of the pressure.

Drain the water from the pot and shred chicken with a fork.

Tip: Use a hand mixer for quicker shredding.

Add the butter and remaining buffalo sauce to the shredded chicken. Mix well.

Serve on sandwiches, in wraps, or any other way you like.
Notes
The chicken needs to be cooked to an internal temperature of 165 degrees F. Check the meat after cooking to make sure it's reached that point.
Frozen chicken breasts will need 3-5 minutes longer cook time, as will larger pieces of chicken.
Nutrition
Calories:
132
kcal
Carbohydrates:
1
g
Protein:
24
g
Fat:
3
g
Saturated Fat:
1
g
Polyunsaturated Fat:
1
g
Monounsaturated Fat:
1
g
Trans Fat:
1
g
Cholesterol:
73
mg
Sodium:
1978
mg
Potassium:
425
mg
Sugar:
1
g
Vitamin A:
40
IU
Vitamin C:
1
mg
Calcium:
12
mg
Iron:
1
mg
🥧 If you're interested in more great recipes, I share all my favorite recipes over at A Food Lover's Kitchen, and you'll find air fryer recipes at Air Fry Anytime, and cocktails and drinks at Savored Sips. Check it out today!
Like it? Pin it!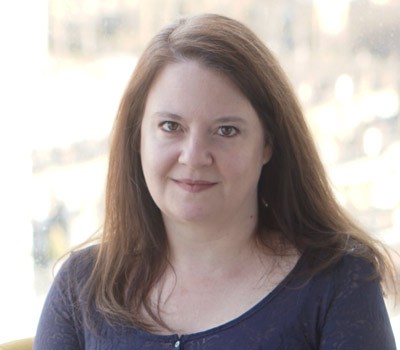 Laura is a passionate home cook and the owner of A Pressure Cooker Kitchen. She is dedicated to helping people create delicious Instant Pot meals with ease. Laura is an expert at developing recipes that can be prepared quickly and easily using a pressure cooker.