Instant Pot Pulled Pork can be made in just over an hour, resulting in super flavorful pork that can be shredded and used to make so many delicious dishes.
» You might also like this Easy Instant Pot Shredded Buffalo Chicken and this Instant Pot Carnitas Recipe.
There's no need to heat up your kitchen to braise a pork shoulder anymore. The Instant Pot does all the heavy lifting for this perfectly tender pulled pork.
We make this pulled pork nearly every week and use it to make dinners like the pulled pork sandwiches pictured below. It's one of the easiest things to make and since it can be made in large quantities, it's possible to make multiple meals from one pot.
Our favorite things to make with shredded pork are BBQ pulled pork sandwiches (pictured above), pulled pork gnocchi, and cabbage bowls with pulled pork heaped over the top.
All of these dishes can be made with this Instant Pot Pulled Pork recipe. I'm telling you, it's incredibly versatile.
Which Cut of Pork to Use
My favorite cut of pork to use for this recipe is pork shoulder (also called pork butt). I cook a LOT of pork shoulder in the instant pot. It turns out so tender and falls apart when you shred it, because it has just enough fat marbling throughout to not be dry.
I prefer to buy pork shoulder that is boneless. If you can't get it boneless, you can always remove the bone yourself before cooking, or cook it as is and remove the bone later. If the pork shoulder you buy has a large fat cap or skin on, you'll want to remove both before cooking.
Pork Leg – Pork leg usually comes in one big chunk, where shoulder is more marbled. It can turn out slightly more dry than shoulder, which is why I usually choose shoulder instead of pork leg, but it's still a good choice.
Pork loin – Pork loin is the leanest cut of meat and doesn't have much fat. It's also usually sold in smaller roasts that are thinner. Pork loin will cook a lot faster in the Instant Pot. Overcooking can quickly lead to dry pork. That's why I mostly avoid this cut.
How To Cook Pulled Pork in the Instant Pot
Pork roasts generally come tied up or covered with a string or netting. This is to keep the meat together in one piece while it cooks. You'll want to remove those things, then rinse the meat with cold water and pat it dry with a paper towel.
Cut the meat into 3-4 smaller chunks, rather than cooking it whole. This will help the meat break down faster and results in a more flavorful and moist pork.
Add a Dry Rub
I always use a dry rub on the pork to give it maximum flavor and seasoning. You can use a store-bought dry rub that you love, or you can quickly mix up your own with these spices:
Paprika
Salt
Ground black pepper
Garlic salt
Oregano
Mix up your dry rub and rub it generously on all parts of the pork.
Sear on Saute Mode
Searing the pork on all sides before pressure cooking it will give those browned edges that you're used to seeing on pulled pork that's braised or smoked. This is where all that maximum flavor comes from, so don't skip this step.
The great news is that you can sear the pork directly in the Instant Pot on saute mode. There's no need to dirty another pot.
Turn on Saute Mode and let it get hot, about 3-4 minutes, then add the olive oil. When the oil is shimmering, add the pork and brown it for about 3 minutes per side. You want to get some nice browned crust on it, so don't turn it too fast.
However, do be aware that the dry rub will begin to burn on the bottom of the Instant Pot if you leave it too long. It should just under 10 minutes to sear all sides of the pork. As soon as it's close to done, turn off saute mode, so it can cool down before the next step.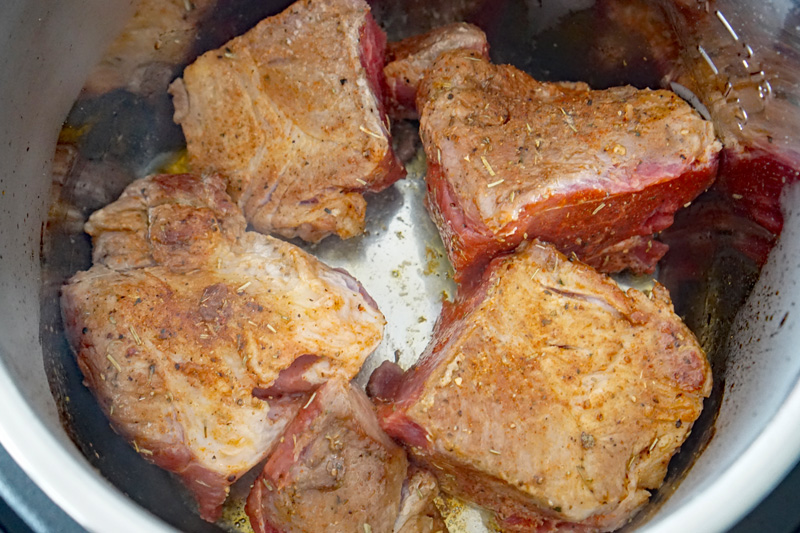 Pressure Cook the Pork
There will be some browned bits on the bottom of the pot from searing the pork. You need to get that up by adding liquid to the pot. Don't do this while saute mode is still on. It's very hot and the liquid will steam up immediately and can burn your arm if you're not careful.
Let the pot cool down slightly, then pour in the broth and scrape the bits up with a spatula. This adds great flavor to the meat as it cooks. Note that if you don't get the browned bits up from the bottom, it's possible you'll get a burn notice a few minutes into cooking. If you do get the burn notice, just turn off the pot and get those browned bits up before you restart it.
Close the Instant Pot lid and set it to pressure cook (or manual, depending on which version you have) for 50 minutes.
After the time is up, allow the pressure to release naturally. It will take about 15 minutes. If there's still pressure left after 15 minutes, do a manual release.
Shred It and Serve It
Take the pork out of the Instant Pot and let it sit without the liquid for about 10 minutes. This will dry it up a little, so it's not wet, which is ideal for uses like pulled pork sandwiches. The meat should fall apart quite easily when you shred it with a fork.
Now you can use it to make whatever you want!
Can I Cook the Pork From Frozen
You can make pulled pork from a frozen pork roast in the Instant Pot. However, you will need to adjust this recipe slightly to get the best outcome. Since the meat is frozen, it won't take a rub well, and you won't be able to sear it first, so you will lose some flavor in the process. However, it can be done.
If cooking from frozen, put the broth and all the spices from the rub into the inner pot and stir it up. Place the roast in the liquid. Close the lid and set to pressure cook for 90 minutes. This extended time is necessary not only because the meat was frozen, but because it's in a full roast, rather than smaller pieces.
If after 90 minutes and a natural pressure release, the meat is not fork tender, cut the roast in half or in 4 pieces and pressure cook it again for 10-15 minutes, depending on how firm it is.
Why Use An Instant Pot?
The Instant Pot is one of the most useful kitchen appliances you can buy, because it drastically cuts down on the cooking time for developing flavors in soups and stews, getting tough cuts of meat tender, and even baking a cheesecake. And there are many accessories that will help you get more out of your Instant Pot.
If you don't have one yet, check out our guide on which one to buy. Also see our guide to How to Use an Instant Pot for more information.
Like this recipe? We'd love for you to share it on your Pinterest boards! Click to follow our Pinterest boards so you can find all our recipes! You can also find us on Facebook!
Instant Pot Pulled Pork
This Instant Pot Pulled Pork recipe results in super flavorful pork.
Note: Made in a 6-qt Instant Pot
Ingredients
3

lb

boneless pork shoulder

skin and fat cap removed

1

tbsp

paprika

1

tsp

salt

1/2

tsp

black pepper

1/2

tsp

garlic salt

1/4

tsp

oregano

1

cup

beef or pork stock

1

small onion

but into chunks

1

tbsp

cooking oil
Instructions
Remove any skin and fat from the pork shoulder, rinse in cool water, pat dry, and cut it into large chunks.

Combine the paprika, salt, pepper, garlic salt and oregano in a small bowl. Coat each piece of pork with the rub.

Heat the Instant Pot on Saute mode and add the cooking oil. When hot, sear the pork chunks on all sides until browned (about 3 mins per side). Remove from the pot.

Add the beef stock to the pot and whisk rapidly to scrap all the browned bits off the bottom. Add the pork and onions to the pot.

Secure the lid on the Instant Pot and set the valve to sealing.

Select the Pressure Cook button and set to 50 minutes. When finished, allow the pressure to release naturally (about 15 minutes). Remove the meat and let stand in a bowl with no liquid for 5 minutes. Shred with a fork.
Notes
You can use a pork shoulder, butt, leg, loin or belly. Remove skin, fat cap, and any bones.
If you don't wish to use the dry rub, sprinkle with salt and pepper or seasoning salt.
Nutrition
Calories:
322
kcal
Carbohydrates:
2
g
Protein:
52
g
Fat:
10
g
Saturated Fat:
3
g
Polyunsaturated Fat:
2
g
Monounsaturated Fat:
5
g
Trans Fat:
1
g
Cholesterol:
136
mg
Sodium:
784
mg
Potassium:
965
mg
Fiber:
1
g
Sugar:
1
g
Vitamin A:
51
IU
Vitamin C:
3
mg
Calcium:
26
mg
Iron:
2
mg
LIKE IT? PIN IT FOR LATER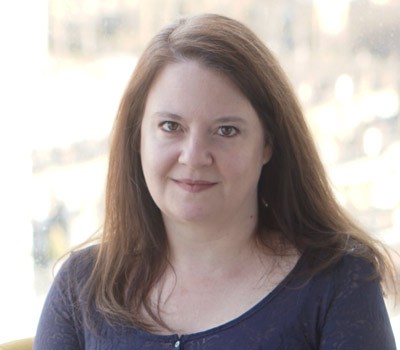 Laura spends a lot of her time cooking and creating recipes to share. She loves traveling and learning about new foods around the world to bring into her own recipes at home.