These Instant Pot Baby Back Ribs are incredibly tender ribs cooked in a fraction of the time as you would get in the oven or on the grill. Give them a try and you might never cook them any other way again.
» You might like this Instant Pot Mac & Cheese and Instant Pot Pasta Salad.
You might be sceptical that cooking ribs in the Instant Pot would produces good back back ribs. After all, most of the tenderness of ribs comes from slowly cooking them on a grill for many hours, right?
Well, that's the joy of cooking with a pressure cooker. You can cook incredibly tender meat that is falling off the bone, like you'd expect from cooking for hours on a bbq pit.
There is one limitation, however. You can't get that delicious char of the grill on these ribs. In order to get the char on the top of the ribs and to caramelize the BBQ sauce – two of the three things that make ribs so irresisitble – you have to broil them or grill them on high heat after they're done in the Instant Pot.
If you have an Instant Pot Duo Crisp with the air fryer lid, you can change the lids on the machine and crisp up the ribs with the air fryer lid. I've also very successfully finished the ribs in my separate air fryer, which takes away the need to use the oven.
» Try these Instant Pot Beef Short Ribs.
Why Use An Instant Pot?
The Instant Pot is one of the most useful kitchen appliances you can buy, because it drastically cuts down on the cooking time for developing flavors in soups and stews, getting tough cuts of meat tender, and even baking a cheesecake. And there are many accessories that will help you get more out of your Instant Pot.
If you don't have one yet, check out our guide on which one to buy. Also see our guide to How to Use an Instant Pot for more information.
How to Make Instant Pot BBQ Ribs
A rack of ribs has a silver membrane on the backside. For the best fall-apart meat, the membrane needs to be removed.
Remove the membrane by turning the ribs over and finding the edge of the skin at the one corner of the meat. It should be easy to remove the membrane in one piece if you grab it just right and pull with some force, just like removing a plastic film from a package.
I always add a dry rub to my ribs before putting them in the Instant Pot. This can be a dry rub that you purchase at the store, or one you make at home. I like to make my own rub, and I use a combination of salt, paprika, chili powder, garlic powder, and brown sugar.
You can also add some hickory smoked salt for a bit of smoky flavor.
Rub the seasoning all over the ribs on both sides. If you have time, let the ribs sit for about 10 minutes so the rub really sets in.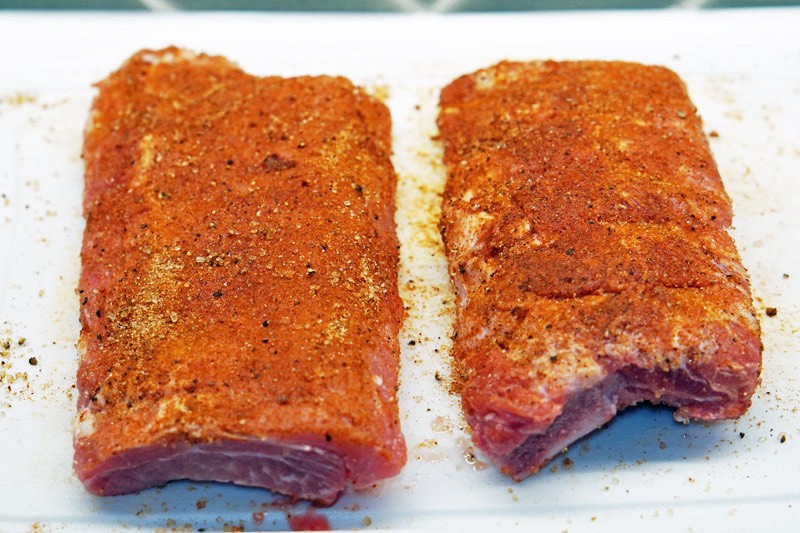 You'll have to cut the rack of ribs in half to fit in the Instant Pot. If you have at least a 6-quart Instant Pot, you can fit 2 racks of ribs, cut in half, into the inner pot. An 8-quart pot will fit 3 racks of ribs.
Pour 1 cup of water into the inner pot and lower the trivet into the pot. You need the trivet to keep the ribs from sitting directly in the water. If you don't have a trivet, you can use a steamer basket.
Place the ribs into the pot, standing up or laying down. It doesn't matter which way you put them in. Seal the lid and move the vent to the sealing position.
Press the "Pressure Cooker" button and adjust the time to 30 minutes (on high pressure). It'll take about 5-15 minutes to get up to pressure, depending on which Instant Pot you have. When the 30 minute cook time is up, carefully do a manual pressure release.
Remove the ribs and place them on a baking sheet lined with parchment paper. Slather the ribs generously with your preferred BBQ sauce. I use this homemade Bourbon BBQ Sauce.
This next step isn't required, but it does make for much more tasty and desirable ribs. Heat the broiler (upper grill) of your oven and put the baking sheet of ribs under the broiler with the ribs about 2-3 inches from the heating element.
Grill them for about 5 minutes, until the top starts to bubble and char a bit. You can repeat this step once more, slathering on more BBQ sauce and grilling again, if you wish. I like to do that to develop even more flavor, but it's not necessary.
These ribs turn out so tender that you won't believe it. All in, it takes just about 45 minutes to make perfectly tender ribs that are nearly as good as a long slow cooked version.
We make these ribs all the time, thanks to the Instant Pot. It's now an easy meal that we can enjoy whenever we want, rather than an all-day affair that takes forever to finish.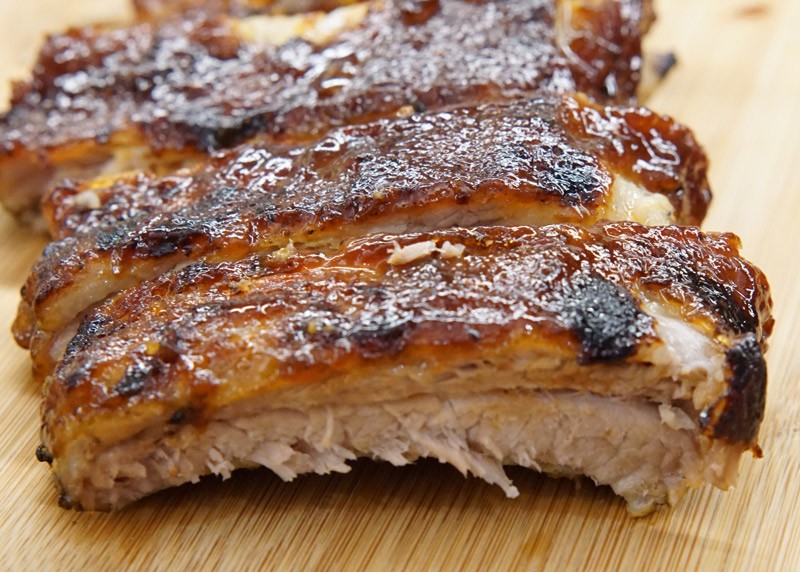 What to Serve With Instant Pot Baby Back Ribs
The best thing to serve alongside baby back ribs is corn on the cob. You can easily make the corn on the cob in the Instant Pot as well. Try one of these 4th of July Instant Pot recipes, which always go well with ribs.
A side salad, potato salad, or baked beans also go really well with baby back ribs. They aren't just a summer treat anymore with an Instant Pot, so you might also want to serve an Instant Pot Butternut Squash Soup as a side.
More Instant Pot Ribs To Try
Like this recipe? We'd love for you to share it on your Pinterest boards! Click to follow our Pinterest boards so you can find all our recipes! You can also find us on Facebook!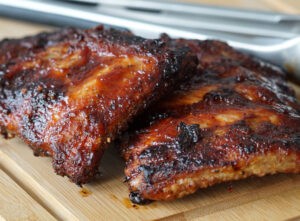 Instant Pot Baby Back Ribs
These Instant Pot Baby Back Ribs are cooked to tender in the Instant Pot then grilled.
Note: Made in a 6-qt Instant Pot
Ingredients
2

racks

baby back ribs

1/2

cup

BBQ sauce

1/2

tbsp

paprika

1/2

tbsp

brown sugar

2

tsp

salt

1

tsp

garlic powder

1

tsp

chili powder

1

tsp

ground black pepper
Instructions
Carefully remove membrane from back of baby back ribs with a sharp knife, if necessary.

Combine the paprika, brown sugar, salt, garlic powder, chili powder, and black pepper in a bowl. Season the ribs on both sides with the dry rub.

Add water to Instant Pot and insert the

trivet

. Place the seasoned ribs on top of the insert. (Do not stack them flat on top of each other).

Lock the Instant Pot lid into place and turn the pressure valve to sealing. Press the

pressure cooker

button and adjust the time to 30 minutes.

Once cooking time is complete, do a quick release by turning the sealing valve to the venting position.

Line a large, rimmed baking sheet with parchment paper or a silicon mat. Preheat the broiler to high.

Transfer ribs to prepared baking sheet. Brush ribs with a generous amount of BBQ sauce on each side.

Broil the ribs for 5 minutes or until bubbly and beginning to char. Remove from oven and cool slightly. Serve immediately with extra BBQ sauce for dipping.
Notes
If you'd prefer to grill the ribs outside instead, preheat your grill to 400 degrees and place the ribs over direct flames for 3-5 minutes to char.
Nutrition
Calories:
708
kcal
Carbohydrates:
17
g
Protein:
55
g
Fat:
47
g
Saturated Fat:
16
g
Polyunsaturated Fat:
8
g
Monounsaturated Fat:
19
g
Trans Fat:
1
g
Cholesterol:
196
mg
Sodium:
1786
mg
Potassium:
813
mg
Fiber:
1
g
Sugar:
13
g
Vitamin A:
330
IU
Vitamin C:
2
mg
Calcium:
106
mg
Iron:
3
mg
Pin it and share it!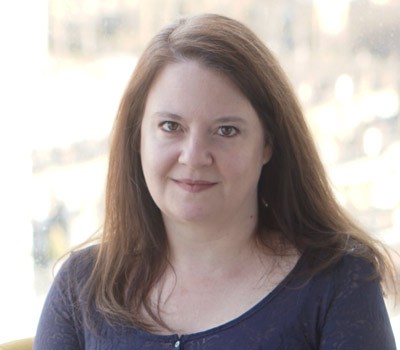 Laura is a passionate home cook and the owner of A Pressure Cooker Kitchen. She is dedicated to helping people create delicious Instant Pot meals with ease. Laura is an expert at developing recipes that can be prepared quickly and easily using a pressure cooker.