This recipe originally appeared on A Food Lover's Kitchen.
This Instant Pot Pork & Sauerkraut is seared to lock in flavor then cooked in the Instant Pot tenderize the pork and meld the flavors of this easy classic dish.
» You might also like Instant Pot Venison Roast with Potatoes.
» Check out our Instant Pot Cooking Times Cheat Sheet so you never have to look up times again for your favorite foods you make in the pressure cooker. Print or bookmark it so you always have it handy!
If you're looking for a hearty and soul-warming pork dish to make in the Instant Pot, you're going to love this recipe. It's the perfect mix of savory pork and sauerkraut, with a bit of sweetness from the apple.
This recipe is traditionally served in Germany during New Years and is said to be a good luck omen for the coming year, but it can be served year-round, and now is easier than ever to make thanks to the Instant Pot.
The health benefits of sauerkraut are immense, being a lacto-fermented vegetable. It doesn't take anything but cabbage and salt to make it yourself, plus at least two weeks for the fermentation process.
You can make your own, if you want, using this recipe. If you want to skip the fermentation step, you can make a quick sauerkraut with this recipe, which uses cabbage, distilled white vinegar, and salt. It's ready in about 35 minutes.
I use store-bought sauerkraut in this recipe to save time. I use Hengstenberg Bavarian Sauerkraut when I can find it. It's got great flavor. Bubbies Sauerkraut is also good, or any cultured organic sauerkraut you can find. I would advise against using a canned sauerkraut, though.
Pork & Sauerkraut can be made via any method you want, whether it be Instant Pot, Crockpot, Stovetop or Oven. The steps are the same for all methods.
I like to use the Instant Pot because it's a much faster method of cooking, and it magically turns out perfect every time.
Whichever method you choose, the only thing that will change is the cooking time.
Ingredients for Instant Pot Pork & Sauerkraut
The ingredients for this recipe are pretty simple. The real secret sauce is the apple and apple juice. You can use chicken broth, but the apple juice makes the dish sweeter and less salty.
Boneless pork roast (shoulder or leg)
Salt
Ground black pepper
Cooking oil
Sauerkraut with liquid
Apple juice or chicken stock
Dried or fresh rosemary
An apple peeled and sliced
And onion cut in chunks
Carrots sliced
What Type of Pork Roast to Use
Pork roast comes in many different forms. You can purchase a pork leg, shoulder, butt, or even a pork tenderloin. However, each of these will cook slightly differently. You might also notice that your pork roast comes with or without skin and fat cap.
I prefer to leave the fat cap on for cooking, and I remove it before eating. This allows for the maximum flavor and keeps the meat moist. It's not a requirement, though so remove it if you wish. If you buy a pork roast without it, no worries. It'll still be good without.
The 2-lb pork roast in my photos is a pork leg. It has less fat marbling than a pork shoulder or butt. It takes 60 minutes to cook in the Instant Pot on high pressure.
A thinner piece pork tenderloin, which is usually long and thin, without any fat or marbling, will cook in 40 minutes.
Instant Pot Pro Plus
Now you can control your pot wirelessly through an app. Cool-touch handles on the pot itself, and an automatic locking pressure release valve for greater safety. This one does it all.
How to Make Instant Pot Pork & Sauerkraut
Start by rinsing the pork roast in cool water and patting dry with a paper towel. Season with salt and pepper all around. Turn on the Saute function of your Instant Pot.
Add cooking oil to the inner pot. When the oil is hot, put the pork roast into the pot and sear it on each side, about 3 minutes per side. Then turn off the Instant Pot.
Remove the roast from the Instant Pot. Pour in the broth and whisk the bottom of the pan to remove any browned bits (otherwise, your Instant Pot might start screaming "burn" when you turn it on).
Next, return the pork roast to the Instant Pot, add the vegetables and apples around the edges, and put the sauerkraut on top of the roast. Cook for 1 hour (for a 2lb pork roast) on the Pressure Cook setting. Allow it to naturally release pressure.
If your pork roast is larger then 2 pounds, you may need to cook it longer. Once you've opened the lid, you can check the internal temperature of the meat. It should be at least 165 degrees F.
A 3-pound roast can take up to 75 minutes. A smaller, thinner tenderloin will only require 40 minutes.
Once you've removed the pork from the Instant Pot, allow it to rest for 5 minutes before slicing.
You can remove the celery, carrots and onions from the pot, then scoop out the sauerkraut with a slotted spoon to serve it. There will be quite a bit of liquid left in the pot, so it's best to drain the liquid off the sauerkraut before serving, to avoid a soupy mess on your plate.
Why Use An Instant Pot?
The Instant Pot is one of the most useful kitchen appliances you can buy, because it drastically cuts down on the cooking time for developing flavors in soups and stews, getting tough cuts of meat tender, and even baking a cheesecake. And there are many accessories that will help you get more out of your Instant Pot.
If you don't have one yet, check out our guide on which one to buy. Also see our guide to How to Use an Instant Pot for more information.
Related Posts:
Like this recipe? We'd love for you to share it on your Pinterest boards! Click to follow our Pinterest boards so you can find all our recipes! You can also find us on Facebook!
Instant Pot Pork & Sauerkraut
This Instant Pot Pork & Sauerkraut is a German classic made easy, and will easily become a part of your weekly dinner rotation.
Note: Made in a 6-qt Instant Pot
Ingredients
2

pounds

boneless pork roast

(shoulder or leg)

1

teaspoon

salt

1/2

teaspoon

ground pepper

1

tablespoon

cooking oil

16

ounces

sauerkraut

with liquid

1

cup

apple juice or chicken stock

1

teaspoon

dried or fresh rosemary

1

small apple

peeled and sliced

1/2

onion

cut in chunks

1

carrot

sliced
Instructions
Season the pork with salt and pepper on all sides.

Press the Saute button on the Instant Pot. When it's hot, add the cooking oil. After 1 minute, add the pork roast and brown on all sides. Remove from the pot. Turn off the Instant Pot.

Pour the apple juice or chicken stock into the pot and whisk quickly to remove the browned bits from the bottom of the pot.

Return the pork to the pot with the liquid. Sprinkle with rosemary. Add the vegetables and apples around the sides of the pork. Top with the sauerkraut.

Put the lid on the Instant Pot. Make sure the valve is set to Sealing. Press the Pressure Cook button and set the cook time to 1 hour. When the cook time is over, allow the pot to naturally release pressure.

Take the pork out and slice it. Drain the sauerkraut. Serve together.
Notes
A pork loin shoulder, or leg is best for roasting. However, keep in mind that a thin pork loin will take less time to cook than a thick roast. For a thin pork loin, cook for 40 minutes. A thicker roast might need to cook for and additional 10-30 minutes to be tender.
Using apple juice instead of chicken broth in this recipe makes the dish sweeter.
Nutrition
Calories:
364
kcal
Carbohydrates:
8
g
Protein:
52
g
Fat:
13
g
Saturated Fat:
3
g
Polyunsaturated Fat:
2
g
Monounsaturated Fat:
6
g
Trans Fat:
1
g
Cholesterol:
143
mg
Sodium:
1453
mg
Potassium:
1113
mg
Fiber:
4
g
Sugar:
3
g
Vitamin A:
2570
IU
Vitamin C:
19
mg
Calcium:
55
mg
Iron:
3
mg
🥧 If you're interested in more great recipes, I share all my favorite recipes over at A Food Lover's Kitchen, and you'll find air fryer recipes at Air Fry Anytime, and cocktails and drinks at Savored Sips. Check it out today!
Pin it for later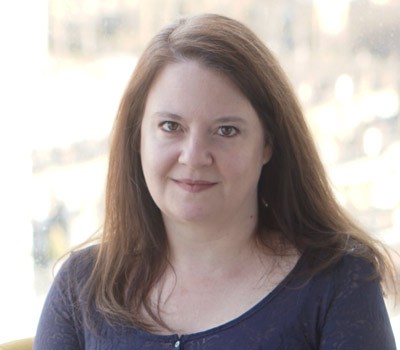 Laura spends a lot of her time cooking and creating recipes to share. She loves traveling and learning about new foods around the world to bring into her own recipes at home.