Instant Pot Venison Roast with potatoes is a perfect recipe for your Sunday roast or holiday dinner. Loaded with richness and flavor, it is an effortless dinner for meat lovers.
» Also try this Instant Pot Pork Roast or Instant Pot Corned Beef.
» Check out our Instant Pot Cooking Times Cheat Sheet so you never have to look up times again for your favorite foods you make in the pressure cooker. Print or bookmark it so you always have it handy!
Thanks to the Instant Pot, you can make this dish in no more than 90 minutes, and most of that time is completely hands off, so you can walk away and get something else done while you wait for the roast to cook.
If you've got a venison roast from a hunting trip, this is a perfect way to enjoy it. You can also buy a venison roast or if you don't want to use venison, you can use a pork or beef roast as well. Learn more about venison here.
I only buy pasture raised chicken and meats. I love Farm Foods Market online. They deliver hormone-free, non-GMO, antibiotic free chicken, plus all other types of meat, right to your door. You can order whatever you want, whenever you want – no membership or pre-selected box.
Instant Pot Pro Plus
Now you can control your pot wirelessly through an app. Cool-touch handles on the pot itself, and an automatic locking pressure release valve for greater safety. This one does it all.
Ingredients You Need
As with any roast recipe, you don't need a lot of ingredients, beyond a high-quality roast and some flavoring elements. I like to use red wine and beef broth, with a little bit of balsamic. You can also add onions and baby potatoes to the Instant Pot to make a complete meal.
Venison roast: The large chunk of meat from deer is usually termed venison roast. It is tender and very flavorful. The meat has a very rich and earthy flavor to it. You can choose any cut for this recipe, just make sure it is boneless.
Red wine: Red wine adds tons of flavor to the meat. It doesn't only help in tenderizing the meat but also adds richness to it. If you don't want to add wine, you can substitute it with additional broth.
Beef broth: Beef broth will help in cooking the meat. Moreover, it will also add flavor.
Balsamic vinegar: It not just adds acidity but also adds a complexity of flavor.
Herbs: Add Dried rosemary and thyme for aroma and flavor.
Onions & Baby potatoes: Onions and baby potatoes are a good side with a venison roast. You can also add other root vegetables, like carrots or parsnips.
Salt & pepper
Cooking oil
Tools Used in This Recipe
The nice thing about this recipe is that you can cook your whole meal in one pot. Because of this you won't need many kitchen tools.
How to Make Venison Roast in the Instant Pot
Wash the venison roast and pat it dry using a kitchen towel. Season it generously with salt and black pepper.
Select the sauté mode on the instant pot and add vegetable oil. Once the oil heats up, place the venison roast in it and sear it on all sides until it gets a bit browned. Once done, take the roast out of the Instant Pot and select cancel.
Now pour beef broth, balsamic vinegar, and red wine into the inner pot of the Instant Pot. Whisk to deglaze the pot by removing the brown bits at the bottom of the pan and let the liquid sit in the Instant Pot for about 3 minutes. This will help cook off the alcohol in the wine.
Place the venison roast in the Instant Pot and seal the lid. Select high pressure and set the timer to 60 minutes.
Once the timer is up, quickly release the pressure. Take off the lid and add onions and potatoes, and herbs to the Instant Pot. You want to wait until this point to add the vegetables because they'll become incredibly soggy and fall apart if you add them any sooner.
Seal the lid again and set the timer to 10 minutes, this time at high pressure. Once the time is up, quickly release the pressure. Take off the lid.
Remove the vegetables from the pot and place them on the serving plate. Take the venison roast out of the instant pot and let it rest for about 5 minutes.
Select sauté mode and reduce the broth until it thickens up a bit. You can add a cornstarch and water slurry to the pot if the sauce is too thin for you. Slice the roast and serve it with vegetables and reduced au jus sauce.
Where to Get Venison
Likely, if you're wanting to make this recipe, you already have a source of venison and are looking for a way to cook it.
You won't find venison at the regular grocery store, so it might be difficult to source it if you or someone you know doesn't hunt. I often get mine from a friend, or I've also gotten it through an online store.
Serving Ideas
Although venison goes very well with baby potatoes and onions, you can serve it with a variety of sides as well. For instance, serve it with mashed potatoes, roasted vegetables like carrots, fresh garden salad, creamy potato salad, or macaroni salad.
You can serve this dish with any side dish you like. That's the best part – they go with everything.
Try serving them with these sides that you can also make in the Instant Pot:
Why Use An Instant Pot?
The Instant Pot is one of the most useful kitchen appliances you can buy, because it drastically cuts down on the cooking time for developing flavors in soups and stews, getting tough cuts of meat tender, and even baking a cheesecake. And there are many accessories that will help you get more out of your Instant Pot.
If you don't have one yet, check out our guide on which one to buy. Also see our guide to How to Use an Instant Pot for more information.
Frequently Asked Questions
Can you overcook venison in a pressure cooker?
Yes. Like any way of cooking, once meat is overcooked you are left with a dry mess that is beyond repair. Make sure to follow a recipe and be aware of the size of the roast in the recipe. This recipe is for a 2 pound roast. If yours is bigger or smaller then the cooking time will need to be adjusted.
Do you cover the meat with liquid in a pressure cooker?
No, you only add enough liquid for the pressure cooker to come up to pressure. While the meat is cooking it will release juices to aid in cooking and add flavor.
Do you have to brown the roast before cooking it in the Instant Pot?
You don't have to but you will want to. It adds so much flavor to the meat and the au jus sauce. It really is the secret to building amazing flavor.
Like this recipe? We'd love for you to share it on your Pinterest boards! Click to follow our Pinterest boards so you can find all our recipes! You can also find us on Facebook!
Instant Pot Venison Roast With Potatoes
Instant Pot Venison Roast with potatoes is a perfect recipe for your Sunday roast or holiday dinner. Loaded with richness and flavor, it is an effortless dinner for meat lovers.
Note: Made in a 6-qt Instant Pot
Ingredients
2

pound

venison roast

Salt & pepper to season

1

tablespoon

cooking oil

1/2

cup

red wine

1/2

cup

beef broth

1

tablespoons

balsamic vinegar

1

tablespoon

dried rosemary

1/2

tablespoon

dried thyme

1

pound

baby potatoes

1/2

onion

roughly chopped
Instructions
Rinse and pat dry the roast. Season with salt and pepper.

Heat the Instant Pot on saute mode for 3-5 minutes. Add oil to the inner pot. Sear the roast on both sides, then remove it from the pot and turn off saute mode.

Pour in the red wine, beef broth, and balsamic vinegar. Whisk the browned bits off the bottom of the pot. Let sit for 3 minutes for the alcohol to evaporate.

Return the roast to the pot.

Lock the lid. Press the Pressure Cook button and set the time to 60 minutes. It will take 5-10 minutes for the pot to come up to pressure.

When the time is up, do a quick release. Add the potatoes and onions to the pot. Close the lid and set the time to 10 minutes. When the time is up, do a quick release.

Remove the vegetables and roast from the pot. Allow the roast to rest for 5 minutes before slicing. During this time, turn on saute mode and cook down the broth until slightly thickened.

Serve the roast with the potatoes and onions, with sauce poured over the top.
Nutrition
Calories:
473
kcal
Carbohydrates:
23
g
Protein:
53
g
Fat:
15
g
Saturated Fat:
5
g
Polyunsaturated Fat:
2
g
Monounsaturated Fat:
7
g
Trans Fat:
1
g
Cholesterol:
147
mg
Sodium:
289
mg
Potassium:
1318
mg
Fiber:
3
g
Sugar:
2
g
Vitamin A:
38
IU
Vitamin C:
24
mg
Calcium:
72
mg
Iron:
6
mg
🥧 If you're interested in more great recipes, I share all my favorite recipes over at A Food Lover's Kitchen, and you'll find air fryer recipes at Air Fry Anytime, and cocktails and drinks at Savored Sips. Check it out today!
Pin it for later!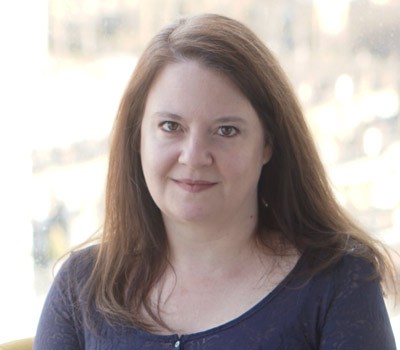 Laura spends a lot of her time cooking and creating recipes to share. She loves traveling and learning about new foods around the world to bring into her own recipes at home.