In case you didn't know, you can cook with additional containers in the Instant Pot. This enables you to utilize the pressure cooker in a number of different ways that you wouldn't be able to do without an extra pot. It's called pot-in-pot cooking.
We won't go into the details of how it's done in this post, but you can read all about pot-in-pot cooking here. In this post, we'll share with you which containers can be used in the Instant Pot safely.
It's good to get comfortable with this way of cooking because is a really big benefit of owning an Instant Pot.
» You might be interested in How to Use Delay Start on an Instant Pot.
Not only will you be able to cook soups and stews like you normally do in the inner pot, with pot-in-pot cooking you can also reheat dishes, cook things that don't contain a lot of liquid, and even bake a cake.
There are several reasons for using the pot-in-pot method:
Thick sauces will scorch on the bottom of the pot.
If you don't want your food watered down or cooked in liquid.
To keep foods separated when cooking more than one item.
Convenience
Easy Clean Up
So Which Containers Can Be Used in the Instant Pot?
The biggest hang up that keeps people from cooking with an extra pot inside the Instant Pot is a lack of understanding of which type of "pots" or dishes you can use safely inside the Instant Pot.
No one wants to have a glass dish explode under pressure or ruin their Instant Pot by using a non-pressure safe pot in it. There are a few rules you should follow when choosing the right pot.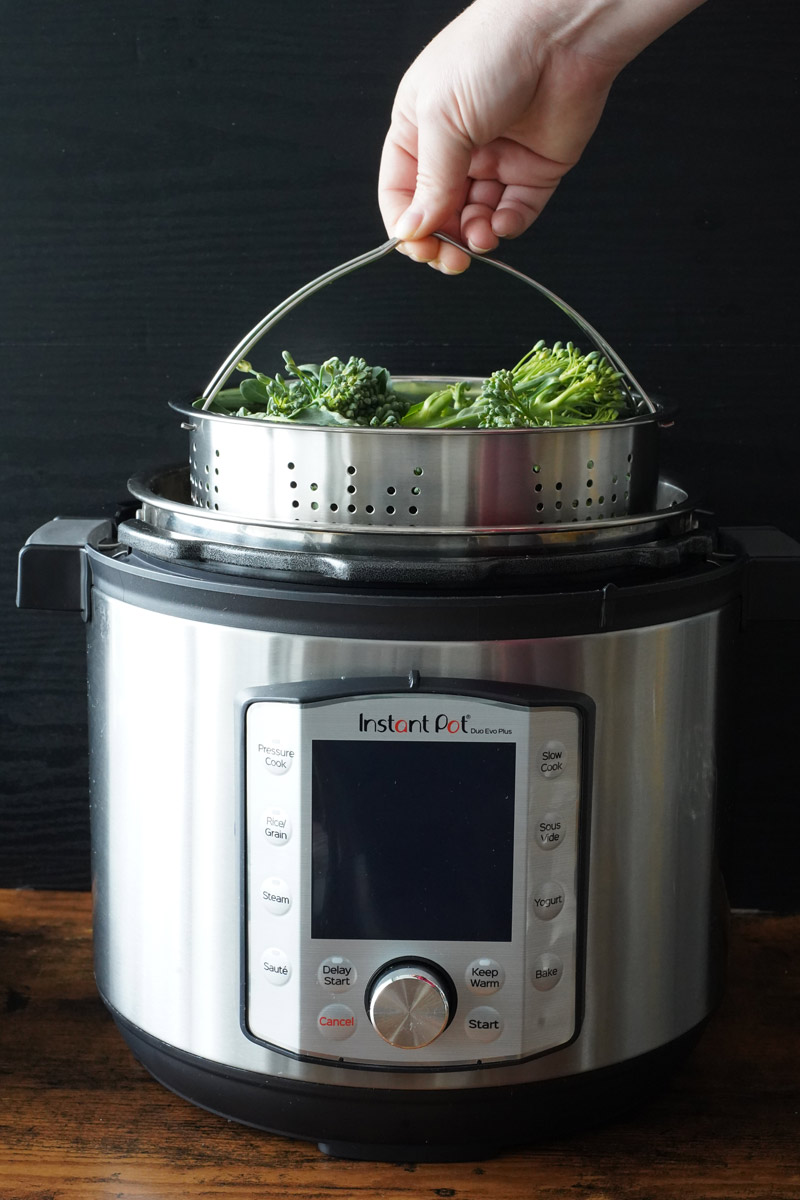 The good news is that there are great choices that are perfectly safe to use in the Instant Pot. Here are the best choices:
Note: Only use dishes that are made to contain food. The container needs to be made of food-grade materials.
Stainless steel
Metal trivet or steamer basket
Corelle – CorningWare is now the official companion to Instant Pot, perfect for all your cooking and baking needs. CorningWare oven dishes available in multiple sizes are tested to work with Instant Pot.
What you don't want to use:
Anything plastic – it's not made to withstand this much heat
Anything with lettering that might dissolve or flake off into the food
Anything that seals completely (with a lid) – a hermetically-sealed container builds pressure inside but has no way to release it. The pressure build up is unsafe for a number of reasons.
Anything that's not oven safe.
Anything with a crack or imperfection.
What About Glass & Ceramic
A glass or ceramic dish labeled oven-safe can technically be used in the Instant Pot, but not all brands have been tested and proven safe, so it's best to proceed with caution when using glass or ceramic.
CorningWare is now an official companion to Instant Pot and their oven dishes that are available in multiple sizes are tested to work with Instant Pot. This is verified on the official Instant Pot page.
The problem with glass is that it can have a slight imperfection or crack that will cause it to buckle under pressure. While this is very unlikely with brands like Pyrex and CorningWare, it can still happen. If something were to go wrong, the glass could shatter inside the Instant Pot. So proceed with caution and at your own risk.
With any ceramic or glass material there is a risk that it will break, even if it is labeled oven safe. If you've had a glass or ceramic dish crack in the oven, you know that it can happen, though it's quite infrequent.
Usually when a glass dish breaks it's because of thermal shock, which is caused by a major difference in temperature. To avoid thermal shock, don't set a cold dish on a hot surface, or a hot dish on a cold surface.
Additional Considerations
Do not set a dish directly on the bottom of the Instant Pot inner pot or in the liquid at the bottom. Always set it on a trivet or rack.
Always use sufficient water in the inner pot, which gets poured under the trivet.. For a 6-quart pot, you need 1 cup of water. For an 8-quart pot, you need 1.5 cups of water.
Make sure that your container fits inside the inner pot with at least a 1/2 inch clearance around the container to allow steam to rise. This is an integral part of the cooking processes. If you don't leave sufficient room, the dish might not cook at all.
If placing a wide dish inside the inner pot, use a sling or piece of tin foil around it so you can still grab it to pull it out. Remember that the dish itself might be too hot to touch.
What Pot is Best to Use in the Instant Pot
I have found that stainless steel food-grade containers are the best to use. They transfer heat to the food fairly well and are convenient to use plus usually dishwasher safe.
When you put a dish inside the Instant Pot, make sure that it is at room temperature first. Removing a dish straight from the refrigerator and placing it in the Instant Pot produces a higher chance of it shattering.
Pot in Pot Accessories for Instant Pot
You're probably wondering if there are containers made explicitly for use in the Instant Pot. Yes there are. If you want to keep the choices easy, you can just purchase one of the stackable stainless steel inserts, like the one pictured below.
These stackable pots are made for use in the Instant Pot. They contain 2 trays, lids, and a safety handle/sling that allows you to easily remove the pots from the Instant Pot.
You can also use the official Instant Pot bundt pan, spring-form pan, cake pan or mini-loaf pans in the Instant Pot.
Another option is food grade safe silicone. This is
What Can You Make in a Pot in the IP
My favorite things to make using the pot-in-pot method in the Instant Pot are:
Cakes & puddings
Bread
Meatloaf
Casseroles
Pot Pies
Why Use An Instant Pot?
The Instant Pot is one of the most useful kitchen appliances you can buy, because it drastically cuts down on the cooking time for developing flavors in soups and stews, getting tough cuts of meat tender, and even baking a cheesecake. And there are many accessories that will help you get more out of your Instant Pot.
If you don't have one yet, check out our guide on which one to buy. Also see our guide to How to Use an Instant Pot for more information.
Conclusion
I can assure you that it's very safe to cook with another dish in the Instant Pot as long as you follow the key rules above and choose the right container. Why not give it a try?
Like this post? Why not share it on Pinterest!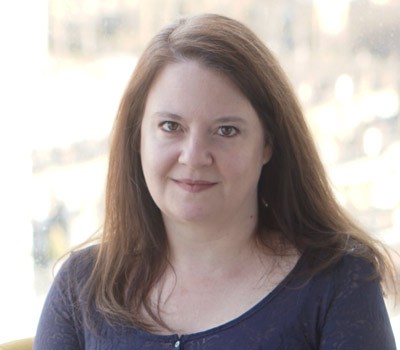 Laura spends a lot of her time cooking and creating recipes to share. She loves traveling and learning about new foods around the world to bring into her own recipes at home.