It takes only a few minutes in the Instant Pot to make perfect brats, so why not do it the easy way by cooking your brats in the Instant Pot!
» Check out our Instant Pot Cooking Times Cheat Sheet so you never have to look up times again for your favorite foods you make in the pressure cooker. Print or bookmark it so you always have it handy!
When we're grilling in the summer, especially for a big family barbecue, cooking brats in the Instant Pot is a great way to get more food on the table quickly, without the need to cook them forever on the grill.
Even if you just pre-cook the brats in the Instant Pot and then finish them on the grill, it'll save a ton of time.
>> Save time and cook from frozen! You will love this Instant Pot Frozen Chicken Thigh recipe.
The Instant Pot Brats turn out perfectly tender and juicy, with no flavor lost to the grill. You can even brown them in the Instant Pot on saute mode before cooking, so they have that browned, crispy exterior you expect.
Ingredients and Toppings
As ingredients go this recipe is pretty simple.
There are many kinds of brats to choose from. We almost always use Johnsonville brats because they're plump and tasty, and they come in many different flavors. The cheddar ones are a family favorite because you get a burst of cheese in every bite.
You can eat the brats on their own with a little stone ground mustard on the side, or you can put them in buns with some toppings. Everyone loves the toppings.
Brats really are a blank slate for great flavor. Here are some ideas to spruce up your brats.
Brats should have an internal temperature of 165° F to be safe to eat. It is okay for there to be a slight pink inside as long as they are up to the correct temperature. They should be a light golden brown when done.  If they are leathery and wrinkled then they are overcooked.
How to Cook Brats in the Instant Pot
As you can imagine, it's a pretty easy operation. Here are the steps to take:
Sear the brats on sauté mode for about 2 minutes per side. You can skip this step if you plan to grill the brats after cooking them.
Remove the brats from the pot. Pour a cup of water into the inner pot and deglaze the browned bits off the bottom.
Insert the trivet. Set the brats on the trivet.
Press the pressure cook button (on high) and set the time to 6 minutes.
Manually release the pressure and check that the brats reached 165° F internal temperature.
Serve hot.
Can I Cook Frozen Brats?
Yes, you can cook the brats from frozen in the Instant Pot. You won't be able to saute them beforehand because they're frozen, so skip the saute step and go directly to cooking for 6 minutes. When the brats are done, pour out the water and saute the brats to brown them.
It will take an additional 2 minutes to cook frozen brats in the Instant Pot, so be sure to set the time to 8 minutes instead of 6.
Additional Tips for Making Brats
You can cook as many brats in the Instant Pot as you want at a time, as long as you don't go above the fill line. Stack them on top of each other, or stand them up.
If you want to add a bit of additional flavor, try using a cup of beer instead of water in the Instant Pot. The beer imparts a unique flavor into the brats as they cook. I suggest using a lager for this.
Don't poke holes in the brats before putting them in the Instant Pot. If you're used to doing this so the brats don't split open when being cooked on the stove top or grill, you don't need to do that in the Instant Pot. If you do, they'll lose some of their juices while cooking.
Be careful when pouring water into the Instant Pot after having sauté mode on. Hot steam will rise up and can burn you. I recommend turning off saute mode as soon as the brats are browned, wait a minute for heat to dissipate, then pour in the water.
Why Use An Instant Pot?
The Instant Pot is one of the most useful kitchen appliances you can buy, because it drastically cuts down on the cooking time for developing flavors in soups and stews, getting tough cuts of meat tender, and even baking a cheesecake. And there are many accessories that will help you get more out of your Instant Pot.
If you don't have one yet, check out our guide on which one to buy. Also see our guide to How to Use an Instant Pot for more information.
More Recipes To Try
Like this recipe? We'd love for you to share it on your Pinterest boards! Click to follow our Pinterest boards so you can find all our recipes! You can also find us on Facebook!
Instant Pot Brats
It takes only a few minutes in the Instant Pot to make perfect brats, so why not do it the easy way by cooking your brats in the Instant Pot!
Note: Made in a 6-qt Instant Pot
Ingredients
1

tablespoon

butter

5

Brats

1 package

1

cup

water or beer
Instructions
Turn on saute mode. Add butter to the Instant Pot and saute the brats for 2 minutes per side.

Turn off machine and remove the brats. Pour the water into the bottom of the pot and deglaze any browned bits. Insert the trivet.

Place the brats on the trivet. Lock the lid and set the vent to seal.

Set the Instant Pot to Pressure Cook on high for 6 minutes then manually release the pressure.

Test the internal temperature of the brats to make sure it reached 165° F (74° C).
Notes
Be careful when pouring water into the Instant Pot after having the sauté mode on.  Hot steam will come up and can burn you.
Nutrition
Calories:
222
kcal
Carbohydrates:
2
g
Protein:
9
g
Fat:
19
g
Saturated Fat:
7
g
Polyunsaturated Fat:
2
g
Monounsaturated Fat:
10
g
Cholesterol:
49
mg
Sodium:
562
mg
Potassium:
234
mg
Sugar:
1
g
Vitamin A:
9
IU
Calcium:
22
mg
Iron:
1
mg
🥧 If you're interested in more great recipes, I share all my favorite recipes over at A Food Lover's Kitchen, and you'll find air fryer recipes at Air Fry Anytime, and cocktails and drinks at Savored Sips. Check it out today!
Pin it for later!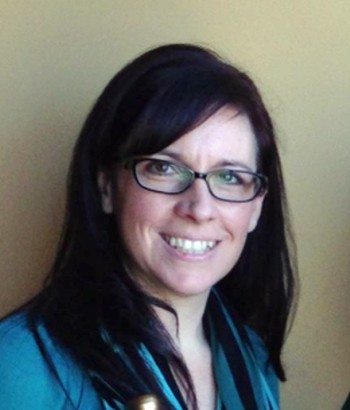 Angela loves to cook and has been making Instant Pot recipes for nearly 12 years. Thanks to inspiration from her family, she has developed an adventurous palate and a lifelong love for all things food.