Instant Pot Steamed Broccoli is one of the fastest and easiest side dishes to make for dinner. All you need is broccoli and water and you're all set. In just 5 minutes, you've got perfectly steamed broccoli.
» You might also like Perfect Instant Pot Hard Boiled Eggs and Easy Instant Pot Steamed Brussels Sprouts.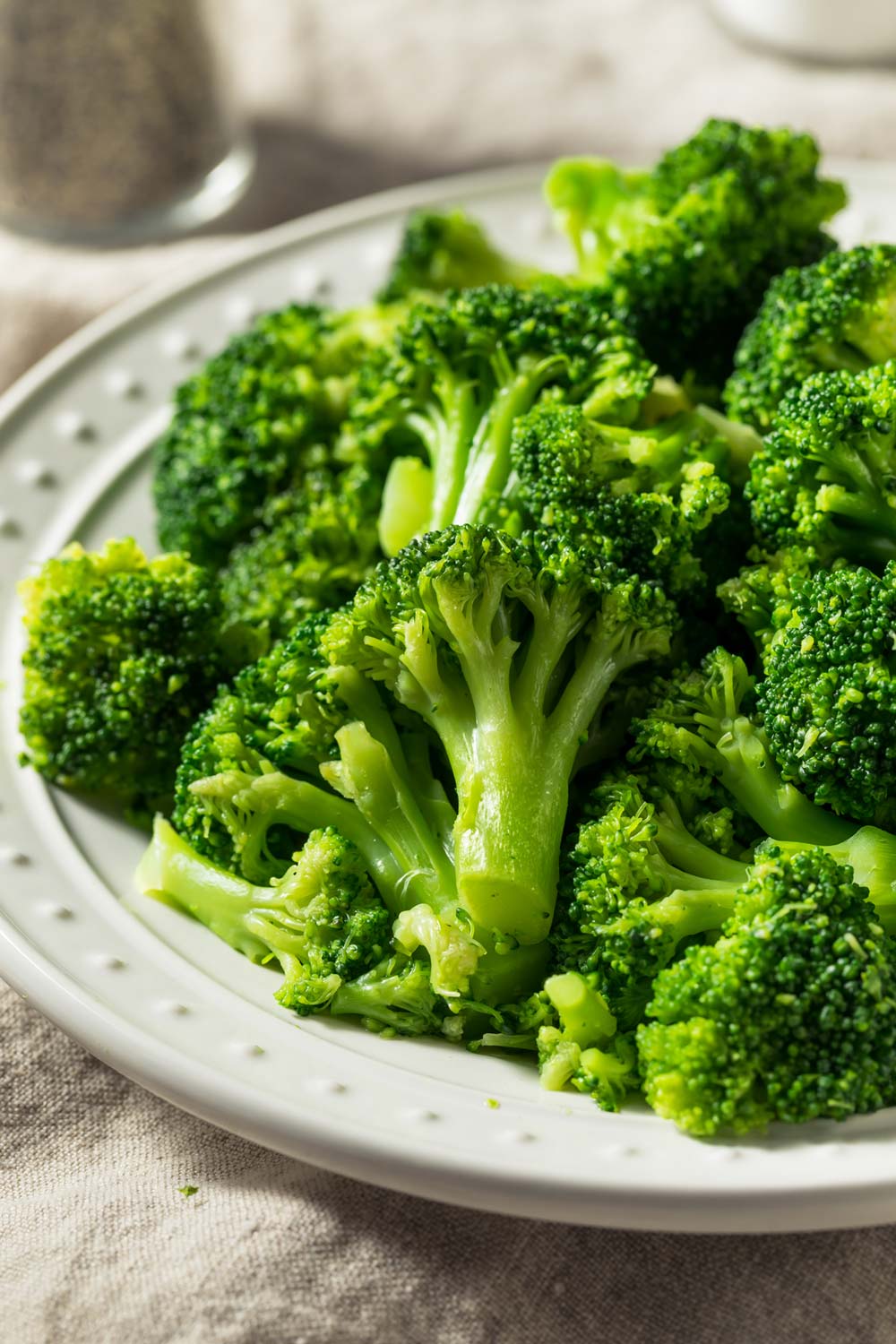 If you're a fan of steamed broccoli, you really need to get on this broccoli life hack. It literally take minutes to cook broccoli in the Instant Pot. In fact, you set the cook time to 0 minutes and it's just the time it takes to come up to pressure that cooks it.
Steamed broccoli is a great addition to any meal. You can serve it on the side of your main dish. It goes well with chicken, steak, and pork chops. Or you can serve it to your kids alongside their favorite mac and cheese or sloppy joes. Since it's so easy to make, it can become your go-to side dish.
Ingredients You Need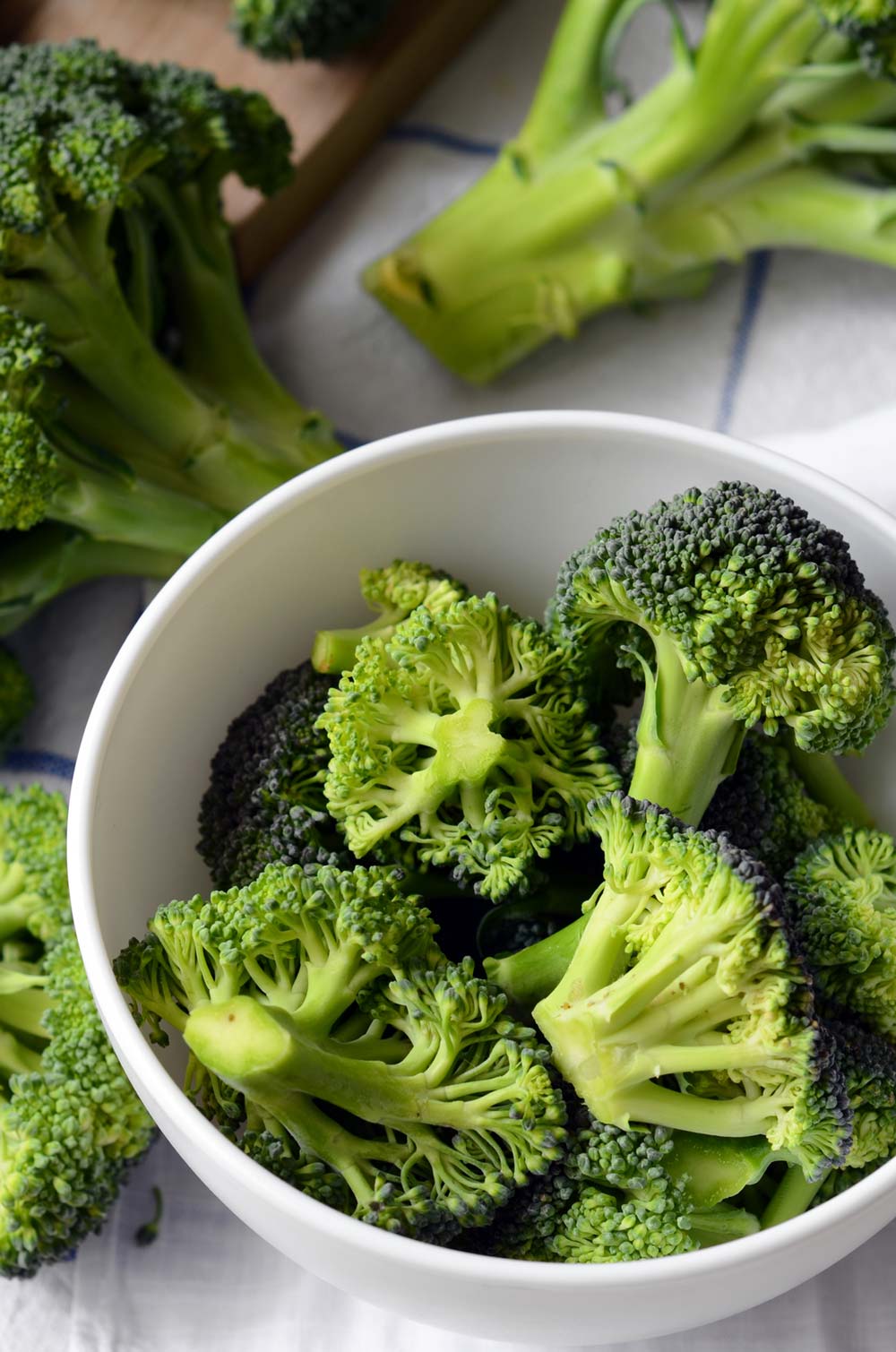 This recipe is so simple, it's almost unnecessary to list the ingredients. All you need are two ingredients and some seasoning.
Broccoli – You can cook fresh or frozen broccoli in the Instant Pot and you can even cook a whole head of broccoli, rather than florets, if you want.
Water – You'll need the typical 1 cup of water (for a 6-quart) or 1 1/2 cups of water (for an 8-quart).
Salt – Season your broccoli with salt once they're cooked, to add some extra flavor. Adjust the amount used to fit your tastes. You could also use seasoned salt or your favorite salt blend instead.
How to Steam Broccoli in the Instant Pot
Pour the water into the inner pot. Put the broccoli into a steamer basket and set it into the Instant Pot. If your steamer basket does not have legs to elevate it out of the water, then place the trivet into the pot first, then the steamer basket. You don't want the broccoli resting in water, or it will become mushy.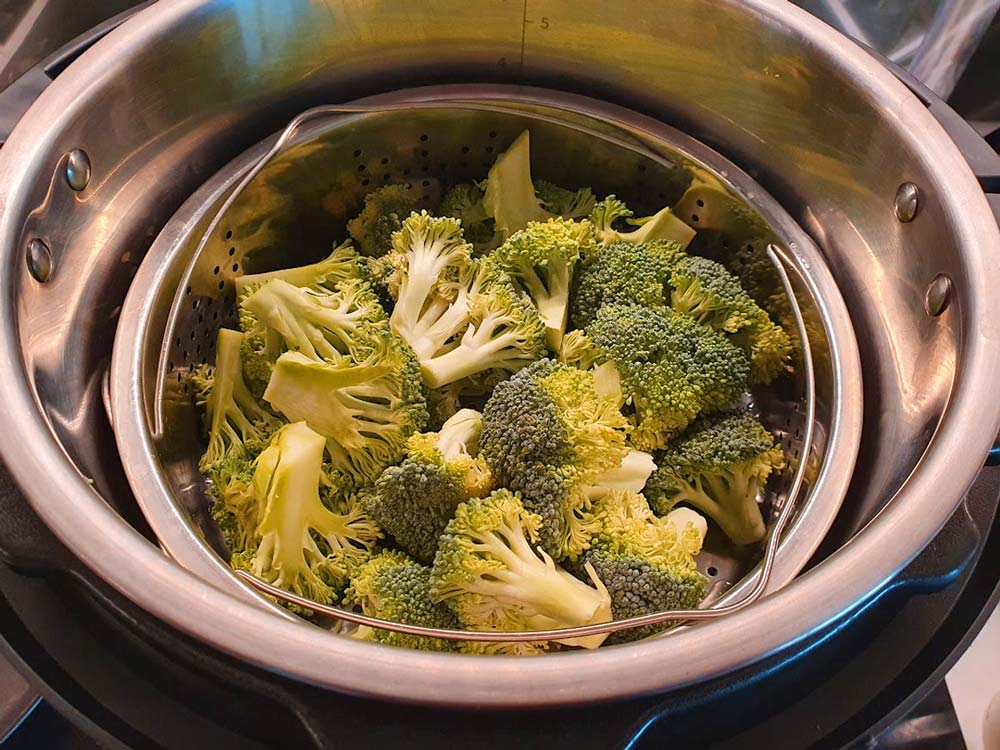 Lock on the lid and set the valve to sealing (if necessary on your model). Press the Manual or Pressure Cook button and set the time to 0 minutes on high pressure. Yes, that's zero minutes. If your Instant Pot doesn't allow you to set it to zero, you can try 1 minute. Sometimes I find that 1 minute is too long. It makes the broccoli a little too soft for me. If you can only set it to 1 minute, you might want to make the florets larger so they don't get too mushy.
It will take approximately 5 minutes to build up pressure. When the cook time is up, release the pressure manually. Don't let it sit for too long before releasing pressure or the broccoli might over cook. Open the lid and take out the steamer basket to cool outside of the pot.
Why Use An Instant Pot?
The Instant Pot is one of the most useful kitchen appliances you can buy, because it drastically cuts down on the cooking time for developing flavors in soups and stews, getting tough cuts of meat tender, and even baking a cheesecake. And there are many accessories that will help you get more out of your Instant Pot.
If you don't have one yet, check out our guide on which one to buy. Also see our guide to How to Use an Instant Pot for more information.
Can I Use Frozen Broccoli?
Yes, you can use frozen broccoli in the Instant Pot. I find that it takes about the same time as fresh broccoli, but you might need to add 1-2 more minutes to the cook time to reach your desired tenderness. I always recommend trying it once so you know if you need more or less time, then you can follow that cook time next time you make it.
Should I Use the Steam Button?
I don't prefer to use the steam button because it's just a preset time of 10 minutes at high pressure. This will egregiously overcook your broccoli. In fact, I never really use the preset buttons. I like to set my own time and pressure level based on the food I'm cooking. In this case, you should use the high pressure setting with zero minutes of cook time.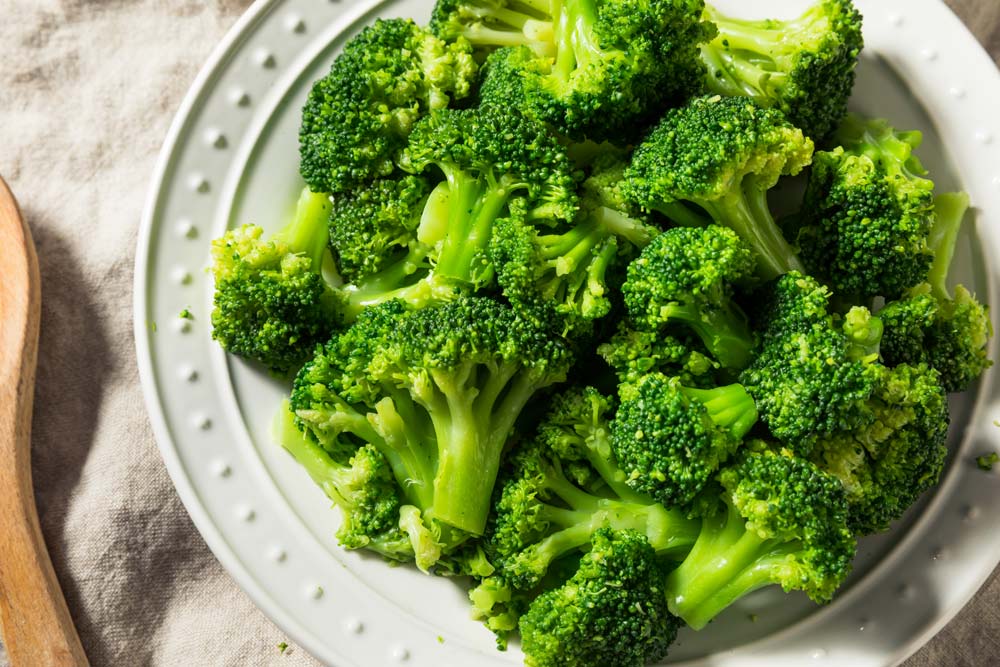 What If It's Still Overcooked?
If you like your broccoli crunchy at all, it might not work well for you to cook the broccoli in the Instant Pot. This results in a soft, steamed broccoli texture. You can't really cook it for less than 0 minutes, so there's no way to make it less cooked.
Super Useful Instant Pot Accessories
Once you've started using your Instant Pot more regularly, you'll find there are so many other ways you *could* be using it, if you had a few extra useful accessories. Here are a few favorites that we use almost every day.
All-In Instant Pot Kit – a kit, like this 27-piece set, will get you just about everything you will ever need to make whatever you want in the Instant Pot. It includes steamer baskets, a springform pan, a steamer rack, egg rack, egg cutter, egg ring, egg whisk, egg bites mold, dish plate clip, spatula, kitchen tong, silicone pad, scrubber, and oven mitts, magnetic sheets and a recipe book.
Stackable Steamer Insert Pans – Using stacking containers allows you to cook different foods in separate containers. If you're making a complete dinner, you will be able to cook all the components at the same time, rather than one at a time.
Instant Pot Ceramic Inner Cooking Pot – I can't express enough how nice it is to have two inner pots. Having an extra will allow you to cook two parts of a meal without transferring and cleaning the original pot after the first step.
Like this recipe? We'd love for you to share it on your Pinterest boards! Click to follow our Pinterest boards so you can find all our recipes! You can also find us on Facebook!
Instant Pot Steamed Broccoli
Instant Pot Steamed Broccoli is one of the fastest and easiest side dishes to make for dinner. All you need is broccoli and water and you're all set.
Note: Made in a 6-qt Instant Pot
Ingredients
1

broccoli

approx 2 pounds

1

cup

water

salt

to taste
Instructions
Place the cauliflower florets in a

steamer basket

. Set it inside the Instant Pot and pour in the water. Close the lid of the Instant Pot. Set the valve to sealing position.

Press the Pressure Cook or manual button and set the cook time to 0 (zero) minutes on high pressure. It will take about 5 minutes for the pot to come up to pressure. When the time is up, do a quick pressure release and carefully remove the steamer basket from the pot.
Notes
Use cold water
Cook for 1 minute for softer broccoli (this can make it really soft)
Nutrition
Calories:
52
kcal
Carbohydrates:
10
g
Protein:
4
g
Fat:
1
g
Saturated Fat:
0.2
g
Polyunsaturated Fat:
0.2
g
Monounsaturated Fat:
0.05
g
Sodium:
53
mg
Potassium:
480
mg
Fiber:
4
g
Sugar:
3
g
Vitamin A:
947
IU
Vitamin C:
136
mg
Calcium:
73
mg
Iron:
1
mg
🥧 If you're interested in more great recipes, I share all my favorite recipes over at A Food Lover's Kitchen, and you'll find air fryer recipes at Air Fry Anytime, and cocktails and drinks at Savored Sips. Check it out today!
Like it? Pin it!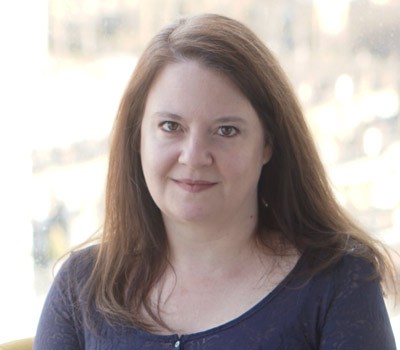 Laura spends a lot of her time cooking and creating recipes to share. She loves traveling and learning about new foods around the world to bring into her own recipes at home.