This Instant Pot Spanish Rice is a fantastic side dish for both Mexican and Spanish main dishes. The rice, beans, tomatoes, and bell peppers mingle with aromatic spices to form a dish that is a treat for your taste buds.
» Also try this Instant Pot Tomato Soup and Instant Pot Kale White Bean Sausage Soup.
We love to serve this Spanish rice as a side dish for pork shoulder or Mexican shredded beef. The cumin and chili powder give it a distinctly Mexican flavor, but you can substitute saffron and paprika to give it a more Spanish influence.
Why is it Called Spanish Rice?
The terms Spanish Rice and Mexican Rice are used almost interchangeably in the home cook culinary world. The only two answers I can come up with are that Spanish and Mexican cooking shares some similar ingredients used in this dish: rice, tomatoes, onion, and spices.
Additionally, in the United States where these two terms are used interchangeably, not many home cooks know what the difference is between what would be considered Spanish (saffron and paprika), vs what would be considered Mexican (cumin and chili powder). Thus, you tend to call it whatever you grew up calling it.
Ingredients You'll Need for Instant Pot Spanish Rice
Here is everything you need for this rice dish:
White rice: Use a medium or long-grain white rice. If you don't prefer white rice, you can also use brown rice.
Red bell pepper: fresh red and green bell pepper adds flavor to the rice and gives it a nice crunchy element, plus vibrant color.
Black beans: Black beans have a mild flavor and creamy texture.
Canned tomatoes: I use canned chopped tomatoes for this rice and pour in the whole can, sauce and all. If you don't have canned tomatoes available, use fresh tomatoes instead, but make sure they are very ripe.
Corn: A can of sweet corn is ideal. You can also use fresh corn shaved from the cob.
Small onion
Garlic
Spanish paprika: Spanish paprika is known for its depth of flavor and slight sweetness.
Spices: We use chili powder, cumin, and black pepper. For a more Spanish flair, use Spanish paprika and saffron.
Water
Garnish: Freshly chopped cilantro and lime wedges are a perfect combination to top the cooked rice.
Why Use An Instant Pot?
The Instant Pot is one of the most useful kitchen appliances you can buy, because it drastically cuts down on the cooking time for developing flavors in soups and stews, getting tough cuts of meat tender, and even baking a cheesecake. And there are many accessories that will help you get more out of your Instant Pot.
If you don't have one yet, check out our guide on which one to buy. Also see our guide to How to Use an Instant Pot for more information.
How to Make Instant Pot Spanish Rice
I'm a huge fan of recipes that are essentially a dump and cook process. This is one of those recipes. There aren't any really complicated steps or multiple modes of cooking. You really just put everything in the Instant Pot and let it do its thing.
In an Instant Pot inner pot, add all the ingredients and spices except for the bell peppers. If you put those in prior to cooking, they will turn to mush.
Lock the lid and set the vent to sealing.
Press the Pressure Cook button and set the timer to 5 minutes.
Once the time is up, let the pressure release naturally for 10 minutes. After that, quickly release the remaining pressure.
Take off the lid and stir the rice to incorporate everything and distribute any remaining water. Now you can add the bell peppers.
Make sure the Instant Pot is set to Warm. Allow it to sit for about 5 minutes. Then fluff up the rice using a fork.
Serve the rice by garnishing it with cilantro and lime wedges.
How to Keep Spanish Rice from Getting Mushy
If your rice gets mushy in the Instant Pot, it means you added too much water or cooked it for too long. I've found that cooking for 5 minutes with a 10 minute pressure release turns out perfect. If you allow it to naturally release pressure for longer and/or let it sit on warm with the lid locked, it will overcook and become soggy.
Also be aware that if you select the "rice" option instead of setting the timer yourself, your rice will end up being mushy.
Storing Left Over Spanish Rice
It's possible to store left over rice in the refrigerator or in the freezer. That makes this a great dish to make ahead because you can put it in the freezer and just reheat it whenever you want. It just requires about 1 tablespoon of water in the container and you can microwave it for 1-2 minutes to reheat it.
Reheating it in the Instant Pot could lead to burned or mushy rice, but you can reheat it on sauté mode for 5-10 minutes to get it warmed through.
Like this recipe? We'd love for you to share it on your Pinterest boards! Click to follow our Pinterest boards so you can find all our recipes! You can also find us on Facebook!
Instant Pot Spanish Rice
This Instant Pot Spanish Rice is a fantastic side dish for both Mexican and Spanish main dishes. The rice, beans, tomatoes, and bell peppers mingle with aromatic spices to form a dish that is a treat for your taste buds.
Note: Made in a 6-qt Instant Pot
Ingredients
1

cup

water

1 1/2

cups

white rice

1

14.5 oz

canned diced tomatoes

in their juices

1

can

black beans

drained and rinsed

1

can

corn

rinsed

1

small

onion

diced

2

cloves

garlic

minced

2

tsp

Spanish paprika

2

tsp

chili powder

1

tsp

cumin

1/2

tsp

salt

1/4

tsp

ground black pepper

1

red bell pepper

chopped

1/4

cup

cilantro, chopped

(optional)

lime wedges

for garnish
Instructions
Add all ingredients, except bell pepper and cilantro to the Instant Pot

Place lid on Instant Pot and make set the valve to sealing. Press the pressure cook button and set the time to 5 minutes (on high pressure).

When cooking is done, allow a natural pressure release for 10-15 minutes, then you can release the remaining pressure.

Add bell pepper and stir. Keep on warm for 5 minutes before serving. Garnish with cilantro and lime wedges, if desired.
Nutrition
Calories:
307
kcal
Carbohydrates:
65
g
Protein:
10
g
Fat:
2
g
Saturated Fat:
1
g
Polyunsaturated Fat:
1
g
Monounsaturated Fat:
1
g
Sodium:
213
mg
Potassium:
452
mg
Fiber:
7
g
Sugar:
5
g
Vitamin A:
1379
IU
Vitamin C:
30
mg
Calcium:
41
mg
Iron:
2
mg
Like this recipe? Pin it and share it with friends!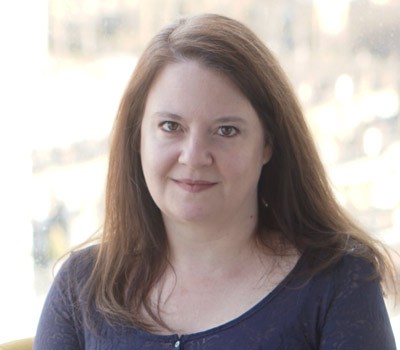 Laura spends a lot of her time cooking and creating recipes to share. She loves traveling and learning about new foods around the world to bring into her own recipes at home.