If you want to make chickpeas from dried beans, there's no easier or faster way to do it then in the Instant Pot. You don't even have to pre-soak the chickpeas before putting them in the pressure cooker and it takes just 1 hour to cook chickpeas without any pre-soaking.
» You may also like this Simple Instant Pot Quinoa, Instant Pot Brown Rice, or Instant Pot Baked Beans.
Without an Instant Pot, it can take hours to cook dried chickpeas on the stove or in the Crockpot, and that's after you've soaked them for hours beforehand. Making them in the Instant Pot cuts the time down to just under an hour, all in.
If you like chickpeas, there are dozens of great recipes you can make with them. Of course, there's canned chickpeas. But they aren't always all that great. Making your own chickpeas at home is a great alternative to canned.
One of the biggest considerations you must make with dried chickpeas is whether to soak them beforehand or not. The same can be said for many types of beans, like these no soak black beans.
Why Use An Instant Pot?
The Instant Pot is one of the most useful kitchen appliances you can buy, because it drastically cuts down on the cooking time for developing flavors in soups and stews, getting tough cuts of meat tender, and even baking a cheesecake. And there are many accessories that will help you get more out of your Instant Pot.
If you don't have one yet, check out our guide on which one to buy. Also see our guide to How to Use an Instant Pot for more information.
To Soak to Not to Soak?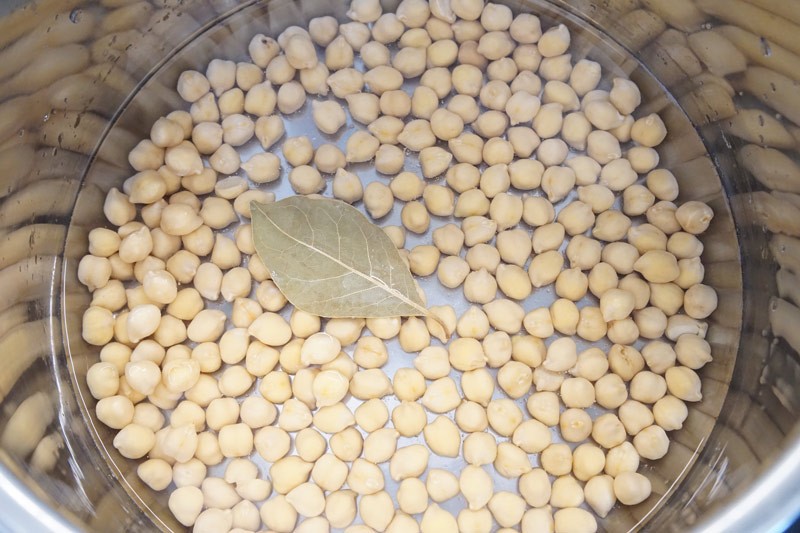 It might seem like soaking chickpeas before hand, when you're just going to cook them in the Instant Pot, doesn't make a lot of sense. Why spend the extra time, right? Well, the main reason to pre-soak chickpeas are two-fold. Of course it will make them cook faster, but it also can breakdown some of the sugars in the beans that are hard to digest.
If you have an issue with disgesting beans – mainly, you get bloating and other unpleasant stomach reactions when eating them – then you should definitely pre-soak the beans. However, not everyone has this reaction. If you find that you're able to tolerate the unsoaked beans just fine, then there's not a huge benefit to pre-soaking.
In the Instant Pot, it takes about 30 minutes to cook pre-soaked beans that have been soaked for 24 hours. By contrast, it takes 1 hour to cook non-soaked beans.
You might be wondering if there's a taste difference. I have used both methods and I've never noticed a difference in taste. There is a slight difference in texture. The pre-soaked beans tend to turn out slightly more tender than non-soaked.
How to Cook Chickpeas in the Instant Pot
It's fantastically easy to make chickpeas in the Instant Pot. I prefer this method to cooking them on the stove top because they come out nice and tender every time. On the stove top I was always having to cook them a little longer, and a little longer still… because they just wouldn't get tender.
Here are the steps to follow:
Combine chickpeas, water, and bay leaf in an Instant Pot.
Press the Pressure Cook button and set the time. 30 minutes for presoaked and 1:15 for dried.
Let the machine naturally release pressure for 15 minutes, then release the rest of the pressure manually.
Remove the beans from the liquid and salt as desired.
How to Use Chickpeas
One of the things about chickpeas I despise is the skin. Yes, chickpeas have skin. It's a thin layer or membrane that surrounds the bean. There's no harm in eating it. You don't have to remove it. But I don't like leaving it on because it makes the beans tougher and the texture isn't as nice.
If you peel your chickpeas, the outside of the bean is smooth and shiny. Left with the skins on, the outside is rough and dull. If you are making hummus with your chickpeas, you can't get a really smooth texture without removing the husk. If none of these things bother you, then by all means leave it on, because it's a bit of a pain to peel them one by one.
Here are some great recipes you can use your chickpeas for:
Like this recipe? We'd love for you to share it on your Pinterest boards! Click to follow our Pinterest boards so you can find all our recipes! You can also find us on Facebook!
Easy Instant Pot Chickpeas
Make these perfectly tender chickpeas in just an hour and a half in the pressure cooker.
Note: Made in a 6-qt Instant Pot
Ingredients
1

cup

dried chickpeas

2 1/2

cups

water

2

tsp

salt

1

bay leaf
Instructions
Put the dried chickpeas directly into the bowl of your Instant Pot. Add the water, salt, and bay leaf. Close the lid.

Press the Pressure Cook button on the Instant Pot and set it to 75 minutes. When done, allow the pressure to naturally release for 15 minutes, then manually release the rest of the pressure. Remove the chickpeas from the cooking liquid. Use as desired.
Notes
Pre-Soak Method
Put the chickpeas in a large bowl and cover with water up to an inch or two above the beans. Let them soak 8 hours, or overnight. When you're ready to cook, add the chickpeas AND the soaking water to the bowl of your Instant Pot. Top up with additional water, if needed. Add the bay leaf and close the lid.

Press the Pressure Cook button on the Instant Pot and set it to 30 minutes. When done, allow the pressure to naturally release for 15 minutes, then manually release the rest. Remove the chickpeas from the cooking liquid. Salt as desired. Enjoy.
Nutrition
Calories:
182
kcal
Carbohydrates:
30
g
Protein:
10
g
Fat:
3
g
Saturated Fat:
1
g
Polyunsaturated Fat:
1
g
Monounsaturated Fat:
1
g
Sodium:
1182
mg
Potassium:
438
mg
Fiber:
9
g
Sugar:
5
g
Vitamin A:
35
IU
Vitamin C:
2
mg
Calcium:
58
mg
Iron:
3
mg
PIN IT FOR LATER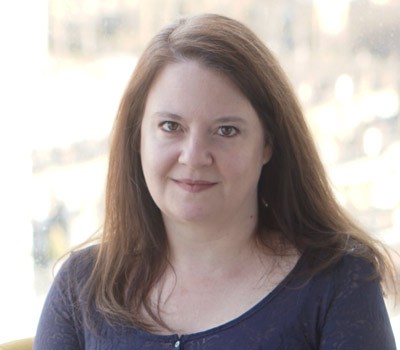 Laura is a passionate home cook and the owner of A Pressure Cooker Kitchen. She is dedicated to helping people create delicious Instant Pot meals with ease. Laura is an expert at developing recipes that can be prepared quickly and easily using a pressure cooker.