This Instant Pot Borscht is a rich, flavorful, and hearty soup made primarily with beets that is healthy and nutritious, but also packed with robust flavors. It is a warming bowl of soup on cold winter nights.
>> You might also like this Instant Pot Lasagna or Homemade Instant Pot Tomato Sauce.
If you've never tried Borscht, now is the time. This iconic Ukrainian soup has a beautiful red color, thanks to the beets, and it also has a great balance between sweet and sour. Now that beets are bred to be more sweet than they used to be, this soup is more accessible for many.
You can easily make this soup in no more than 20 minutes in the Instant Pot. It is a quick recipe that is perfect when you don't feel like cooking, but you still want something tasty to eat. I make beets in my Instant Pot all the time and they also take about 20 minutes.
» For more delicious soup recipes try these 15 Instant Pot Soups & Stews for Fall.
» Check out our Instant Pot Cooking Times Cheat Sheet so you never have to look up times again for your favorite foods you make in the pressure cooker. Print or bookmark it so you always have it handy!
Instant Pot Pro Plus
Now you can control your pot wirelessly through an app. Cool-touch handles on the pot itself, and an automatic locking pressure release valve for greater safety. This one does it all.
Ingredients You Need
There are quite a few ingredients in this soup, but don't let that scare you away. It'll take a little bit of chopping and prep work, but then you can toss everything in the Instant Pot and let it do the rest of the work.
None of these ingredients are difficult to find. You'll likely have most of these things in the fridge or pantry.
Olive oil: Olive oil is my cooking oil of choice, but you can use any other oil for this recipe. Canola oil works well too.
Onion: Onion adds a slightly sweet and savory flavor to the soup.
Carrot: Carrots are often a compulsory ingredient in vegetable soups. That's because they are loaded with vitamins and also add a sweet flavor to the soup.
Celery: The salty and slightly tangy flavor of celery adds a great boost of flavor.
Beets: The hero of this soup is the beets. They have a beautiful red color and an earthy flavor. Beets are loaded with nutrients and offer several health benefits as well.
Potatoes: The starch from the potatoes helps giving the soup the consistency you need.
Cabbage: You can use either white or purple cabbage for this recipe.
Beef broth: Beef broth makes this soup rich and gives it a meaty flavor. However, If you want a vegan version, add vegetable stock.
Tomato paste
Apple cider vinegar: It adds acidity and a slight tart flavor to the soup. It balances out the sweetness of the vegetables.
Celery salt
Black pepper
Garnish: You can add fresh parsley and sour cream to garnish this soup.
How to Make Instant Pot Borscht
Making Borscht in an Instant Pot is effortless. Here are the simple steps you have to follow.
Add oil to the instant pot and select the sauté mode. Once the oil heats up, add the chopped onion, celery, and carrots. Sauté the vegetables for 5 minutes or until they soften up.
Next, add the beets, cabbage, and potatoes and give it all a quick stir. In case you're wondering, you don't have to cook the beets before you put them in the soup. You just need to peel and chop them into small bites.
Pour in the beef broth, vinegar, and tomato paste. Season with salt and pepper. Then stir the ingredients so that everything is well combined.
Lock on the lid and press the pressure cook button. Set the timer to 10 minutes. Once the timer is up, let the pressure release naturally for 5 minutes. Quick-release the remaining pressure.
Serve the soup in a serving bowl and garnish it with freshly chopped parsley and sour cream. Enjoy!
Why Use An Instant Pot?
The Instant Pot is one of the most useful kitchen appliances you can buy, because it drastically cuts down on the cooking time for developing flavors in soups and stews, getting tough cuts of meat tender, and even baking a cheesecake. And there are many accessories that will help you get more out of your Instant Pot.
If you don't have one yet, check out our guide on which one to buy. Also see our guide to How to Use an Instant Pot for more information.
Questions About Borscht
What is Borscht?
Borscht is a beetroot soup originating in the Ukraine, although Poland and Russia also have strong ties to this dish. If you asked different people, you'd probably get a different answer as to where it actually originated from.
Borscht can be made in many different ways with lots of varied recipes. There's no one way to make it. You can serve it with chunky vegetables or pureed. You can put any type of veggie you like in, you can make it with and without beef.
Can I use vegetable stock instead of beef stock?
Although this soup traditionally uses beef stock, if you want a vegan version you can add vegetable stock instead of beef stock.
Can I add meat to borscht?
The soup traditionally is made with just vegetables; however, you can add beef meat, bones, or even pork to add more flavors and make it meaty and rich.
Can the soup be frozen?
You can definitely freeze this soup. If you have some left over, put it in an air tight container with a secure lid and put it in the freezer for up to 2 months. It can easily be defrosted in the microwave or in a pot on the stove top until warmed through.
Like this recipe? We'd love for you to share it on your Pinterest boards! Click to follow our Pinterest boards so you can find all our recipes! You can also find us on Facebook!
Instant Pot Borscht (Beet Soup)
Borscht is a rich, flavorsome, and hearty soup made primarily with beets that is healthy and nutritious, but also packed with robust flavors. It is a warming bowl of warmth on cold winter nights.
Note: Made in a 6-qt Instant Pot
Ingredients
1

tablespoon

olive oil

1/2

onion

chopped

1

large carrot

peeled and diced

1

celery stock

diced

2

medium beets

peeled and cubed

2

medium potatoes

peeled and cubed

2

cups

shredded white or purple cabbage

5

cups

beef broth

2

tablespoons

tomato paste

2

tablespoons

apple cider vinegar

1

teaspoon

salt

1/2

teaspoon

celery salt

1/2

teaspoon

ground black pepper

Sour cream and fresh parsley

for garnish
Instructions
Turn on Saute mode on the Instant Pot. Add 1 tablespoon oil to the Instant Pot inner pot. When it's hot, add the onion, carrot and celery. Saute for 3-5 minutes, until softened.

Add the beets, potatoes, cabbage, beef broth, tomato paste, vinegar, salts and pepper. Stir to combine.

Close and lock the lid, set the vent to the sealing position.

Press Pressure Cook and set the time to 10 minutes. When the time is up, all for a 5 minute natural pressure release, then do a quick release of the remaining pressure.

Serve with fresh parsley and sour cream.
Nutrition
Calories:
182
kcal
Carbohydrates:
29
g
Protein:
7
g
Fat:
4
g
Saturated Fat:
1
g
Polyunsaturated Fat:
1
g
Monounsaturated Fat:
3
g
Sodium:
2115
mg
Potassium:
988
mg
Fiber:
6
g
Sugar:
7
g
Vitamin A:
2766
IU
Vitamin C:
40
mg
Calcium:
69
mg
Iron:
2
mg
🥧 If you're interested in more great recipes, I share all my favorite recipes over at A Food Lover's Kitchen, and you'll find air fryer recipes at Air Fry Anytime, and cocktails and drinks at Savored Sips. Check it out today!
Pin it for later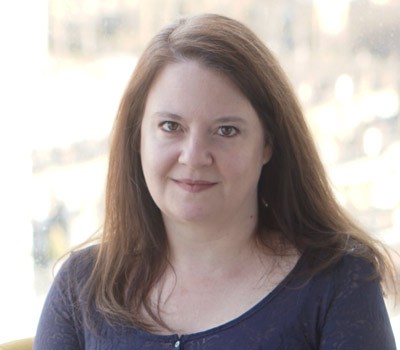 Laura spends a lot of her time cooking and creating recipes to share. She loves traveling and learning about new foods around the world to bring into her own recipes at home.