This Instant Pot Cacio e Pepe is a fast way to make your favorite Italian cheese and black pepper pasta with just 4 ingredients: pasta, cheese, pepper, and water (or broth).
» You will also like how easy it is to make this Instant Pot Shrimp Pasta.
Cacio e Pepe is one of my favorite dishes to eat in Italy and now I'm making it all the time at home in my Instant Pot. Who would have thought you could make a pretty darn good version of it so fast and easy in the IP?
The traditional cacio e pepe – a simple Roman dish – is made with just three simple ingredients: pecorino romano, black pepper and pasta. There is no butter, cream, or olive oil. The creamy sauce is formed with starchy pasta water and the cheese. We're keeping it authentic here!
The pasta used in Italy is typically bucatini or spaghetti. I use spaghetti because it's easier to find. Don't use fettucine or angel hair pasta. It will turn out differently, and not necessarily in a good way. Stick with spaghetti.
Ingredients You'll Need
Uncooked spaghetti noodles – You'll need 8 ounces of pasta for this recipe. You can double the recipe to serve more, if you want.
Chicken broth – I use regular sodium chicken broth so I don't have to add much additional salt to the dish. If you use low-sodium, you will probably need to add additional salt beyond what is called for. You can also use water to make this dish vegetarian.
Pecorino-Romano cheese – Try to find the best quality, preferably authentic Italian cheese for the best flavor.
Parmesan cheese – You don't have to add both types of cheese, but I do for additional flavor. I really prefer to shred my own Parmesan cheese from a block, but if you don't have that option, at least use a packaged freshly grated Parmesan. Don't use a finely ground cheese or the unrefrigerated kind in the green can. Quality matters here.
Salt – This dish requires more salt than you might think to really bring out the flavors.
Ground black pepper – It's best to use freshly ground pepper and make the pieces slightly bigger, so they are pronounced in the dish. This is a major component of the dish so quality and size matters. I also like to grind fresh pepper over the top of the finished dish. Yum.
Why Grate Your Own Cheese
In the United States, we often buy our cheese already grated in a bag or container, but that's not the freshest, best cheese to use for this recipe. Instead, I would encourage you to buy a chunk of authentic Pecorini-Romano and Parmesan cheese and grate it yourself.
We do this for two reasons. One – the block of cheese will be the freshest possible cheese with no additives or preservatives, and Two – you will have control over the consistency of the grate.
You can grate it yourself on a grater, put it through the grater on the food processor, or put it in a food chopper and pulse it for a few seconds to break it up. That's what I do and the cheese looks like this:
How to Make Instant Pot Cacio e Pepe
Note About Cooking Pasta in the Instant Pot
I've made dozens of pasta dishes in the Instant Pot and the ratio of pasta to water is always the same, with consistent results. It takes quite a bit of liquid to cook the pasta properly without it turning out dry and undercooked. That being said, once in a while someone comments that theirs turned out too liquidy.
As that has never happened to me, I can't say exactly why it occurs, but if it happens to you, allow the pasta to sit on keep warm for at least 5 minutes after cooking (before adding additional ingredients) to soak up as much water as it needs. If it's still too liquidy at that point, you can drain the excess water before adding the rest of the sauce ingredients.
Step One: Cook the Pasta
Set the spaghetti noodles in the pot. I find that to make sure they fit, it's necessary to break them in half. Add the broth. Make sure the pasta is completely submerged.
Lock on the lid and set the vent to sealing. Pressure cook on high for 4 minutes. When the time is up, do a quick release of the pressure. Be careful when venting as this is a starchy pasta. You might want to drape a kitchen towel over the vent if yours doesn't have a vent cover.
Step Two: Make the Sauce
Open the lid and stir the pasta. It will still be soupy at this point. Stir it a few times and let it rest to soak up some of the cooking liquid. Once it's soaked up at least half of the water, add in the salt, pepper, Pecorino-Romano and Parmesan cheeses. Stir to combine.
Allow the pasta to sit in the Instant Pot on Keep Warm for a few more minutes to thicken up a bit more, if necessary. The longer you leave it, the more thickened it will become. So if it's too soupy for you, just let it sit longer.
Serve with a dusting of Parmesan cheese and freshly grated pepper on top.
How Long to Cook the Pasta
Since everyone's noodle preference is different, you might want to adjust the cooking time for the pasta. I personally think 4 minutes is the perfect time for spaghetti. It's a great balance between al dente (with some bite remaining) and too soft.
This pasta dish also relies on the starchy pasta water to make the sauce, so you want to slightly undercook the pasta so that a lot of starchy water is remaining in the pot. It will continue to soak up the liquid as it rests and the remaining liquid combines with the cheese to make a creamy sauce.
Won't the Pasta Be Too Liquidy?
You might think that adding 2 cups of liquid will make the sauce too watery in the end, but it doesn't. The pasta will continue to soak up some of the remaining liquid as it rests. Don't get worried and dump out the water.
Once you add the cheese and let it melt, stir it all up, and let it sit for a few minutes, it will be perfect.
If for some reason this doesn't work or you and the pasta is still soupy, pour it into a colander and let it drain a little bit. Yes you will lose some sauce, but at least the pasta won't be overcooked from trying to boil off more of the liquid. Now you know for next time that you need less water to cook your pasta.
Tips and Notes
Break the noodles in half and add them to the pot, pressing down to fully submerge. Just make sure the noodles are under the liquid so they get cooked properly. Breaking them in half really helps.
Sometimes spaghetti gets clumped together in the Instant Pot. If that happens, just use two forks to pull the strands apart and let them sit a bit longer to finish cooking through.
If the sauce is still thin, allow the pasta to sit in the Instant Pot on Keep Warm for a few minutes to soak up the liquid. It will thicken as it sits. Just don't let it sit too long or the sauce will become thick and dry.
Other Pasta Recipes to Try in the Instant Pot
Once you see how truly easy it is to cook pasta in the Instant Pot you will want to try more.
Like this recipe? We'd love for you to share it on your Pinterest boards! Click to follow our Pinterest boards so you can find all our recipes! You can also find us on Facebook!
🥧 If you're interested in more great recipes, I share all my favorite recipes over at A Food Lover's Kitchen, and you'll find air fryer recipes at Air Fry Anytime, and cocktails and drinks at Savored Sips. Check it out today!
Instant Pot Cacio e Pepe
This Instant Pot Cacio e Pepe is a simple dish to make, with just four ingredients.
Note: Made in a 6-qt Instant Pot
Ingredients
8

ounces

spaghetti

2

cups

chicken broth

or vegetable broth or water

3/4

teaspoon

salt

1-2

teaspoons

coarsely ground black pepper

1/4

cup

Pecorino Romano cheese

grated

1/4

cup

Parmesan cheese

grated (divided)
Instructions
Set the spaghetti noodles in the pot. Add the broth. Make sure the pasta is completely submerged.

Lock on the lid and set the vent to sealing. Pressure cook on high for 4 minutes. When done, do a quick release (be careful when venting as this is a starchy pasta).

Open the lid and stir the pasta. It will still be quite liquidy. Let sit on Keep Warm for 3-5 minutes, stirring occasionally, until liquid is halved. Add in the salt, pepper, and cheeses (reserving half of the Parmesan to dust on top before serving). Stir to combine. Stirring allows the cheese to mix with the starchy pasta water and make a creamier sauce.

Allow the pasta to sit in the Instant Pot on Keep Warm for a few minutes until your desired consistency is reached. It will thicken and dry out as it sits.

Serve with extra pepper and Parmesan on top.
Notes
The pasta should soak up most of the liquid, but if it doesn't, you might need to drain some out before serving. I'm not sure why this happens in about 5% of cases.
Nutrition
Calories:
267
kcal
Carbohydrates:
44
g
Protein:
12
g
Fat:
4
g
Saturated Fat:
2
g
Polyunsaturated Fat:
0.4
g
Monounsaturated Fat:
1
g
Cholesterol:
13
mg
Sodium:
1051
mg
Potassium:
165
mg
Fiber:
2
g
Sugar:
2
g
Vitamin A:
80
IU
Calcium:
160
mg
Iron:
1
mg
Like it? Pin it!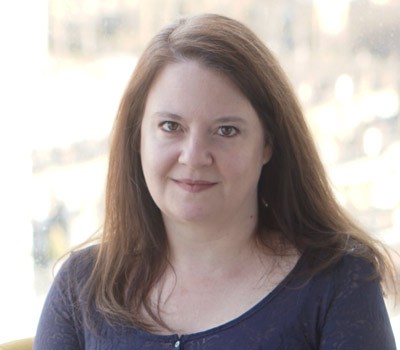 Laura spends a lot of her time cooking and creating recipes to share. She loves traveling and learning about new foods around the world to bring into her own recipes at home.