If you've never tried making Instant Pot Condensed Milk Dulce de Leche, you should give it a try now. It's the best tasting caramel, it only requires one ingredient, and it can be cooked quickly in the Instant Pot.
» Use this dulce de leche as a topping on an Instant Pot Cheesecake!
I used to make condensed milk caramel with my mom when we were young. She'd put the can of caramel into a bowling pot of water and simmer it for hours on the stovetop until it was finally dark and caramelized.
It took forever to make, but it was delicious. I never made it again after that because it was more like a special treat than something you'd spend so much time making all the time. But then I got an Instant Pot.
As you might already know, the Instant Pot makes fast work of caramelizing things. We use it to make delicious caramelized carrot soup that is to die for. Why not use it to make the dulce de leche that takes so long on the stove top?!
Is it Safe to Pressurize a Can?
The reason you might avoid making condensed milk dulce de leche in your Instant Pot is because of fear that it will explode. Obviously, you need to be very careful any time you cook under pressure and this is no different.
Is it safe to pressurize a can of condensed milk? I've done it numerous times. So have thousands of other people. If done properly, you can safely pressurize a can in the Instant Pot with no worries.
That's not to say that you don't have to be very careful and follow specific rules to do it safely. Please do not attempt this recipe unless you're willing to follow the safety precautions.
So read these precautions carefully and make sure you follow them to the letter.
Precautions
Inspect the can for any nicks or scratches that could weaken the can walls under pressure and lead to failure. Do not use a dented or damaged can.
Place the can in the Instant Pot on top of the trivet, completely submerged in water, and do not allow it to touch the bottom or walls of the pot.
Allow the cooked can to come to room temperature before opening. The internal pressure in the can will remain high even when it's just "warm", so allow it to fully cool before touching it, removing it from the pot, or opening it.
Ingredients You Need
Now for the ingredients list. Get ready, it's a short one!
1 can sweetened condensed milk
You can use any brand you want. I prefer to use Carnation brand, but many people like Eagle brand. Some of the store-brand versions don't turn out as good as the larger brands, but you can experiment until you find one you like.
Is Pull-Tab Okay?
When we started this experiment, I tried it with a regular can without a pull tab. It works great. But Angie only had a pull-tab can, so she tried that. It also worked great. The Eagle brand condensed milk has pull top tabs.
I don't think there's any issue using the pull tab version. Just, again, make sure it doesn't have any dents or imperfections around the lid.
Can I Substitute with Evaporated Milk?
You can't use evaporated milk for dulce de leche. It doesn't have added sugar. Condensed milk turns into caramel because it's literally just milk and sugar. Evaporated milk is just reduced milk with less water content, but no sugar. See more about the difference between the two.
How to Make Instant Pot Condensed Milk
This is a very easy process, but you need to follow the instructions as closely as possible.
Step One: Remove the Label & Glue
You need to remove the label from the can or else it will be floating in little spongy pieces all around the Instant Pot when you take it out. It comes off easily.
The glue is a little bit of a problem, because it's harder to get off, but it is necessary to take it off. If you don't, you will also have little bits of glue stuck to the sides of your inner pot when the cooking is done, and it's an even bigger pain to remove that.
To remove the glue on the label, Goo Gone is the easiest thing to use. Just follow the instructions on the bottle to remove the glue.
Alternatives
If you don't want to go through the trouble of removing the glue, you can wrap the entire can in tin foil instead. It will keep the glue from sticking to the inner pot.
Step Two: Put the can in the pot
Place the trivet inside the inner pot. This is the trivet that came with your Instant Pot, with the handles that allow you to lift the can out easily. If you don't have this trivet, you can use any other basket or steamer you have that will raise the can off the bottom of the pot.
Set the can horizontally on the trivet, making sure it doesn't touch the side walls or the bottom of the pot. If you're cooking 2 cans at a time, you can set them both horizontally. If you're cooking 3+ cans, set them upright.
Fill the pot with water – warm or cold, doesn't matter. Fill it to just below the max fill line. The water should never go above the max fill line. Water should also be covering the cans.
Step Three: Cook
Close the lid and set the vent to sealing (if that's necessary on your model). Cook on high pressure for 22 minutes. It will take about 15-25 minutes for the pot to come up to pressure.
I've seen many different timings – ranging everywhere from 15 minutes to 50 minutes. I honestly think that 22 minutes is the perfect amount of time. The caramel comes out nice and dark, perfectly caramelized and smooth, but not overly so. I don't think there's any reason at all to cook it for more than 25 minutes.
Step Four: Cool Completely
When the time is up, allow for a full natural pressure release. This will take about 30 – 40 minutes. Don't rush it!
When the pressure is released and the float valve falls, you can turn off the machine. You don't want to leave it on Keep Warm because that won't allow it to cool off. To cool it off faster, open the lid and leave the pot and can alone until the water is completely cooled. Don't move the can, don't bump the machine.
It takes about 3-4 hours to cool completely. If the can is still warm, it might still contain some pressure, so you should not open the can until it's cool.
For the super cautious: If you don't want to risk taking off the lid of the Instant Pot, you can leave the pot to cool overnight with the lid on. By morning, it will be cooled and you can open the pot and take out the can.
What to Serve Dulce de Leche With
Now that you have an entire can of delicious smooth and rich dulce de leche, you need to find somethings to eat it with.
My favorite thing to use this caramel for is dipping apples. Here's a great caramel apple dip that we eat a lot. We also like drizzling it into crepes with or without nutella. Yum.
It's a good topping for your ice cream sundaes or spread onto toast or crackers for a midnight snack. It's a nice thick frosting for cupcakes. You can use it between the layers of a cake. Top your pancakes or waffles with it. Try it in this dulce de leche ice cream for a quick and tasty treat.
I've even spread this caramel onto Rice Krispies treats and inside smores. You really can use it for anything you'd need caramel for.
Why not stir it into your coffee?
Questions About Instant Pot Dulce de Leche
How long does the dulce de leche last?
You can keep the caramel in the fridge for up to 2 weeks. It will start to become a bit gritty the longer you keep it. It's really at its best within a few days. If you want to freeze it, it'll keep for up quite a while – months – in the freezer, if stored properly.
I like to freeze it into little ice cube trays to make a sweet little dollop to add to my coffee.
Is it gritty or smooth?
The condensed milk dulce de leche you make in this recipe will be very smooth when you open the can. It can easily be scooped up and spread on anything, with a very smooth texture.
The longer you keep it around, the grittier it will become. If you keep it in the refrigerator, it might also become a bit gritty because the sugar crystals are solidifying. If you bring it back up to room temperature, it will become smooth again.
Is it thick or thin?
This dulce de leche, cooked for 22 minutes, will be neither thick or thin. It's somewhere in between the two. It's not pourable. But it's not chunky or overly sticky. You can thin it out
Like this recipe? We'd love for you to share it on your Pinterest boards! Click to follow our Pinterest boards so you can find all our recipes! You can also find us on Facebook!
Instant Pot Condensed Milk Dulce de Leche
Instant Pot Condensed Milk Dulce de Leche is the best tasting caramel, it only requires one ingredient, and it can be cooked quickly.
Note: Made in a 6-qt Instant Pot
Ingredients
1

can

sweetened condensed milk
Instructions
Place the trivet in the inner pot. Set the can of condensed milk on the

trivet

, laying on its side, so it isn't touching any part of the pot.

Fill the pot with water up to the max fill line. It should completely cover the can.

Lock the lid and set the vent to sealing.

Cook on high pressure for 22 minutes. It will take about 10-20 minutes for the pot to come up to pressure. After cooking time is up, allow for a natural pressure release, which takes between 30-40 minutes. Turn off the pot, unlock the lid, and allow the water to cool completely before touching the can, about 3 hours. Once completely cool, remove the can from the pot and open it with a can opener.
Notes
Read the instructions in the post very carefully and follow all precautions.
Be very careful when opening the jar. It should be completely cooled before opening.
Remove the glue from the can if you don't want it stuck all over the walls of your Instant Pot.
Nutrition
Calories:
64
kcal
Carbohydrates:
11
g
Protein:
2
g
Fat:
2
g
Saturated Fat:
1
g
Polyunsaturated Fat:
1
g
Monounsaturated Fat:
1
g
Cholesterol:
7
mg
Sodium:
25
mg
Potassium:
73
mg
Sugar:
11
g
Vitamin A:
53
IU
Vitamin C:
1
mg
Calcium:
56
mg
Iron:
1
mg
🥧 If you're interested in more great recipes, I share all my favorite recipes over at A Food Lover's Kitchen, and you'll find air fryer recipes at Air Fry Anytime, and cocktails and drinks at Savored Sips. Check it out today!
Like this post? Pin it to Pinterest.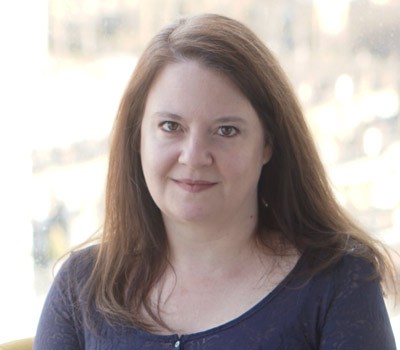 Laura spends a lot of her time cooking and creating recipes to share. She loves traveling and learning about new foods around the world to bring into her own recipes at home.