Multi-cookers are not new and are almost ubiquitous in every American kitchen today. These famed kitchen appliances are used to sauté vegetables, cook deliciously fluffy rice, make hearty stews, etc.
Two contenders constantly vying for the top spot. It's Instant Pot vs Ninja Foodi. Given that these two are the most well-known brands in the multi-cooker space, it makes sense that you'd compare the two.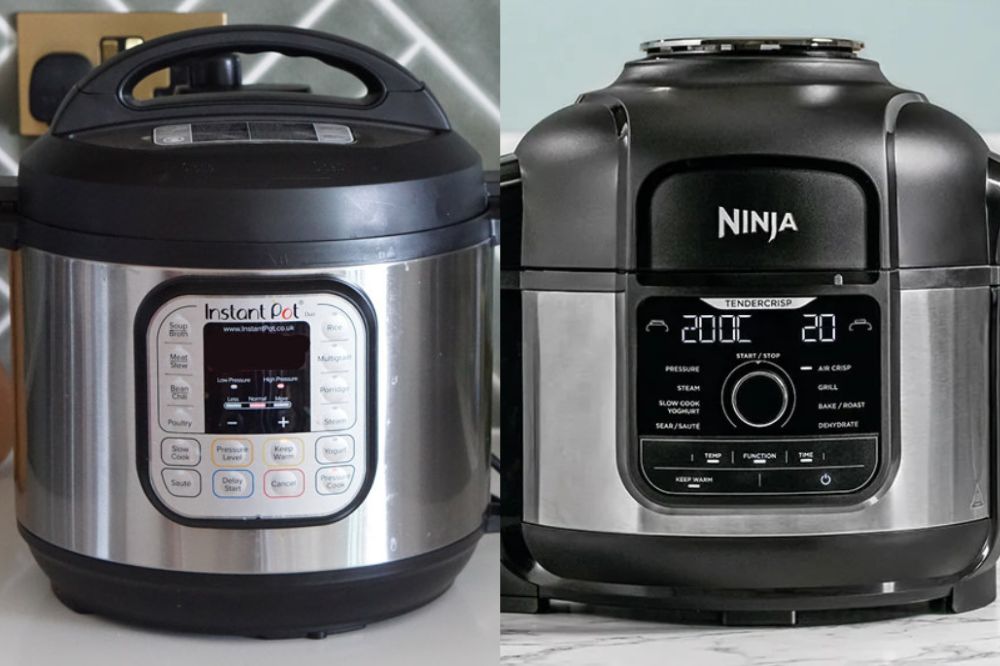 This post will help you decide between the Instant Pot or Ninja Foodi and answer any questions you may have so that you can purchase the right appliance for your culinary needs.
Why Use A Pressure Cooker?
The pressure cooker is one of the most useful kitchen appliances you can buy, because it drastically cuts down on the cooking time for developing flavors in soups and stews, getting tough cuts of meat tender, and even baking a cheesecake. And there are many accessories that will help you get more out of your appliance.
If you don't have one yet, check out our guide on which one to buy. Also see our guide to How to Use an Instant Pot for more information.
Similarities & Differences: Instant Pot vs Ninja Foodi
Both the Ninja Foodi and the Instant Pot share similar attributes, so it's often difficult to decide between them. We'll go over the features below that they share and how they differ.
Multiple Cooking Functions
One of the most appealing things about both of these appliances is that they offer multiple cooking functions. While the number of cooking functions varies based on the model you buy, you can be assured that you'll be able to pressure cook, slow cook, steam, bake/roast, and sear/saute. Both appliances can do all of these things with ease.
The base model Instant Pot is the Instant Pot Duo 7-in-1. With this base model, you get these 7 functions:
Pressure cook
Slow cook
Rice cooker
Yogurt maker
Steamer
Sauté
Food warmer
The Ninja Foodi Pressure Cooker, on the other hand, has a 9-in-1 base model that includes these 9 functions:
Pressure cook
Slow cook
Yogurt maker
Steamer
Sauté
Bake/Roast
Air Fry (3.7L Cook & Crisp basket)
Grill
Dehydrate
As you can see from this list, the biggest difference between these appliances is that the Ninja Foodi includes air frying capability. It's a slightly bigger machine, so it takes up more space, but it combines two separate appliances into one, which can make up for that size difference.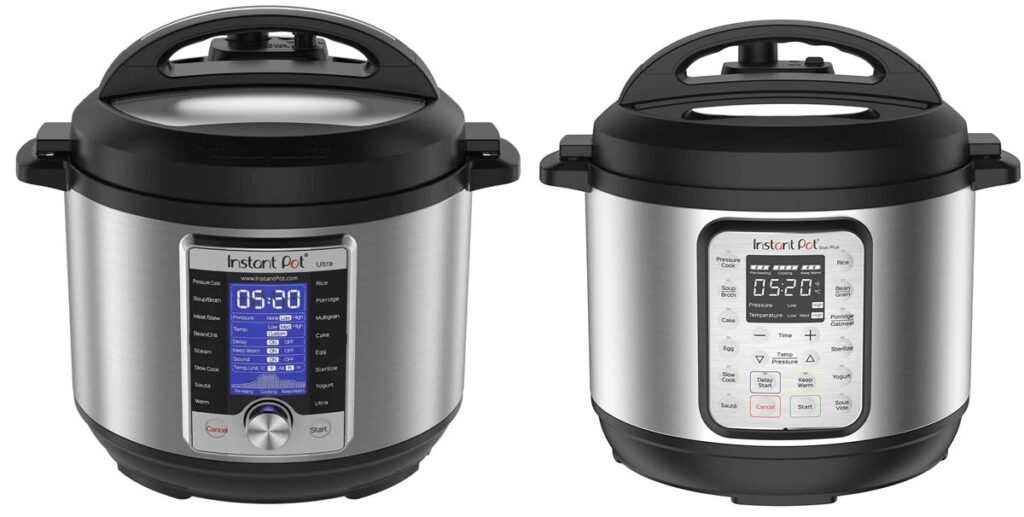 Multiple Models
Another thing both of these appliances have going for them is multiple models with variations that can increase their usefulness. The information below is a basic guide but doesn't go into full detail on all of the current models of each appliance.
Sizes
Both of them come in multiple sizes. You can get the Instant Pot in a 3-quart, 6-quart, 8-quart or 10-quart size. The Nina Foodi comes in a 5-quart, 6.5-quart, and 8-quart size.
Basic vs Pro
While there are the two basic models that we discussed above, both also come in a pro model that includes additional features.
Safety Features
The Instant Pot has ten safety measures to make slow cooking with it safe. These are:
Steam Release – Releases excess pressure by venting steam through the steam release valve/handle.
Anti-Block Shield – A stainless steel cover which prevents food particles from entering the steam release pipe, reducing the risk of blockages.
Safety Lid Lock – When cooker is pressurized, the lid will automatically lock to prevent opening the cooker. Do not attempt to force the lid open while the cooker is pressurized.
Lid Position Detection – If the lid is not in a safe position for pressure cooking, the cooker will not allow cooking to begin.
Automatic Temperature Control – Regulates heating to ensure the inner pot remains within a safe temperature range, based on the program.
Overheat (Burn) Protection – Overheating may occur if:
– After Sautéing, inner pot has not been deglazed— food is stuck to the bottom
– The pressure cooker is being operated without sufficient cooking liquid
– The inner pot is not making full contact with the heating element
– The inner pot encounters a heat distribution issue, such as when starch accumulates on the bottom of the inner pot. The cooker will reduce the risk of burning food by lowering the heat output.
Automatic Pressure Control – Maintains working pressure levels. Suspends heating if pressure exceeds pressure level limits.
Electrical fuse – Cuts off power if the electrical current exceeds safety limits.
Thermal Fuse – Cuts off power if the internal temperature exceeds safety limits.
Leaky Lid Detection – If there is steam leakage from the lid (such as, sealing ring not installed, or steam release handle being in "Venting" and not "Sealing" position) the cooker will not pressurize. Loss of steam may cause food to burn. The cooker monitors the pre-heating time and lowers heat output if working pressure is not reached within 40 minutes.
In other words, the Instant Pot is incredibly safe to use. It's clear that manufacturers took the time to research and develop the best safety features to reduce consumers' fears.
You still have to practice safe handling and using the Instant Pot to avoid accidents.
The Ninja Foodi also has a few safety features. They claim there are 14 measures to make the Ninja Foodi safe. However, the Ninja Foodi's exact safety features are not explicitly stated. Nevertheless, the ones known include overheating protection and a pressure release valve.
The manufacturer also says that its multi-cooker has passed rigorous safety testing to provide consumers with peace of mind.
Pricing
The price of a product is usually the main factor a consumer looks at when considering their options. You want a multi-cooker that works well and provides value for money. Since there are so many different models of each of these appliances, you will find a large range of prices as well.
Base Models
Without discounts, the base model Instant Pot costs approximately $100, whereas the Ninja Foodi's entry model is around $199.99. There are frequently sales for each of the models that will bring down the prices to around $79 and $159 respectively. It's particularly easy to find deals during the holidays.
Deluxe Models
On the upper range is the Ninja Foodi's 14-in-1 8-quart Smart XL Pressure Cooker Steam Fryer with SmartLid & Built-in Thermometer priced at $349.99.
Instant Pot's most expensive device, the Instant Pot Duo Crisp 6.5-quart with Ultimate Lid Multi-Cooker and Air Fryer, costs approximately $249.99.
While you can opt for the more affordable base models, you certainly get more bang for your buck if you decide to splurge on the higher-end models.
Accessories
One of the best ways to get more out of your electric pressure cooker is to purchase a few really useful accessories to use with it. Accessories are available for both of these appliances.
Super Useful Instant Pot Accessories
Once you've started using your Instant Pot more regularly, you'll find there are so many other ways you *could* be using it, if you had a few extra useful accessories. Here are a few favorites that we use almost every day.
All-In Instant Pot Kit – a kit, like this 27-piece set, will get you just about everything you will ever need to make whatever you want in the Instant Pot. It includes steamer baskets, a springform pan, a steamer rack, egg rack, egg cutter, egg ring, egg whisk, egg bites mold, dish plate clip, spatula, kitchen tong, silicone pad, scrubber, and oven mitts, magnetic sheets and a recipe book.
Stackable Steamer Insert Pans – Using stacking containers allows you to cook different foods in separate containers. If you're making a complete dinner, you will be able to cook all the components at the same time, rather than one at a time.
Instant Pot Ceramic Inner Cooking Pot – I can't express enough how nice it is to have two inner pots. Having an extra will allow you to cook two parts of a meal without transferring and cleaning the original pot after the first step.
Ninja Foodi Accessories
There is also an all-in-one accessories pack for the Ninja Foodi that contains baking pans, egg molds, spatulas, trays and silicon molds.
Another great kit to purchase is the bake kit, which comes with three pans to expand your baking capabilities, like a multi-purpose pan for casseroles and cake, crisper pan for pizzas, quesadillas, and vegetables, and loaf pan for breads.
I also really appreciate the lid stand that allows you to hook the lid right onto the side of the appliance, rather than having to find a place in the kitchen to set it. You won't believe how useful that is.
Which is Easier to Use?
Users report how much easier and intuitive it is to navigate the Instant Pot's touch panel than it is to use the Ninja Foodi one. This might just be down to preference though, because the latter does come with an informative user manual.
Since they both have such similar functionality, both have great safety features, and both have the capacity to cook small or large meals, it's very difficult to say whether one is easier to use than the other. It's more a matter of just learning the different features of each.
It's possible you could give a slight nod to the Instant Pot as being easier, because there are so many more recipes available for use with the Instant Pot. There's the official website recipes, along with hundreds of other food blogger recipes, like the ones available here on our site. Since these recipes are built especially for the Instant Pot, it can be easier to use them and to find things you want to make.
That's not to say that you can't make those same recipes in the Ninja Foodi though. They are fairly interchangeable.
Final Thoughts on the Ninja Foodi vs Instant Pot
Whichever brand you choose will depend on factors such as price, user needs, and kitchen space. The Instant Pot meets these criteria at a basic level, while the Ninja Foodi has a lot more features.
If you are looking for a more compact device with safety features you can look up and a dedicated app with recipes and community, the Instant Pot is your best bet. Once you've bought the Instant Pot of your dreams, why not follow this recipe to make delicious cheesy taco pasta as your first Instant Pot meal?
Like this recipe? We'd love for you to share it on your Pinterest boards! Click to follow our Pinterest boards so you can find all our recipes! You can also find us on Facebook!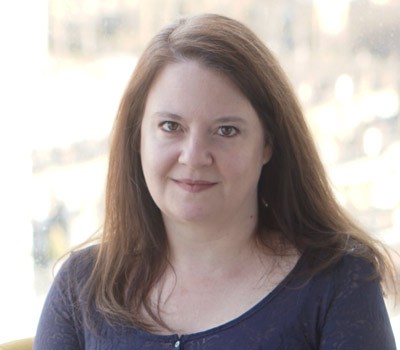 Laura is a passionate home cook and the owner of A Pressure Cooker Kitchen. She is dedicated to helping people create delicious Instant Pot meals with ease. Laura is an expert at developing recipes that can be prepared quickly and easily using a pressure cooker.