This Instant Pot Butternut Squash Soup Recipe is perfect when you're craving a warming, savory soup. It's a great way to turn a butternut squash into a silky soup for lunch or dinner.
» Love soup? Try this Instant Pot Beef Stew or Potato Leek Soup
If you love soup, the Instant Pot is the tool for you because you can make it in a fraction of the time as you won't on the stove top. It's now possible to make a fantastic soup for lunch or dinner in under 15 minutes.
I often have an extra butternut squash hanging about the house from our Imperfect Box. The easiest and tastiest thing to make is Butternut Squash Soup. It's great for a quick meal, and even better as left overs.
Why Use An Instant Pot?
The Instant Pot is one of the most useful kitchen appliances you can buy, because it drastically cuts down on the cooking time for developing flavors in soups and stews, getting tough cuts of meat tender, and even baking a cheesecake. And there are many accessories that will help you get more out of your Instant Pot.
If you don't have one yet, check out our guide on which one to buy. Also see our guide to How to Use an Instant Pot for more information.
Ingredients in Butternut Squash Soup
For this soup, you'll need a few basics, plus one lovely butternut squash (though you can use frozen if you need to). Here's what you can gather:
PRO TIP: Whole butternut squash is cooked easily in the Instant Pot using this recipe.
Equipment Information
How to Make Butternut Squash Soup
1. Prepare and Sauté the Vegetables
To ensure that the vegetable cubes cook evenly, chop them into small, same-sized cubes and add them to the Instant Pot with a little oil on the sauté setting. Season with half the salt.
When the onion and carrots are sautéed, they develop the flavor that makes this butternut squash soup so good, so don't skip this step unless you're really in a hurry.
Sautéing them won't take long. Keep an eye on the Instant Pot because the sauté function is really hot and the vegetables can easily burn if left unattended. If your pot is getting too hot, set it to low instead of high.
2. Add the Butternut Squash
Once the vegetables are a bit softened, about 5 minutes, add the butternut squash.
Peel and cut the squash into chunks that aren't too big, about 2-3 inches square. You can use fresh butternut squash or frozen squash.
Season the squash with the remaining salt and the rosemary and add them to the Instant Pot with the other vegetables. You'll sauté them for another 3-5 minutes to develop a bit more flavor.
Again, to keep it from giving you the burn notice, keep a close eye on it and stir it regularly.
3. Add the Broth and Cook
The next step is to pour in the broth and garlic and scrap the browned bits off the bottom of the pan. Turn off sauté mode before you do this.
Close the lid of the Instant Pot and make sure the valve is set to pressurize. Press the Pressure Cook button and set the time for 8 minutes.
4. Blend the soup
After the time is up, you can manually release the pressure, if you wish. If you're not in a hurry, you can allow the pressure to release naturally.
The best way to puree the soup to a silky consistency is with an immersion blender. You can stick the blender right into the soup and puree it until it's smooth.
This can take a bit longer than you might think. At first the soup will be smooth, but not yet silky. You need to blend beyond that point until the soup is aerated and starts to look silky.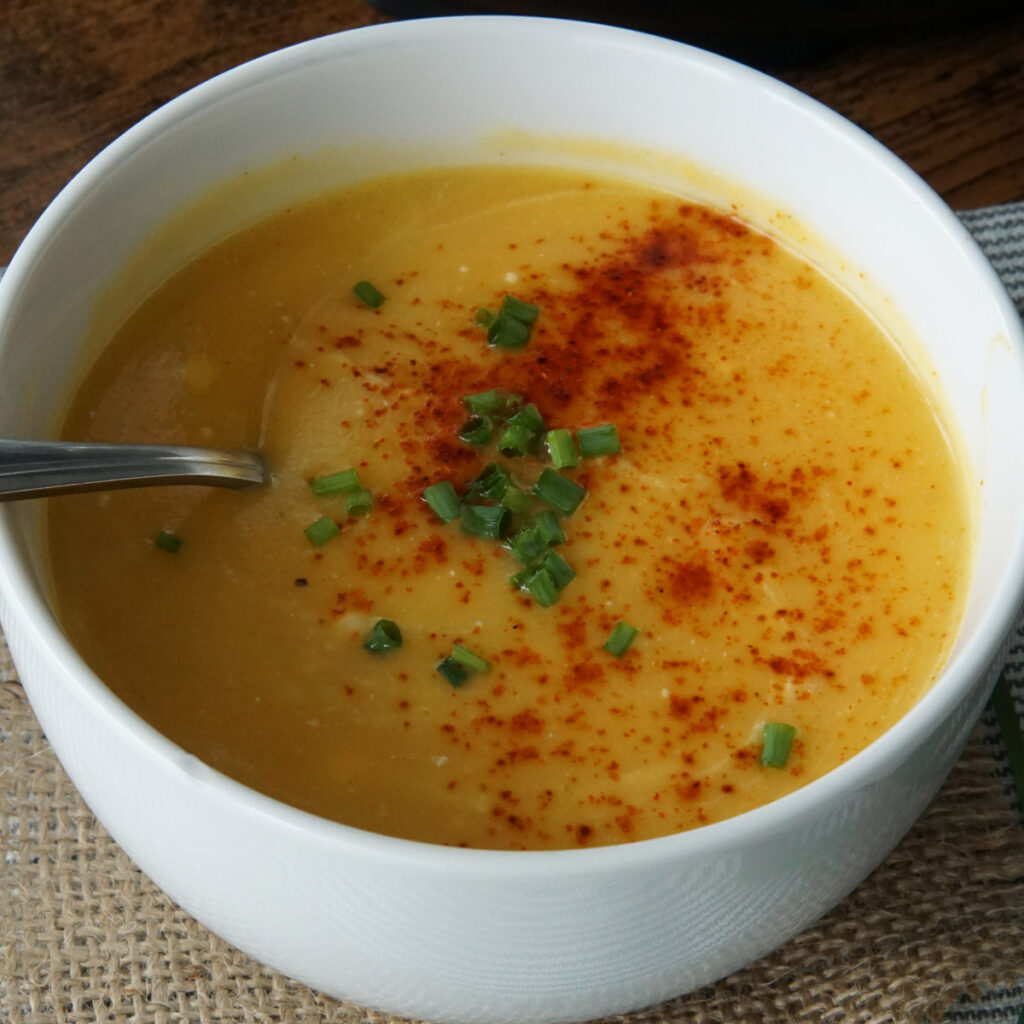 Note: If you don't have an immersion blender, it's okay to use a regular blender, instead. Make sure you take the plastic top piece off to allow the heat to vent as you blend, because hot liquids will erupt in the blender.
If you love the silky smooth texture of this soup then try this caramelized carrot soup!
5. Add garnishes and serve
Add the butter and stir it in. Taste it to make sure it's seasoned to your liking. Add a bit more salt until the flavor is right for you.
Optional Toppings
There are a few additional toppings you can use to dress up your soup, but it's just as tasty without any garnish.
Tips & Notes
What to Serve This With
There are so many great main dishes you can serve alongside this Butternut Squash soup. Try one of these main dish ideas:
Like this recipe? We'd love for you to share it on your Pinterest boards! Click to follow our Pinterest boards so you can find all our recipes! You can also find us on Facebook!
Instant Pot Butternut Squash Soup
This Instant Pot Butternut Squash Soup Recipe is a great way to turn a butternut squash into a silky soup for lunch or dinner. 
Note: Made in a 6-qt Instant Pot
Ingredients
1

tablespoon

cooking oil

1/2

onion

chopped

1

carrot

peeled and chopped

2

teaspoons

salt

1

butternut squash

peeled and cut into chunks

1/2

teaspoon

rosemary dried or fresh

4

cups

vegetable broth

Optional garnishes: cream, red pepper flakes, chives, roasted pumpkin seeds, paprika, grated nutmeg
Instructions
Press the Saute button on the Instant Pot. Add the cooking oil. Allow it to warm up for 2 minutes.

Add the onion and carrot and saute, stirring often, for 3 minutes. Add the butternut squash and saute, while stirring, for an additional 3 minutes. Be careful not to burn.

Add the butternut squash chunks and rosemary. Cook an additional 3 minutes. Turn off sauté mode.

Add the broth and remaining salt. Stir well, making sure to remove the browned bits from the bottom of the pot.

Seal the lid. Press the Pressure Cook button and set the time to 8 minutes. When done, you can manually release the pressure, if you're in a hurry, or allow for a natural pressure release (about 10-15 minutes).

Using an immersion blender, blend the soup until smooth and silky. Serve with any garnish you like: roasted pumpkin seeds, croutons, or a pinch of paprika or nutmeg, if desired.
Notes
You can use frozen store-bought butternut squash in place of a fresh one, if you want.
You can add butter or cream at the end for additional flavor and creaminess, if you want. 
Nutrition
Calories:
139
kcal
Carbohydrates:
28
g
Protein:
2
g
Fat:
4
g
Saturated Fat:
1
g
Polyunsaturated Fat:
1
g
Monounsaturated Fat:
2
g
Trans Fat:
1
g
Sodium:
2121
mg
Potassium:
729
mg
Fiber:
4
g
Sugar:
7
g
Vitamin A:
22980
IU
Vitamin C:
41
mg
Calcium:
99
mg
Iron:
1
mg
🥧 If you're interested in more great recipes, I share all my favorite recipes over at A Food Lover's Kitchen, and you'll find air fryer recipes at Air Fry Anytime, and cocktails and drinks at Savored Sips. Check it out today!
PIN IT FOR LATER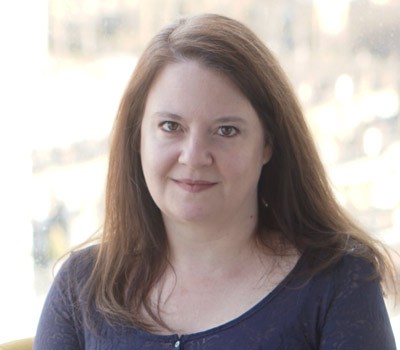 Laura is a passionate home cook and the owner of A Pressure Cooker Kitchen. She is dedicated to helping people create delicious Instant Pot meals with ease. Laura is an expert at developing recipes that can be prepared quickly and easily using a pressure cooker.